The district lines aren't even drawn, there are almost certainly candidates who've yet to enter the race, and already the GOP primary in the 1st Congressional District is getting ugly.
Gail Huff Brown's team calls an anonymous text campaign targeting GOP voters that misleadingly attacks her position on abortion "cowardly."
"Needless to say, Gail isn't distracted by cowardly and anonymous attempts to mischaracterize her or what she stands for," said Nina McLaughlin, Huff Brown's communications director.
The text message went out Tuesday to GOP voters attacking Huff Brown over abortion, though the extent of the message's reach is not known.
"WHAT?? Gail Brown said she's pro-choice. We can't afford more wishy-washy insiders who won't protect the unborn," the message reads.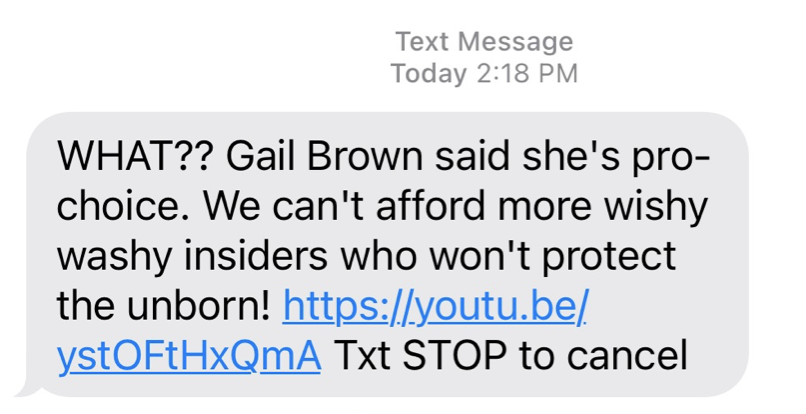 The text included a link to a YouTube video of Huff Brown's recent interview with WMUR in which she discussed her position on abortion. However, the link in the text message did not include any audio. Seeing nothing more than a headline and Huff Brown speaking appeared to be designed to lead viewers to assume she is completely pro-choice.
In fact, as Huff Brown said in the interview, her position is very similar to that of Gov. Chris Sununu: She opposes late-term abortion and she opposes forcing taxpayers to pay for abortion.
"This harkens back to the days of anonymous bomb-throwing robocalls," said veteran GOP strategist Michael Dennehy. "It's gutless, and the candidate behind it should be ashamed.  If you want to contrast yourself to Huff Brown, then own up to it. If you're afraid it will hurt your image then you obviously shouldn't do it.
"This is an early sign that this primary is going to get as nasty as we've ever seen."
Another GOP veteran, strategist Patrick Griffin, agrees: "Unfortunately, this primary is going to look like our Afghanistan withdrawal without any of the charm."
According to a transcript of her interview, however, Huff Brown takes a moderate position on abortion. When asked if she was pro-life or pro-choice, she said both.
The video associated with the text message was posted on Tuesday under the user name "Chuck Finley." The Chuck Finely account had been created the day before. Chuck Finely is an alias used by the fictional character Sam Axe, played by actor Bruce Campbell, on the television spy show "Burn Notice."
Calling the number that sent out the text sent NH Journal to an automated voice system that gave the caller the choice to opt-out of future texts. There was no information about who was associated with the phone number, and no other options. 
Huff Brown's primary opponents had little to say about the text attack. Karoline Leavitt declined to discuss it on the record, and Matt Mowers stated he did not know anything about the text or Chuck Finely. Tim Baxter did not respond to a request for comment.
The text comes as Mowers and Leavitt announced big-name endorsements in an effort to jockey for lead position in the race. Leavitt recently snagged the endorsement from firebrand U.S. Rep. Madison Cawthorn (R-N.C.). Mowers picked up the backing of former U.N. Ambassador (and potential POTUS candidate) Nikki Haley.
McLaughlin noted Huff Brown only made her candidacy official in recent days and has already managed to raise more than $220,000 and get the GOP's National Republican Congressional Committee's Young Gun program's attention. 
"Gail has tremendous support from voters across the 1st Congressional District," she said.
Huff Brown's expressed support for the six-month abortion ban signed by Sununu puts her more in line with the popular Sununu than the other Republican candidates. New Hampshire has always tended to be a pro-choice state, and Sununu told NH Journal he feels the late-term ban is in keeping with the majority of Granite Staters.
"There is 20 percent [of the people] on both sides where abortion is the only issue," Sununu said. "Well, I'm kind of in that 60 percent of everybody else. I always find there's always a middle ground. So I'm pro-choice, but like most people, I've never supported the idea of late-term abortion."
Polls show more than 80 percent of Americans, including many self-identified pro-choice people, agree with Sununu.
Abortion could be a key issue if Sununu jumps into the Senate race against incumbent Sen. Maggie Hassan. Democrats have been using the abortion ban to attack Sununu's self-professed pro-choice credentials.
Despite the fact that most Americans who describe themselves as pro-choice also support restrictions on late-term abortions, Kayla Montgomery with Planned Parenthood of New Hampshire Action Fund, said Sununu's support for the six-month abortion ban means he is not pro-choice. 
"The majority of Granite Staters believe that these decisions should be made between a patient, their family, and their doctor," Montgomery said in a recent oped. "By signing this cruel abortion ban into law and stripping away our reproductive freedoms, Gov. Sununu became the first New Hampshire governor in modern history to ban abortion in the Granite State."
Meanwhile, Republican insiders say this attack, however ham-fisted, shows the campaigns see Huff Brown — and her politically-connected husband Scott — as a serious threat.
"Somebody's definitely scared," one veteran Republican told NHJournal, who referenced the recent meltdown of Matt Mower's Trumpworld ally Corey Lewandowski. Lewandowski was kicked out of the Trump organization after a series of bizarre claims we made while allegedly stalking the wife of a Trump donor –including that he's killed two people — came to light.
"If voters decide Gail [Huff Brown] is 'conservative enough,' and Scott can raise the money, she could be a very strong candidate."