Tim Messina was a young piano player in a local band with a dream of breaking into show business.
Today, he runs one of the nation's premier events companies, setting up and designing stages for politicians like Donald Trump, Joe Biden, George W. Bush, and Hillary Clinton.
So it looks like his dream came true.
Messina is CEO of Events United, the live and virtual event production company based in Derry, N.H. Housed in a few nondescript buildings, the company has 45 employees, 500+ stage lights, 200+ speakers, and over 50 miles of cable it has used to produce more than 3,000 live events, from seminars to standing-room-only concerts at stadium venues across the U.S.
It also has cutting-edge Virtual Production (XR) and AI technology used to produce video and live remote events in its Derry studios.
And it all started at Soulfest, the annual Christian music festival that attracts thousands here in New England.
"I happened to be there, and I mixed the show, and the festival's owner was standing behind me and said, 'Hey, can you come back next year and run the stage?' And I was like, 'I don't have any equipment.' So I started the company at that moment, and now we run it every year," Messina said.
And every four years, it does what it's doing now: Political events.
Which, Messina and his crew say, are among the most challenging jobs they handle.
"So with political events, it's insane," said John Sifferman, Events United's marketing director. "It's insane because of the timeline."
"That's right," Messina agreed. "So when we get a call for what we would say is a 'normal' event, anything that's not political, we typically have between a month and a year to plan it. Political event? Sometimes, you have a day. They call you and say, 'Hey, can you do something tomorrow?' And to be fair, it's because they may not know their own schedule yet."
Another campaign event problem is working in venues not designed for events. "Concerts, sports events, they use the same venues, the same arenas, the same concert halls. With campaigns, we get asked to set up staging and production in a room that was not necessarily designed for public gatherings," Messina said.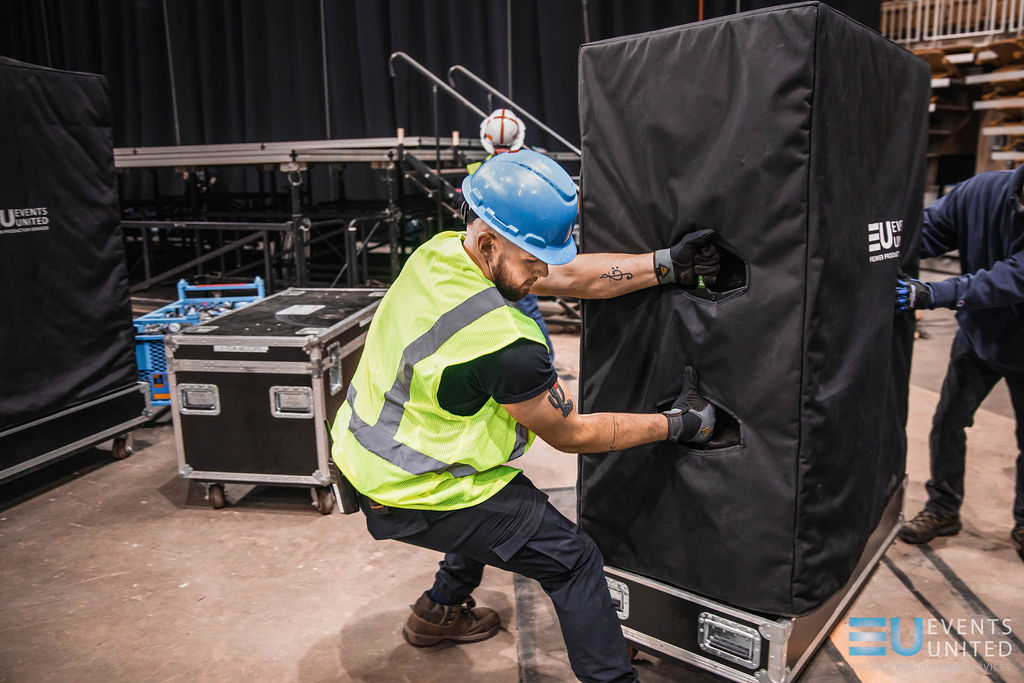 It can be a VFW hall, a private home, a high school gym, or a church basement. And because the event is also short notice, the Events United crew has limited time to scout the venue and prepare. Not, Messina says, that it would necessarily matter.
"There have been events where we've set up everything — the stage, the lights, the speakers, and we've finished soundcheck. And then the advance team says, 'Hey, could you move the stage over there?' And doors open in an hour. But we don't say 'no' to the client, so we make it work."
Messina, whose company works with candidates across the political spectrum, including Republican Gov. Chris Sununu and Vermont Socialist Sen. Bernie Sanders, must be doing something right because candidates keep coming back. At its peak in 2020, the company was stage-setting 35 political events a week across the U.S.
"Every cycle is getting busier and busier," said Messina. "And there aren't that many companies large enough to handle the work. Fortunately, we are one of the few companies with the resources and experience to handle any political event on short notice, large or small."
And that increased live event schedule doesn't include the amount of video production Events United has added, thanks in part to its investment in cutting-edge tech that lets it turn huge video screens into a 3D image that looks like it could have come from anywhere in the world.
"It's amazing. You've got the 'go-to' company for live events in the country, and it's right here in Derry," said Jim Merrill, a veteran of GOP campaigns in the Granite State.
Merrill worked on the Mitt Romney and Marco Rubio presidential campaigns and said they were all impressed with Events United's work. Dee Duncan, who was Director of Advance for Rubio, offered his own rave reviews.
"Flawless live events are the lifeblood of a national presidential campaign, and in the early stages can even mean the difference on making it or not," said Duncan, who now serves as president of the Republican State Leadership Committee. "With Events United, our campaign found an indispensable partner we could trust and rely on for all of our live event needs, not only for our New Hampshire events but also other events we held nationally."
Once the stage is set and the lights come on, what can a candidate do to best take advantage of the work Events United has done?
"Don't assume the microphone will make you sound good. Speak up. Don't rush. Use your voice," Messina said. "It doesn't hurt to have a good message, too," he laughed.
He also said some candidates tend to hide behind the podium and use it as psychological protection between themselves and the audience.
"Don't do that," Messina said. "Don't put a barrier between you and the people. If you can avoid that and remove those barriers, you will be more real and authentic. And your message is going to be better received."