Massachusetts Gov. Maura Healey (D), a supporter of sanctuary city laws, says the flood of illegal immigrants into her state has created a state of emergency, and she is urging Bay State citizens to consider housing an undocumented family in their home.
Now Kelly Ayotte (R) wants to know if Healey's pick for New Hampshire governor would ask Granite Staters to do the same.
Manchester Mayor Joyce Craig (D) enthusiastically embraced Healey's endorsement in the Democratic primary earlier this year, aligning herself with one of the most progressive governors in the U.S. On Tuesday, Healey issued a formal emergency declaration in response to undocumented migrants flocking to the Bay State.
According to Healey, nearly 5,600 families, mostly undocumented immigrants, live in state shelters. That is up from around 3,100 families a year ago, Healey said.
In a letter to Homeland Security Secretary Alejandro Mayorkas, Healey wrote, "Many of these families are migrants to Massachusetts, drawn here because we are and proudly have been a beacon to those in need." Nearly all of those migrants were processed at the U.S.-Mexico border by the Biden administration and released into the United States with little or no oversight.
In recent months, many have made their way to Democrat-run communities like New York City, Chicago, and the Boston area, all of which have long touted their status as "sanctuary cities" largely free of immigration enforcement.
With shelters full, Healey and her administration are calling on private citizens in Massachusetts to open their homes to illegal immigrants as part of the solution.
"If you have an extra room or suite in your home, please consider hosting a family," added Lt. Gov. Kim Driscoll during Tuesday's press conference in Boston.
Like Healey, Craig is a supporter of sanctuary community policies. In May, for example, she issued a statement opposing a GOP-backed anti-sanctuary city bill.
When news of Healey's "open house" solution to the illegal immigrant emergency broke, Ayotte called Craig out on social media: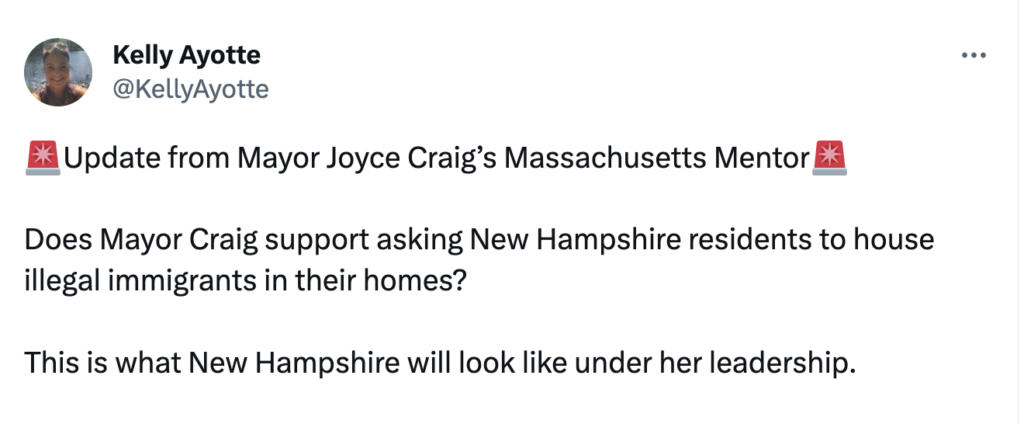 "Update from Mayor Joyce Craig's Massachusetts Mentor: Does Mayor Craig support asking New Hampshire residents to house illegal immigrants in their homes? This is what New Hampshire will look like under her leadership," Ayotte tweeted.
Asked by NHJournal if she supports the Healey policy or if the emergency in Massachusetts has impacted her support for sanctuary policies in New Hampshire, Craig declined to respond.
In a radio interview with Drew Cline on WFEA Wednesday, Gov. Chris Sununu mocked Gov. Healey's call for citizen volunteers to solve the problem created by her state's sanctuary policy.
"Maura Healy is telling people that private citizens have to consider taking immigrants into their own homes? It's crazy talk down there," Sununu said. "Is Maura Healey going to do that? Are her rich donor friends going to do that?"
Like most New England Democrats, Healey has long supported sanctuary policies.
"There are a number of cities who've adapted the status of a 'sanctuary city,' and I think that's working," Healey said in a 2017 Boston Globe interview. Asked about making Massachusetts a "sanctuary state," Healey said, "I'm not opposed to a statewide designation. I just take the view that it's working well at the local level right now."
Last month, Healey celebrated Massachusetts' new law giving drivers licenses to undocumented migrants,
Jessica Vaughan, Director of Policy Studies at the Center for Immigration Studies, called Healey's "alarm at the lack of state resources to support [an additional] 1,500 illegal alien families" the "ultimate hypocrisy."
"As Massachusetts attorney general, Healey filed lawsuits against the Trump administration's efforts to rein in illegal immigration and reduce the number of immigrants who were dependent on welfare," Vaughan said. "Thanks to the sanctuary policies she has been endorsing for years, she will have to find more than $10 million to house the new arrivals in hotels in the next year, not to mention budget for a similar amount to be spent on medical care, food assistance and support the cities and towns who must educate the children.
"How typical of a Democrat to beg for money from the federal government, rather than examine the policies she could change to lower the cost of this disaster, or demand that her political ally in the White House change policies to cut off the inflow of people, which would help everyone," Vaughan said.
Craig is one of two declared candidates in the Democratic primary for governor, along with Executive Councilor Cinde Warmington. Ayotte is currently facing off with former state Senate President Chuck Morse in the GOP contest.
The opening message of Ayotte's campaign has been her pledge to keep the Granite State from morphing into Massachusetts. "I fear we are one election away from becoming Massachusetts, from becoming something that we are not," Ayotte said at her formal campaign announcement. "We are different as a state."
She said Craig has a different agenda, one Ayotte intends to fight.
"Our neighbors in Massachusetts have watched millions of their hard-earned tax dollars spent on services for illegal immigrants, and now they are in a state of emergency because their Democrat governor supports unfair and unfeasible policies such as sanctuary cities, drivers licenses for illegals, and right to shelter laws," Ayotte told NHJournal. "We cannot elect Joyce Craig, who will support her Massachusetts mentor's disastrous policies in New Hampshire.
"When I'm governor, the only people who will call New Hampshire their 'sanctuary' are taxpaying, law-abiding citizens."