A simple tweet turned into a complex issue for Sen. Maggie Hassan on Thursday, highlighting the difficult spot Democrats find themselves in on Russia, Ukraine and energy policy.
At 10:48 AM, Hassan's campaign Twitter account sent out the message: "Vladimir Putin is a war criminal." She joined Republican Sen. John Cassidy of Louisiana in proposing legislation designating the Russian president a war criminal as well.
By 11:00 AM, Granite Staters were asking why, if that's what she believes, Hassan still supports the Biden administration's refusal to ban oil imports from Putin's Russia.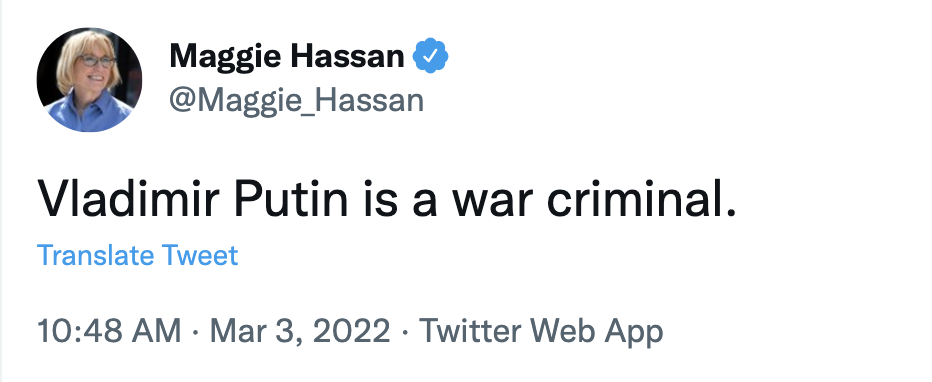 Some of those criticisms came from the Republicans who hope to run against her.
"Maggie Hassan, if he's a war criminal then why aren't you calling for a complete ban on oil exports from Russia as other Democrats have?" Republican Kevin Smith asked on Twitter. "Why are you in favor of continuing to fund the war against Ukraine by a war criminal?"
Asked by radio host Jack Heath if it was hypocritical of the Biden administration to continue to support U.S. purchases of Russian oil, state Sen. Chuck Morse (R-Salem) — another GOP candidate for U.S. Senate — replied: "Hypocritical? We're financing his war!" He, too, called for Hassan to support a ban on Russian oil to the U.S.
Hassan's stance puts her on the side of the Biden White House, but opposite fellow liberals like Speaker of the House Nancy Pelosi, who said Thursday: "Ban it. Ban the oil coming from Russia."
Sen. Lindsay Graham (R-S.C.) said Thursday that if a bill to block Russian oil imports got to the floor of the U.S. Senate, "it would get 75 votes."
Would one of them be Hassan's?
NHJournal asked the communications staffers in Hassan's U.S. Senate office to confirm her position on Russian oil imports. But Hassan has instructed her taxpayer-funded press office employees not to respond to media requests from New Hampshire Journal.
While Hassan doesn't support blocking Putin's allies from selling oil to the U.S., she did release a statement Thursday attacking the U.S. energy industry, accusing American companies of price gouging.
"Amid Rising Energy Costs, Senator Hassan Calls for Action to Address Big Oil's Unfair & Deceptive Trade Practices," the press release headline reads.
"Big oil and gas corporations continue to increase prices for consumers at the pump, while engaging in stock buybacks and fighting to keep tax breaks that force taxpayers to subsidize their record profits," Hassan wrote in a letter to the Federal Trade Commission.
"I request that you provide an update on any potential or ongoing Federal Trade Commission inquiry into the types of conduct referenced in the President's November 17, 2021 letter to you, closely monitor the effects of the Ukraine conflict on oil and gas markets, and take additional action to address unfair or deceptive trade practices in the oil and gas industry."
In fact, both Republican and Democratic administrations have sent the FTC or the Justice Department (or both) to investigate oil companies and high gas prices — at least four times since 2000 — and every time the result has been the same: No unfair trade practices.
"Those requests to investigate [gas prices], specifically to the FTC, go back 100 years," Frank Macchiarola with the American Petroleum Institute told NHJournal during a press call Thursday. "Every time we have high gas prices, some politician runs forward and says there should be an investigation about prices gouging. They never bear fruit because there's no reality to it.
"The reason prices are where prices are is because of the imbalance in supply and demand; pressures from supply chain issues; additional pressure from the labor shortage in the U.S. –compounded by significant disruptions as a result of a war perpetrated by the world's third-leading producer of oil. That's why we have high oil prices," Macchiarola said.