As Democratic Sen. Maggie Hassan gets ready to ask Granite Staters for their votes, she's taking in more campaign cash from New York and other liberal states.
According to the most recent reports filed with the Federal Election Commission, contributions from New Hampshire donors don't even get into the top three states donating to Hassan's campaign this year. Since Jan. 1, Hassan has taken $651,772 from New Yorkers, $617,908 from California, and $566,260 from Massachusetts.
Granite Staters have given Hassan $438,887, according to the federal reports.
Hassan's team was touting the haul earlier this summer, pointing out her $6.5 million in total cash on hand puts her in the lead for the race, though she doesn't have a primary opponent.
GOP leaders like Sen. Rick Scott, head of the National Republican Senatorial Committee, are lobbying Gov. Chris Sununu hard to jump into the race, and New Hampshire politics is abuzz with speculation about his future.
"Maggie Hassan is already in desperation mode and hoping that liberals from New York City can bail out her struggling campaign," NRSC spokesperson T. W. Arrighi told NHJournal. "It makes sense that New Yorkers believe she's fighting for their best interests instead of New Hampshire's since she votes almost 100 percent of the time with Chuck Schumer.  Granite Staters already know that Hassan is anything but a voice for New Hampshire."
Retired General Don Bolduc, the only announced Republican in the race, has raised about $70,000 so far and recently reported $25,000 in cash on hand.
The fundraising gap between the two camps doesn't daunt Bolduc, who said Hassan can't hide her record behind money.
"I don't believe that there is a dollar amount that she can raise that is going to get her reelected in 2022," Bolduc said.
Bolduc called her term in office a failure.
"She's not well-liked, and she's not doing a good job," Bolduc said.
Hassan beat Republican Kelly Ayotte in 2016 by fewer than 1,000 votes in a race that saw Libertarian candidate Brian Chabot garner more than 12,000 votes, and independent candidate Aaron Day get more than 17,000.
Political analysts have identified Hassan, along with Democratic sens. Mark Kelly in Arizona, Raphael Warnock in Georgia, and Catherine Cortez Masto in Nevada, as the Democrats most in danger of defeat next year. They're all tapping into the national fundraising machine to bolster their chances.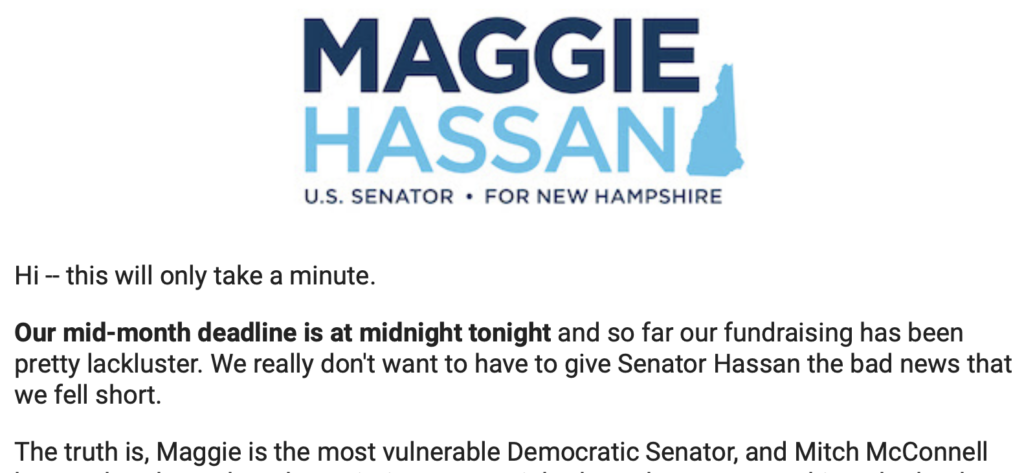 Last week Hassan's team was mocked over a funding appeal touting her alleged financial struggles, calling them "pretty lackluster." Her campaign also labeled her "the most vulnerable Democratic senator."
Hassan's fortunes may depend largely on her opponent. While polls have consistently shown Hassan struggling, particularly in a theoretical match-up against Sununu, a recent UNH poll found she easily beats both Ayotte and Bolduc in the latest University of New Hampshire poll but gets beaten by Sununu by one percentage point.
Hassan declined to respond to repeated requests for comment.