Sen. Maggie Hassan was supposed to be talking up infrastructure spending during President Joe Biden's visit Tuesday. But she spent much of her day dodging protests from Granite State progressives and members of the local Latino community. They are upset by Hassan's reversal on immigration policy and a video she released standing in front of Trump's border wall calling for more "physical barriers."
Protesters gathered or posted signs at various spots along Hassan's route in Portsmouth as she traveled with the president. "Hassan + Pappas, NH Welcomes Immigrants," one sign read. One of the organizers is Rep. Maria Perez (D-Milford), who resigned from the New Hampshire Democratic Party's Latino Caucus last week in protest of Hassan and Rep. Chris Pappas (D-N.H.) announcing their support for Title 42. That is the emergency authorization used to turn away more than one million undocumented migrants at the border last year.
"No cages, no walls! @SenatorHassan and @ChrisPappasNH We need a real plan to increase capacity and resources to manage the needs of migrants seeking entry at the border, not a continuation of racist, misguided and inhumane policies," Perez tweeted from the protest.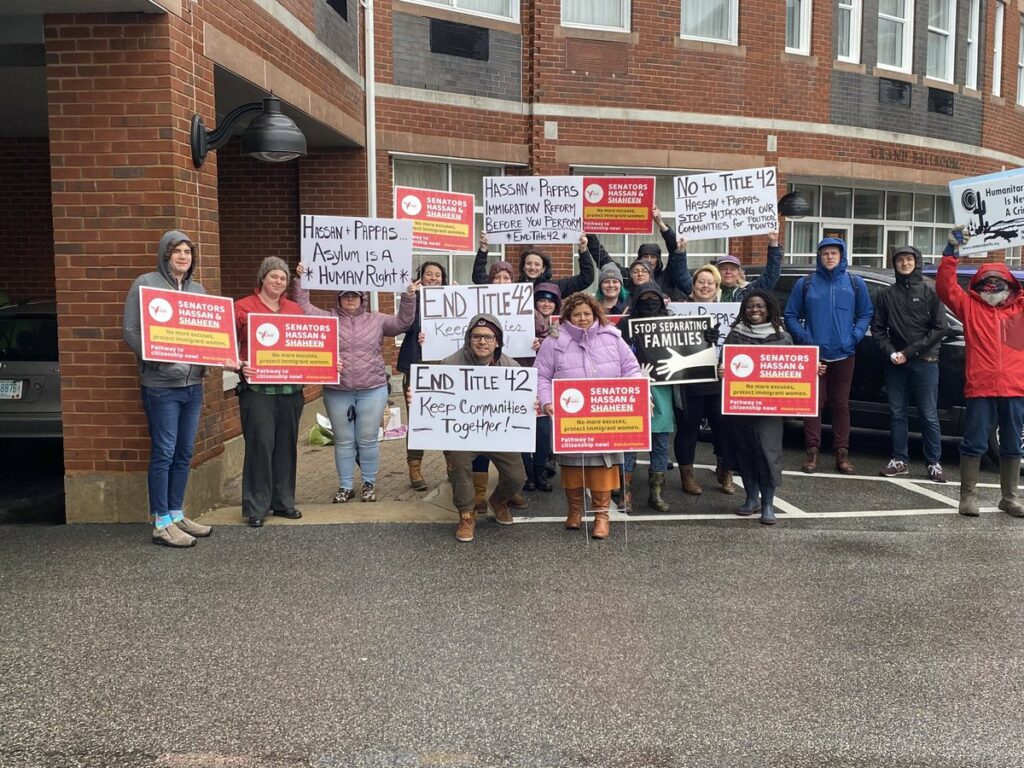 Progressives who have worked for Hassan in the past have denounced her new, more pro-enforcement policy positions on immigration.
Perez said Tuesday afternoon she has not been able to speak to Hassan about her recent call for more barriers on the border, and other right-leaning policies the senator has adopted in a tough election year.
"The response that I got from her office is that she's too busy," Perez said.
Hassan tried using her trip to the southern border to shoot campaign videos in which she unconvincingly promised to get tough and push for more physical barriers. Hassan repeatedly voted against funding a border wall when Donald Trump was president — the same wall she used as a prop in her video, with barbed wire hanging over her head.
Granite State immigration activists were irate. "That was the last kick in the butt for the immigrant community, and all of us as Latinos," said Eva Castillo, executive director of the New Hampshire Alliance for Immigrants and Refugees. Some progressives called on Hassan to apologize.
Hassan has refused. She also refused to respond to requests for comment from NHJournal.
Perez said immigrant advocates want to express their views to her in person, but Hassan is avoiding them. She plans to keep up the pressure until Hassan responds in some way.
"I'm not taking a no from her office anymore. A lot of people in the community have been so disappointed. We're just asking for time to talk to her and she's refusing to meet with us. She's too busy to meet with us, but she's not too busy to go to the border," Perez said.
Clifton West, Jr., a founder of Black Lives Matter's Seacoast chapter, also protested the two Democrats' actions, urging them via Twitter to "support immigrant communities and stop hijacking COVID relief funds to support a Trump policy, Title 42. New Hampshire residents stand in solidarity with migrants' rights to seek asylum."
The Title 42 issue puts Hassan and Pappas at odds with Biden. Both members of Congress back legislation to block the administration's plan to end the policy. The progressive action group Rights and Democracy is demanding the two New Hampshire lawmakers "remove their co-sponsorship from bills that would indefinitely block asylum access for immigrants at the U.S. border, as President Biden finally moves to end harmful, racist Title 42."
Perez said members of the Latino community are also being ignored by Pappas and his team as well.
"I'm a Democrat. But with everything going on these days, I'm embarrassed to call myself a Democrat," she said.