Nikki Haley may have been speaking to the New Hampshire Federation of Republican Women, but she left the identity politics at the door.
In a members-only gathering at the New Hampshire Institute of Politics Friday evening, Haley picked up a theme laid out by NHFRW President Elizabeth Girard in her introduction: "The Republican Party believes that all issues are women's issues."
Haley is only the second candidate (along with former President Donald Trump) to formally enter the 2024 GOP presidential primary. And she is the only woman on the likely candidate list whose support in current polling is outside the margin of error. If she ends up being the only woman among the top-tier candidates, political observers believe that fact alone could give her a boost — particularly in New Hampshire where women candidates have a record of success.
Haley isn't shy about highlighting her gender — "We need a badass Republican woman in the White House" is one of her tag lines — but she also explicitly rejects identity politics. She took the same stance with the Granite State women gathered Friday night.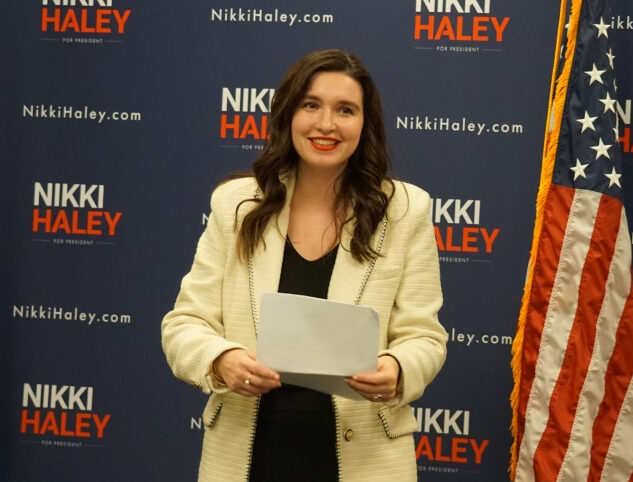 The event was the first in the NHFRW's new "Women's Voices Series," a concept created in an effort to drive more engagement to women voters in the Republican Party, according to Girard. She kicked off the conversation by addressing the charge from Democrats that the GOP is "anti-woman."
"We get asked, 'How can we be Republican women?' I ask, 'How can we not?'" Girard said. "When the other side wants biological men in women's bathrooms and women's sports. When they prioritize indoctrinating our kids over educating them. When any idea they don't agree with is considered hate speech. And for whatever reason, they can't find a way to have a civil conversation with a conservative — especially a conservative woman.
"It's obvious that the Republican Party is the party of women. The Republican Party treats women as the leaders we are, not the victims the left wants us to be," Girard said.
Haley began her remarks by focusing on the economy, hitting issues like high inflation, soaring energy costs, and open borders that are a standard part of the GOP critique of the Biden administration. She talked about concerns over rising crime and failing schools that are making parents fearful about their children's future.
"When anyone asks me why I'm running, that's why. Because I am not going to let my children grow up in this America. They deserve better. Your children deserve better."
One issue she addressed specifically was education, in particular her support for school choice. She sees it as a way to get public education "back to basics," she told the crowd.
"Parents do deserve to decide which school their kids go to, yes, they do," Haley said. "Parents do deserve to know that they're never going to see the schools close down again. Parents do need to know that their kids are going to be safe in school. And parents need to know that [schools] are not going to be teaching their kids what gender they are. We have to trust education again."
But there was no direct appeal for those activist GOP women to back her because of her sex. Asked by NHJournal if she had a specific message for women voters, Haley echoed Girard's message.
"Women who are Republicans care about the same things as men who are Republicans. They care about the country balancing the budget. They care about education that teaches your kids and doesn't indoctrinate them. They care about having secure cities and safe borders.
"Women are strong and they very much pay attention to everything that's going on. And anyone that discounts a woman is making a big mistake," Haley added.
As for the "anti-woman" charge, Haley dismissed it as standard Democratic Party operating procedure.
"Democrats throw that out because they have nothing else to say. They claim they're pro-women, yet they are incredibly sexist.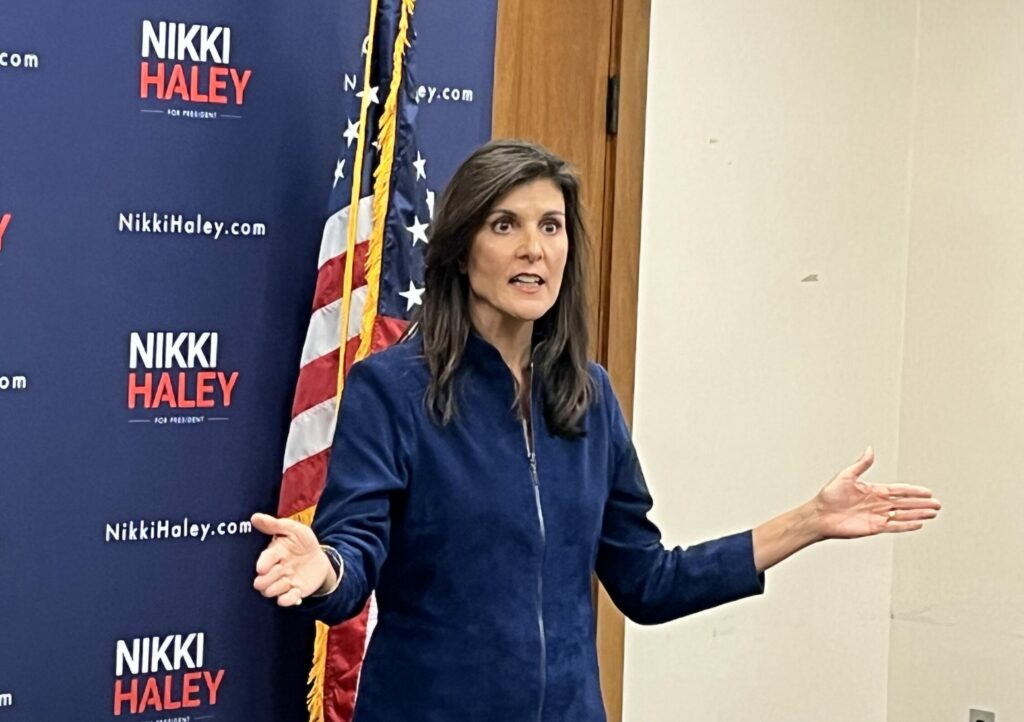 You've seen that with whatever Don Lemon had to say today," Haley said, a reference to the CNN anchor's insulting comment that women Haley's age are "past their prime." (Lemon was pressured to apologize and he won't be appearing on Monday's show.)
"I know for a fact that Republicans focus on lifting up everybody, not just a select few," Haley said. "We need young women to join the party because we need to continue to fight for solutions. And women are 51 percent of the electorate. When they do something, they do it well."
And while Haley may have been reluctant to play the gender card, the Republican women attendees weren't nearly as shy.
"I've known about Nikki Haley a long time, I think she's a strong woman, and I share the same values," said Caitlin Gray of Manchester after the event. "I am intrigued by Haley, and I like what I heard."
Asked about the identity politics aspect of Haley's bid, New Hampshire GOP Committeewoman Juliana Bergeron was careful not to endorse any candidates, but the subject had crossed her mind.
"We'd like the first female president to be a Republican," said Julian. "I'd like that."