GOP presidential hopeful Nikki Haley sat down with Moms For Liberty co-founder Tiffany Justice in Manchester Wednesday night, taking questions from voters and signing the group's parents' rights pledge.
And Haley reminded GOP primary voters that she holds a title no other candidate in the race can.
Mom.
Justice welcomed Haley to the event, telling the crowd that Moms For Liberty has a saying: "We don't co-parent with the government." She also thanked Haley for being "a champion for moms and dads," and she presented the former U.N. Ambassador with the Moms For Liberty pledge supporting parents' rights for her to sign.
Haley didn't hesitate.
"I come to this as a mom. We have one job as parents. That's to make sure to keep our kids safe," Haley said.
"Joe Biden just attacked me, saying I was being a 'MAGA extremist' for doing an event with Moms For Liberty," Haley told the crowd packed into the library at Founder's Academy, a public charter school. "And if Joe Biden thinks I'm being a MAGA extremist for being a 'Mom For Liberty,' count me as one of them."
Parents' rights has emerged as one of the most hotly-contested political issues of the day, with Republicans largely siding with parents and Democrats generally sticking with teachers unions and school officials. That includes schools with a policy of keeping information about children's behavior secret from their parents. The concept is at the center of a lawsuit filed by a Manchester mom against the Manchester School District over keeping her child's behavior regarding sex and gender secret from her mother.
"School bureaucrats and teachers unions are trying to take custody of our kids. We can't allow that to happen," Haley said. "They're our kids."
Haley only offered brief remarks before taking questions from the crowd. Along the way, she hit some familiar topics currently on parents' minds, including keeping biological boys from competing in girls' sports and opposing federal mandates for local schools. Haley talked at length about federalism in education, the need for the federal government to pass along funding to local schools rather than using it to impose "woke" policies from Washington, D.C.
"At the end of the day, I believe government breaks more than it fixes," Haley said.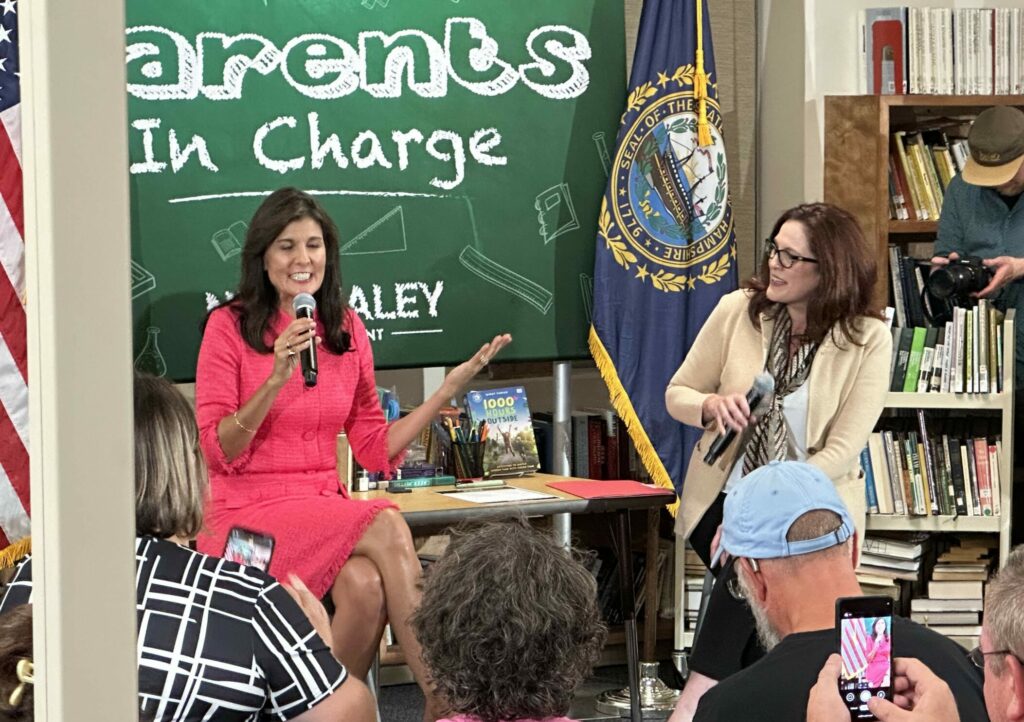 One questioner asked Haley what she was looking forward to in the next debate, adding, "You looked just stunning when you called out a couple of people who really screwed up." Haley said the approximately 50 town halls she has held across New Hampshire were a form of debate prep. "You learn so much from listening, you really do."
Haley is the only woman among the dozen or so Republicans running for president, a fact she often mentions but rarely dwells on. During the first debate, for example, she quipped: "If you want something said, ask a man. If you want something done, ask a woman." In New Hampshire, where women candidates have done particularly well, being the only woman could be an asset in the primary.
Justice noted Haley's unique status during the town hall. "You're a mom," Justice said. "In fact, you're the only mom running for president of the United States.
"I think we need a mom in the White House," Haley replied. "We multitask, we're overprotective, and we get it done."