Hey, big spender! As New Hampshire's economy booms, more people are going out to eat — and leaving some of the best tips in the country on the table.
A new report from Toast, a company that markets point-of-sales tablets for the restaurant industry, puts Granite State diners in fifth place when it comes to generous tipping, the highest in New England and tied with Ohio and West Virginia. New Hampshire residents average 20.6 percent tips on their total bills when they dine out or order in.
Tom Boucher, CEO of Great NH Restaurants, the company behind the Copper Door and other eateries, said his servers are definitely getting at least 20.6 percent. That is good news for the tipped employees who rely on the income, he said.
"We're above [20.6 percent] for sure," Boucher said. "Our tipped employees are making more than 20 percent."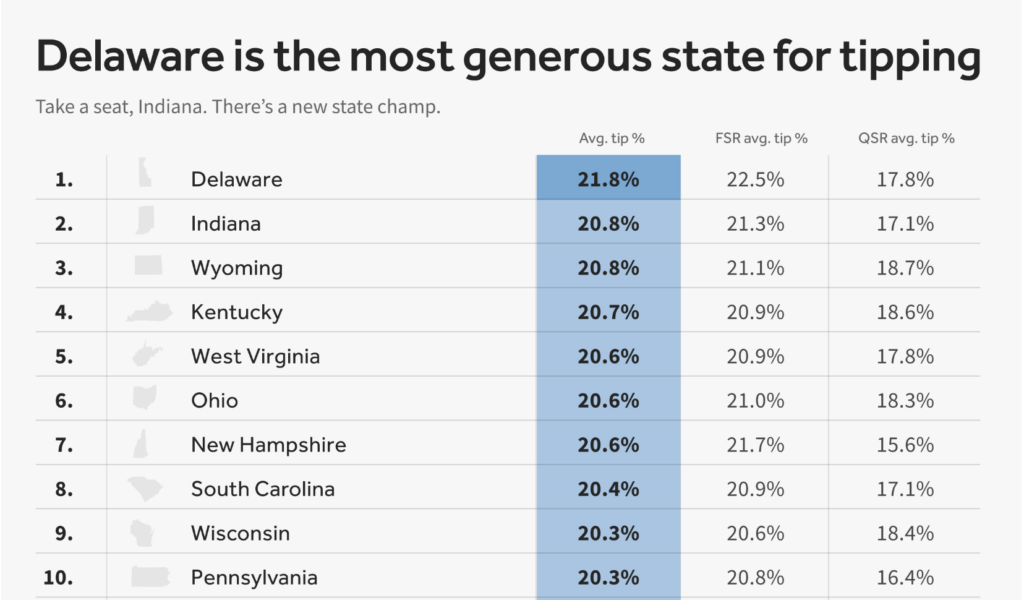 Servers have been seeing bigger tips as restaurant tabs have risen since the start of the COVID pandemic and surging inflation. Mike Somers, CEO and president of the New Hampshire Lodging and Restaurant Association, said industry costs have been climbing for the past few years. Food prices, energy prices, and labor costs are all higher, and they are impacting diners' bills.
"Every time the menu prices increase servers would see the increase anyway," Somers said.
But Somers said he also believes the pandemic changed people's behavior when it comes to tipping. Customers gained a new appreciation for the service offered during COVID-19 and showed it with more generous tips. Somers added the trend has continued.
"People were tipping 20 percent or better as a general rule, and, anecdotally, folks maintained that tipping," he said.
Not all the news is good, however. New Hampshire restaurants find themselves in a difficult moment, Somers noted. Inflation is still climbing and the labor supply remains tight. They are cutting into profit margins and pushing up menu prices even more. January's surprisingly hot jobs market was driven in large part by the restaurant and hospitality industries, which added nearly 100,000 jobs in a single month. But the industry is still about 500,000 jobs below pre-pandemic levels and labor shortages remain.
So far, consumers are still spending — and tipping. But how long will that last?
Somers is cautiously optimistic.
"Our members were busier through the winter than we had anticipated. That's very encouraging for spring and summer, which are typically our busiest seasons," Somers said.
Boucher isn't seeing any slowdown at his establishments. The New Hampshire economy is expanding, he said, especially in the southern portion of the state. 
"Our sales are robust at all locations," he said.
Large developments in Salem, Nashua, Londonderry, and Bedford are bringing more people into the state, and those people are going out to eat, he said.
"People are feeling pretty bullish in southern New Hampshire," Boucher said.
People tip based on the food, the atmosphere, and the service, Boucher said. It is rare for a customer to undertip at one of his establishments unless there was a problem. Otherwise, New Hampshire diners leave solid tips.
Generous tipping may be an indicator of how people feel about their own finances and may be a sign of overall economic strength. New Hampshire has the strongest economy in New England, and it is the only state in the region to make the top 10 list of generous tippers. 
On the other end of the economic spectrum, California — with an economy that has been slipping toward recession —  has the worst tippers in the country, paying out 17.5 percent tips on average.
Washington state, amid a recession, ranks 49th on the list of tip averages, leaving 18.2 percent. Floridians are the third cheapest tippers, but restaurant insiders say that could have more to do with the state's elderly population than its economy.
"Old farts don't tip," one former restaurant manager told NHJournal. "When the blue hairs show up, tips go down."