The good news for President Trump from the latest New Hampshire Journal poll is that Granite State voters don't like socialism.  
The bad news is that they really don't like Donald Trump.
President Trump has made no secret of his plan to paint his Democratic opponents as "Socialists" in the 2020 campaign and, based on the data, that's a smart strategy for New Hampshire—a state Trump lost to Hillary Clinton by fewer than 3,000 votes.  When asked if they supported or opposed America becoming a more socialist country, opponents outnumbered supporters by nearly 20 points, 52 to 34 percent.

In fact, more than 40 percent of Granite Staters said they "strongly oppose" America becoming more socialist, while just 12 percent strongly support it.
However, when those same voters were asked to choose between re-electing President Trump or "a Democrat who embraces socialism," the socialist wins — beating Trump 52.5 to 47.5 percent.

The poll of 641 registered voters was conducted by Praecones Analytica between March 26-28 and has a margin of error of +/- 3.87 percent.
"My response is 'Wow,'" says Dr. Wayne F. Lesperance, Jr., professor of political science at New England College. "A majority of New Hampshire voters supporting a socialist Democrat is surprising, but juxtaposing it against their lack of support for socialism in general is even more telling.
"When you look at the crosstabs and see that nearly 20 percent of Republicans would rather vote for a socialist than re-elect Trump really, it tells you that the president has a problem in New Hampshire."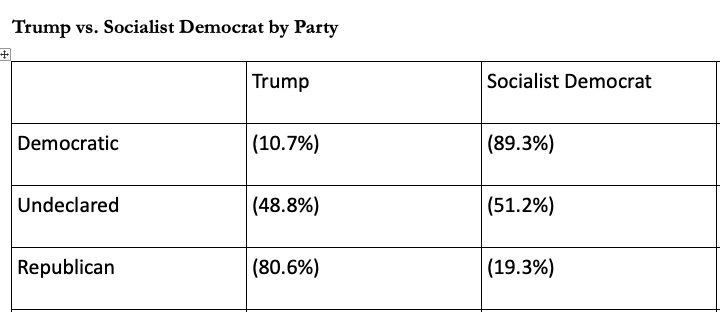 On Tuesday, Trump campaign advisor (and daughter-in-law) Lara Trump told NHJournal  "we fully expect to win New Hampshire in 2020," and she pointed to the socialist politics of the Democratic challengers as one reason for their confidence. As of today, however, Granite State voters appear to be more willing to embrace socialism than four more years of a Trump presidency.
"It's the old line about 'any enemy of my enemy is my friend,' Emerson University pollster Spencer Kimball tells NHJournal. "The intensity of opposition to President Trump appears to be causing New Hampshire voters to pick what they see as the lesser of two evils."
But could today's good news about beating President Trump actually be bad news for the future of the Democratic Party?
While New Hampshire voters have an unfavorable view of Trump (he's underwater by 12 points in the latest NHJournal poll), they still aren't embracing socialism itself. A combined average of 65 percent of Republican and nonaffiliated voters oppose America moving towards socialism, while just 22 percent support it.
Democrats, on the other hand, are a mirror image of the rest of New Hampshire, supporting a move towards socialism by a 63-22 percent margin. This explains the popularity of (Socialist) Sen. Bernie Sanders, and the aggressive push by 2020 Democratic hopefuls to the Left as they battle for their party's nomination.
But what happens if the pro-socialist majority in the Democratic Party wins? Will they have set up their party to lose?
"I'd like to see somebody come in and make a case for electing a more moderate candidate," former N.H. Gov. John Lynch recently told the New York Times." I believe that if the Democrats want to beat President Trump, their best bet is electing somebody in the middle."
The names on Gov. Lynch's list? Former NYC Mayor Michael Bloomberg, who has announced he's not running; and former Vice President Joe Biden, who's undergoing a trial by fire before even entering the race.
Longtime N.H. Democratic activist and Clinton campaign co-chair Terry Shumaker also doesn't want to see his party move farther to the Left. "I think the nation wants a centrist leader," he tells NHJournal. "But if we do [embrace socialism], it won't be the first time." Shumaker points to the George McGovern era of the 1970s and the William Jennings Bryan campaigns of the late 1800s.
"And if you recall, neither one achieved success in their campaigns for the White House," Shumaker said.