New Hampshire House Finance Committee Chair Rep. Ken Weyler (R-Kingston) distributed a discredited conspiracy theory manifesto to his fellow committee members Monday, inspiring groans from the GOP and outrage from Democrats.
"Detached from reality" was Gov. Chris Sununu's take, while Democrats demanded yet again that the 80-year-0ld legislator be removed from the Finance and Joint Fiscal Committee he chairs. But House GOP leaders are, for the moment, defending Weyler's odd behavior.
Weyler's document, with the understated title "The Vaccine Death Report," falsely claims "millions of people have died, and hundreds of millions of serious adverse events have occurred, after injections with the experimental mRNA gene therapy."
And, the authors add, "We also reveal the real risk of an unprecedented genocide."
The 52-page manifesto makes many false and irrational claims about the vaccine and other topics. For example, the authors say governments will "steal our very own thoughts and feelings through 5G," and claim that in addition to the Pope, the Catholic Church has spawned an evil "Black Pope" and a "Grey Pope."
"This supreme puppet master operates entirely in the shadows, from where he yields enormous power over the world," they claim.
Perhaps the most eye-popping bit of paranoia comes under the heading "CREATURE WITH TENTACLES," in which a woman scientist says observations of the vaccine under a microscope revealed "a living organism with tentacles. This creature moves around, lifts itself up, and even seems to be self-aware.
"The sight of this and the thought that these unknown, octopus-like creatures are being injected into millions of children worldwide, caused [the doctor] to weep," the manifesto reads.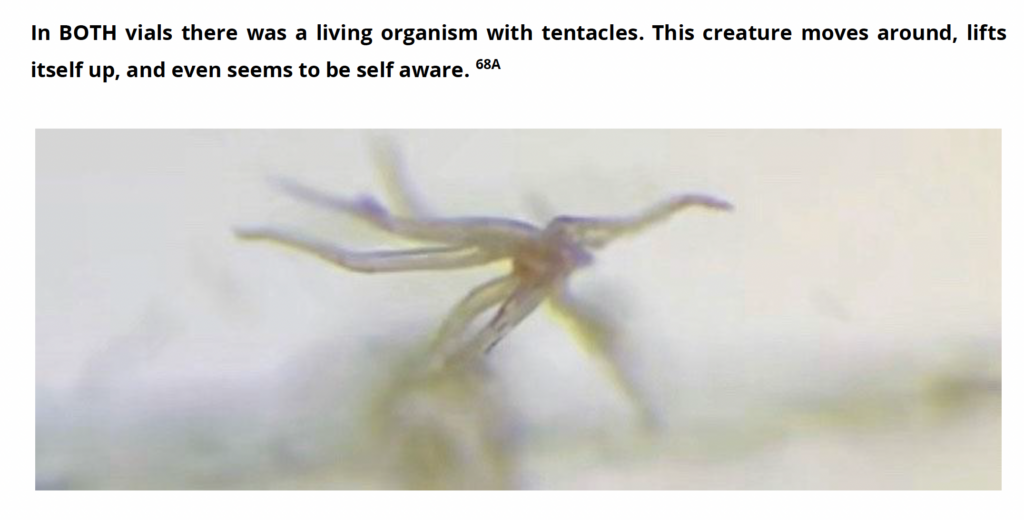 "As we prepare to meet again on October 22 to take up the $27 million in federal aid, weeks behind where we could've been in pandemic response, we are left wondering what information we are waiting on as it certainly can't be this," said ranking Democrat on the committee Rep. Mary Jane Wallner (D-Concord). "The continued dissemination of disinformation on COVID from Rep. Weyler is a danger to public health in New Hampshire and to the credibility of the legislature as a whole."
Weyler shared the document in an attempt to bolster his own bizarre claim that "90 percent" of those hospitalized for COVID-19 have been vaccinated. Available data show more than 90 percent of those hospitalized and killed by the virus were unvaccinated. He made the allegations during a Fiscal Committee meeting last month.
As his source, Weyler told NHJournal, "I was listening to a talk show and a woman says she's an ER nurse, and that 90 percent of people coming in have had the shot." Weyler also said he's seen reports "on the internet" of outcomes different from those reported by the state's Department of Health.
Weyler did not respond to requests for comment on Monday.
This new document, with strange talk about "spasms" and the vaccine interfering with "human electromagnetic fields" takes Weyler's conspiracy claims to Dr. Strangelove levels. And it raises questions in the minds of some of his fellow Fiscal Committee members about Weyler's judgment.
"It's a shame because I like Kenny, I've worked with him for years," said fellow committee member Sen. Lou D'Allesandro. "But this is outrageous," he said of the manifesto. "It discredits his years of service, it's really unbelievable."
Despite the political downside, the House GOP leadership is standing by Weyler, dismissing his spread of bizarre documents as standard operating procedure.
"It is not uncommon, whether one agrees or disagrees with the content, for a committee chair to share constituent information with committee members," said Speaker of the House Sherman Packard.
House Majority Leader Jason Osborne (R-Auburn) echoed the sentiment. "This was just standard practice for the chair to forward information to the committee received from the public," he told NHJournal. "Must be a slow news week for the Democrats."
Sununu did not agree. "I have repeatedly expressed directly to Speaker Packard about the need to remove Rep. Weyler from this position of leadership, and these latest absurd emails have accelerated the urgency that the Speaker needs to take action. Disseminating this misinformation clearly shows a detachment from reality and lack of judgment," he said in a statement.
Weyler's 'COVID X-file' features the oft-repeated falsehood that tens of thousands of Americans have been killed by the vaccine. Like many New Hampshire anti-vax activists in the Rebuild NH movement, the report points to numbers from the Vaccine Adverse Event Reporting System (VAERS) to back up claims of widespread deaths.
This isn't true.  VAERS is an official public government database where anyone can submit any potential adverse health effect report following a vaccine. The reports are not medically confirmed or verified. Meanwhile, only a handful of deaths have been directly attributed to the vaccine out of more than 215 million Americans who have received at least one shot.
Politically speaking, the strangest part of the story may be the GOP's reluctance to throw Weyler under the bus. While Americans might be divided over mandating the vaccine, they overwhelmingly support the shot itself — as evidenced by the fact that 78 percent of all adults have gotten at least one shot. In New Hampshire, 71 percent have taken the jab.
For GOP insiders, this narrative translates into bad news at the ballot box next year.
"It's hard to find 70 percent issues in politics right now," one GOP strategist told NHJournal. "And these people insist on being on the wrong side of it. Do they not want to win?"