New Hampshire Republicans were stunned by a Facebook post from Democratic state Senate candidate Christine Tappan featuring what appeared to be an endorsement by state Sen. John Reagan, the Republican she hopes to replace.
Tappan's campaign Facebook page includes a post with Reagan's praise for the Democratic candidate. "I've worked with Christine for years to protect our most vulnerable children," Reagan is quoted as saying. "I know she will represent our communities with character, integrity, and independence."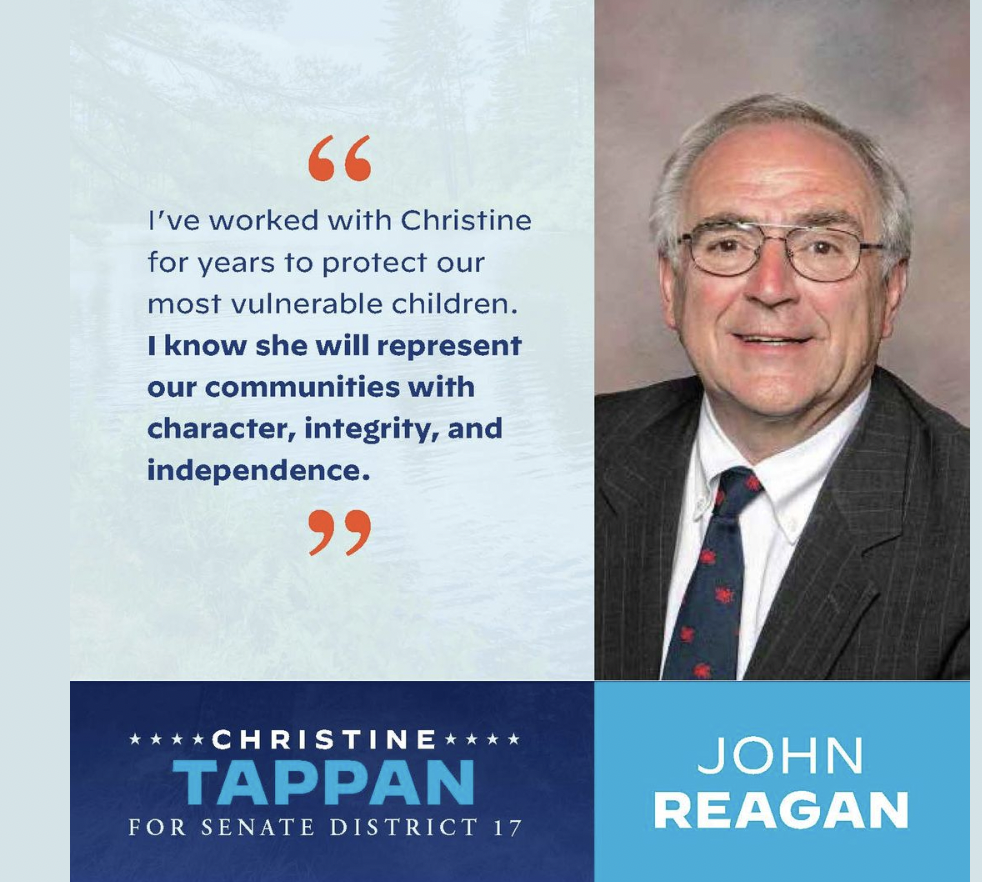 The phrase about representing our communities would appear to be a clear endorsement of Tappan's candidacy. However, when asked by NHJournal about publicly supporting her campaign, Reagan denied he had done any such thing.
"I don't think that was an endorsement, just a statement of my experience with a former agency director," Reagan told NHJournal.
Asked if Tappan was mistakenly presenting his comments as an endorsement and who he is supporting in the Senate District 17 race, Reagan declined to respond.
"Democrats appear to see it as an endorsement. I agree, Senator Reagan! Christine Tappan's commitment to New Hampshire children and families is unmatched," said state Sen. Becky Whitley (D-Hopkinton) via Twitter. "She'll bring an incredible amount of expertise to the New Hampshire Senate."
"Congratulations," added the SEA/SEIU labor union. "Bipartisan support!"
Republicans currently enjoy a 14-10 majority in the state Senate, a majority they hope to expand in a midterm election that appears to favor the GOP. And, political insiders say, the new state Senate map passed by the legislature also adds to Republican odds of picking up another seat or two. For example, incumbent Democrat Sen. Kevin Cavanaugh is not seeking re-election in the newly-drawn, GOP-leaning District 16.
However, not everything is going smoothly for the GOP. State Senate President Chuck Morse left his seat for an unsuccessful U.S. Senate primary bid. The GOP nominee in District 16, state Rep. Michael Yakubovich had to take himself off the ballot due to illness. He has been replaced by Keith Murphy of Manchester, who wasn't on the ballot anywhere in 2022. He will face Democrat June Trisciani of Manchester.
And last week a national Democratic organization focused on state legislatures announced it was targeting New Hampshire with money and resources, hoping to flip the State House back to Democratic control.
Now comes an apparent endorsement for the Democratic candidate from the departing GOP incumbent.
The Republican running to fill Reagan's vacancy, state Rep. Howard Pearl, told NHJournal he isn't worried.
"The only endorsement I'm interested in is the voters of District 17," Pearl said. "I look forward to serving them well when I am in the Senate.