GOP House candidate Elliot Axelman wants to abolish Medicare, calls global warming a "hoax," and believes (in his words) "democracy is 100 percent evil," comparing it to "gang rape."
He's also the front-runner to win a special election to fill the vacancy for Merrimack County District No. 24 in Hooksett on March 10. Why?
"It's a binary choice," he told NHJournal. "The Democrats want to turn New Hampshire into another New York. They call me the crazy anarchist who wants to abolish Medicare and push granny off the cliff, but what's interesting is that I'm the preservationist in this race.
"I want to preserve the New Hampshire Advantage, our Second Amendment freedoms, and our great economy. People call me a crazy radical, but all I've tried to do is preserve New Hampshire because New Hampshire is great!"
Axelman's facing off against Kathleen Martins in a solidly red district, a Democrat who has already declared her support for a state income tax.
Axelman makes no secret of the fact that his move to New Hampshire in 2017 from New York City was inspired in part by the Free State Project, an effort to get libertarian-minded people to relocate here. And his embrace of small-government libertarianism is no secret, either. His first Granite State visit was to attend a libertarian leadership conference in Manchester.
What is secret, however, is Axelman's entire social media feed. He acknowledged to NHJournal that he's recently shut down his Twitter and other accounts after Democrats began circulating some of his previous posts. "I've tweeted a lot of things and some of them are controversial," Axelman admitted.
Among them:
"Global warming is the biggest hoax in human history."
"The last thing I want to be called is a 'law-abiding citizen'."
"2015: gay marriage is fine, but transgenders are mentally ill 2017: transgenders are the best kind of people, but pedophilia is definitely wrong 2019: pedophilia is totally acceptable, (what comes next?)"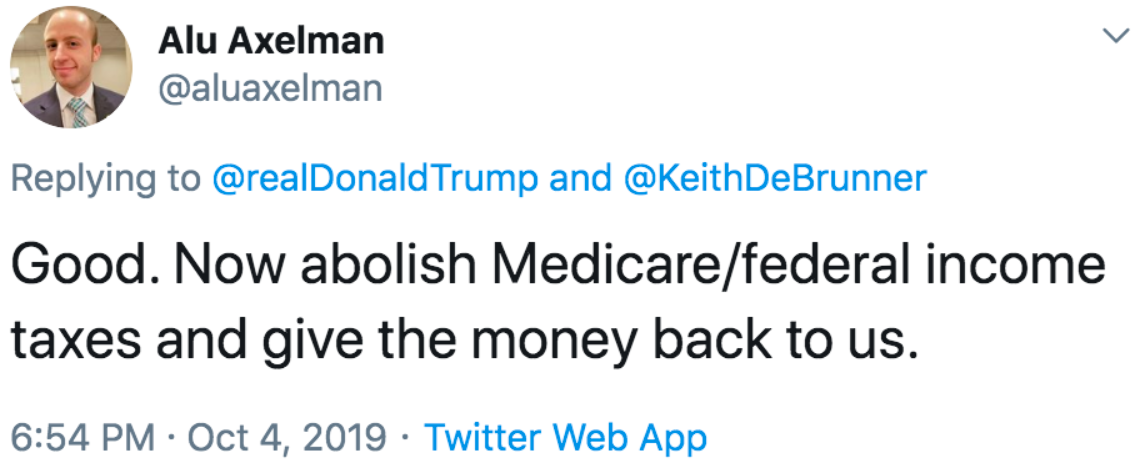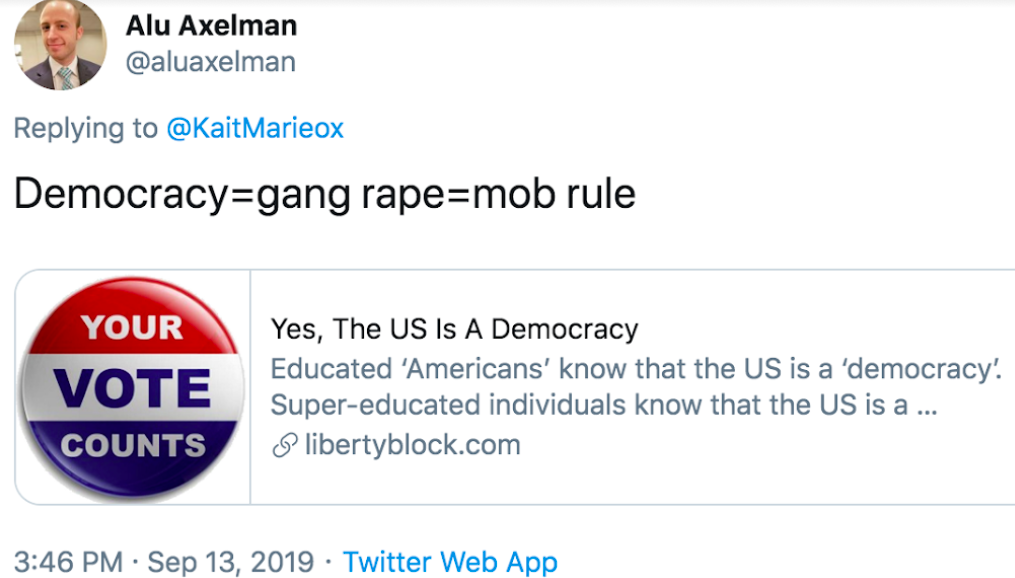 The NHGOP declined repeated requests for comment. Not surprisingly, New Hampshire Democrats have pounced:
"Chris Sununu and Matt Mowers' candidate for Hooksett state representative said that democracy is equal to gang rape, wants to abolish Medicare, believes that global warming is the 'biggest hoax in human history,' and wants to abolish the Department of Homeland Security – which is charged with keeping America safe from terrorist threats and securing our border. Chris Sununu and Matt Mowers have been boosting Elliot Axelman's statehouse candidacy, because though they try to keep them under wraps, their views simply aren't that different than Axelman's," said NH Democratic Party spokesperson Holly Shulman.
Attempting to link popular GOP Gov. Chris Sununu to Axelman's extreme libertarian views is to be expected. The NH Democratic Party has been trying to turn Sununu into the Granite State Donald Trump for years, and Axelman's campaign Facebook page (as opposed to a personal page) features a photo of Axelman with the governor.
More interesting is the Democrats' decision to target NH-01 Republican candidate Matt Mowers as well. He's in a contested GOP primary with longtime NHGOP activist Matt Mayberry, among others. Mowers could be a target of opportunity–he went door-knocking with Axelman — or it could be a reaction to Mowers' endorsement by Trump campaign strategist Corey Lewandowski.
In a special election, turnout is usually extremely low. With the support of the state GOP, there should be enough Republican regulars for the party to hold the seat. And while Axelman's language is inflammatory, many New Hampshire Republicans are familiar with the fundamental libertarian ideas he's promoting. Local Republicans don't necessarily reject the idea that government is too big, or that some rights should be beyond the reach of the democratic process.
At the same time, saying democracy is "100 percent evil–that's a fact," and connecting gay marriage to pedophilia can be off-putting to the average voter. The question in Hooksett is going to be whether voters would rather have a kooky libertarian who's going to vote against every tax hike, or a mainstream Democrat who supports an income tax.  House Democrats didn't do Martins any favor by voting by proposing tax hikes on electronic devices a week before the vote (It was overwhelmingly defeated 320 to 11.)
Axelman asks, "Do you want to keep New Hampshire awesome? Keep our taxes low, protect our liberties, keep government small? Or do you want to vote for a Democrat and ever-higher taxes?"
Even if it means voting for someone who wants New Hampshire to secede from the union?
That's the question Hooksett voters will answer on March 10.