The AP's Amy Taxin and Holly Ramer broke the story:
A New Hampshire state lawmaker producing and starring in a porn film assaulted his business partner in California after he felt his scenes didn't go well, according to a civil lawsuit filed by the partner.

Jonathan Carter filed the suit Friday in Southern California, seeking unspecified damages following a June incident that he claims involved state Rep. Frank Sapareto.

Sapareto denied the allegations or knowing Carter or having any business involvement with the adult film industry.  "I don't know what you're talking about," Sapareto said in a phone interview.

"I don't know what you're talking about," Sapareto said in a phone interview.

"Wow, that's a great story," he said, laughing. "I haven't heard that one. I thought we were all done going after men."
Now anyone can file a civil suit alleging anything, so the part of the AP story that makes this interesting is that there's a police report from Simi Valley, CA involved:
"In the police report, authorities say Sapareto told them that he met Carter online while seeking a business partner to make an adult film and that he went to his home to return camera equipment. According to the police report, he denied assaulting him…

When asked about the police report, Sapareto said that he was stopped for a traffic violation. In a follow-up email, he said police didn't find the allegation credible and that he has not been accused of anything."
So we've gone from "what police report?" to "I was stopped for a traffic beef" to "Ah, the police didn't believe it anyway…"  Yeah, not a good look for the Republican from Derry. And it's not the first time he's been accused of assault.  Sapareto was convicted on multiple counts of simple assault in 2013, involving an ex-girlfriend and some of her family members. Rep. Sapareto was sentenced to 30 days (suspended) a $500 fine and anger management classes.
Apparently he didn't study….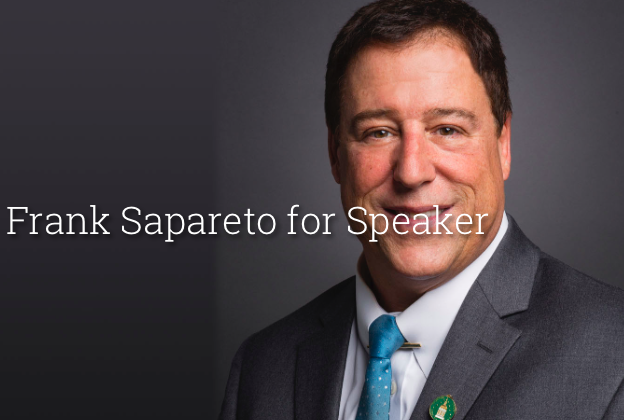 The question now is how his GOP colleagues will respond on the eve of the midterm elections. Unlike the Sen. Jeff Woodburn case, the details here are sketchy (for the moment) and Sapareto doesn't face any criminal charges.  Voters and Republican leaders are left with a civil lawsuit and some vague details.
Oh–and PORN.  
If this were about a shoving match at a bar or baseball game, it could be shrugged off. But when the guy you punched was in charge the camera crew zooming in on your actions areas during a steamy scene in "Lascivious Legislators IV," that's a political problem.
What are Democrats going to say about it? Thanks to Sen. Woodburn, not much.  The Democratic state senator is charged with a crime and, unlike Rep. Sapareto, we've all seen the photos. (And please, Frank–let's keep it that way!).
Best guess is Sapareto is re-elected, but he can pull down his page promoting his election as House Speaker down now. That dream is over.