State Senate President Chuck Morse, whose Salem district is on the line with Massachusetts, showed a video of his recent trip to the southern border of the United States during a campaign event last week. And he is hardly alone.
At least three New Hampshire Republicans running for federal office in the midterms have visited the southern border as part of their campaign, a sign the GOP sees the issue as a vulnerability for Sen. Maggie Hassan and her fellow Democrats.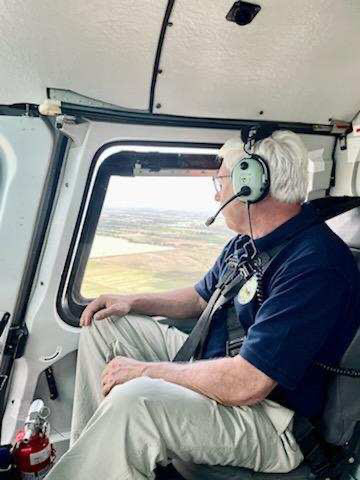 Morse, who is seeking the GOP nomination to challenge Hassan, was invited to tour the border by Gov. Greg Abbott (R-Texas), who is using state law enforcement and resources to confront the flow of illegal immigrants, many of them coming directly into his state. According to Morse, "Border Patrol agents have estimated that at least two million illegal immigrants have crossed our southern border since Joe Biden took office. That is greater than the entire population of New Hampshire.
"In fact, the amount of people illegally entering our country each and every month is roughly equal to the population of Nashua or Manchester," Morse added.
Morse extended an invitation to the tour and briefing to all 10 New Hampshire county sheriffs, according to his campaign. He was joined by four—Bill Wright of Belknap County; Chris Connelly of Hillsborough County; John Simonds of Sullivan County; and Chuck Massahos of Rockingham County.
During an event Thursday at St. Anselm College, Morse was joined by Sheriffs Wright, Simonds, and Massahos who talked about their first-hand experiences at the scene of the border crisis. Morse said a major problem is how people are allowed to request asylum, regardless of whether their claim is credible, and then released into the U.S.
"The first country these people come into, that's where they should get asylum, not in America," Morse said. "America needs to send a message that we are ending 'catch and release.' That's the biggest thing America could say right now."
Sheriff Massahos made an unequivocal endorsement of walls at the border. "I could see that the walls were working down there. You could see that the walls were working."
Hassan has already endorsed building more of Trump's border wall, and she made her own trip to the edge of Mexico to shoot a video standing in front of the wall. Hassan has also broken with President Joe Biden and is now embracing Title 42, a public health regulation being kept in place to turn away would-be migrants.
That stance has inspired anger from Granite State progressives who say Hassan's position is racist, and New Hampshire Republicans, who say her position isn't real. It is just an Election Day conversion of convenience.
"You've got to make sure that people believe you. You can't open the border a year and six months ago, and then go down there during an election and say, 'I want to build this wall,'" said Morse. "We saw the wall stopped a long time ago and getting rusty while she was waiting to make a decision to change her mind."
Earlier in the year, Republican Senate candidate Kevin Smith made his own trip to the border, highlighting Hassan's failure to act on the problem. First District Republican Gail Huff Brown has also made the trip.
Nearly three of four registered voters surveyed in the New Hampshire Journal/Praecones Analytica poll released last week said border security and illegal immigration are very or somewhat important issues. And while there was no consensus on who was most responsible for the current border crisis, a plurality of Granite State independents blamed Biden.
"For me, it's very simple," Morse said. "Let's follow the laws we have now, let's enforce them, and let's make people accountable for coming into the country the right way."