The rural New Hampshire lunch lady who made international headlines claiming she lost her job over a free meal for a hungry child was in fact fired for lying and fraud, new details reveal, and she is now referring all questions to her attorney.
But she is still collecting thousands of dollars in charitable contributions on her Go Fund Me account.
Bonnie Kimball of Canaan, New Hampshire, was celebrated on national television and received job offers from celebrity chefs after claiming she'd been fired for feeding a Mascoma Valley high school student who had no money in his lunch account.  Kimball said letting the student eat for free was a one-time event, and that despite the fact that the student's parents made up the shortfall the next day, she was still let go.
However, president of Fresh Picks Café, Brian Stone, said that Kimball had allowed the student to eat free for months and lied to management to cover it up.  After Kimball was replaced in late March "this student's account shows regular activity," Stone said in a video statement. He also reiterated that "every student in the lunchline gets a lunch" under the Fresh Picks policy.
On Tuesday, the New Hampshire Union-Leader followed up with an interview of the student's mother that further contradicted Kimball's claims. The mother, whose name was withheld along with the student's, told the Union-Leader that her 17-year-old son had never gone hungry and was supposed to be packing his own lunch.
"I have three children, and they are all well-cared for and well-fed," the mother said. "She did not get fired for feeding a hungry child."
The mother also said Kimball was sending personal messages to her son via Facebook, bragging about her television appearances and asking him to back up her story regarding the lunch payments. "We will prolly get written up, but we can make it look good. Lol," Kimball wrote him in a FB message.
As a result, Mascoma Valley Superintendent Amanda Isabelle has rescinded an offer to re-hire Kimball.
"We appreciate that this student and family bravely came forward and that Superintendent Isabelle has rescinded her request to rehire the ex-employee based on recent information," Stone said in a statement to InsideSources. "It was clear the employee violated the existing policies of the school."
However, hours after these facts came out, Kimball was still soliciting donations via her Facebook page to an active GoFundMe account. Her account balance early Wednesday afternoon was more than $8,300.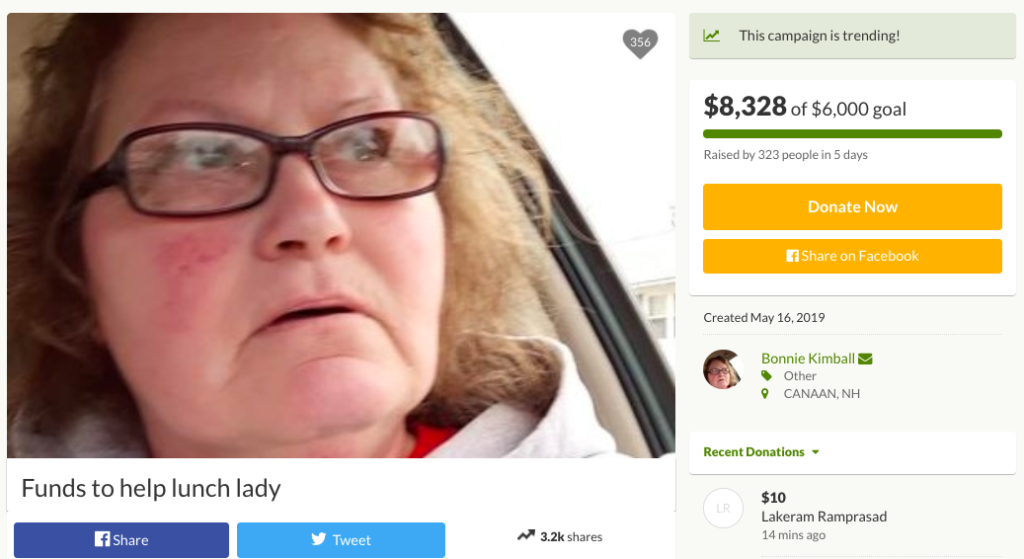 Kimball continues to insist she's done nothing wrong, telling a local TV station, "To me, letting that kid go hungry because he didn't bring any money that day, that would have been wrong. If the bill did not get paid, damn straight I would have paid it out of my own pocket."
The school system, on the other hand, has opened an investigation. "We have been overwhelmed by a crush of national and international media interest in this incident, but I do not believe we have yet seen a full and complete retelling of the facts," Isabelle said in a statement.
"Therefore, we will compile a thorough report on this investigation, and we will make the findings of the independent investigator public," she said. "The public, especially our 1,200 families and the thousands of citizens of the communities we serve, deserve nothing less."
Kimball referred InsideSources' request for comment to her attorney.