A revised schedule for the U.S. Senate Judiciary Committee's business meeting today has a familiar name at the top of the agenda: Former New Hampshire Attorney General Michael Delaney.
The question is whether his nomination to the U.S. Court of Appeals for the First Circuit will finally get a vote, or will chairman Sen. Dick Durbin (D-Ill.) be forced to table it again due to lack of support among his fellow Democrats?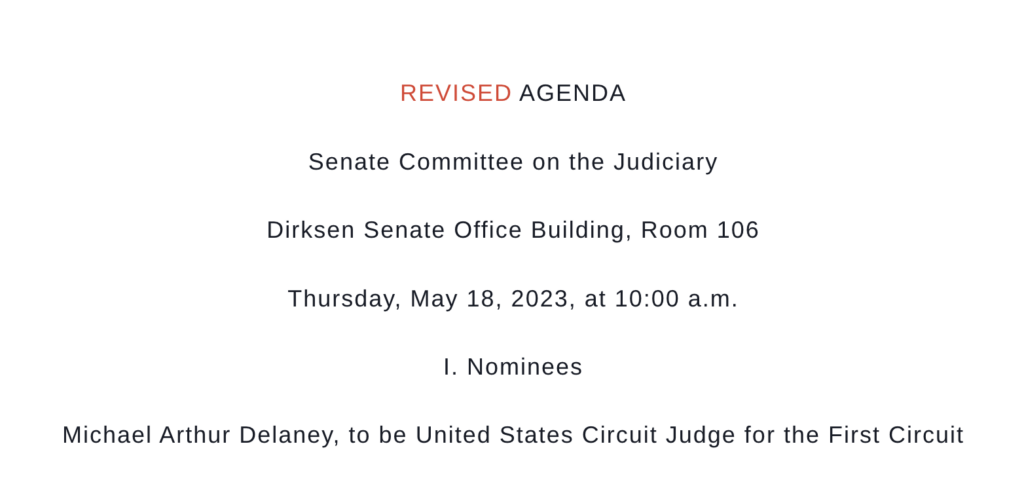 Delaney has the full-throated backing of the Granite State's two U.S. Senators, Maggie Hassan and Jeanne Shaheen, but tepid support at best from the rest of the Democratic caucus. At least four Democrats on the Judiciary Committee — Sens. Richard Blumenthal (D-Conn.), Cory Booker (D-N.J.), Mazie Hirono (D-Hawaii), and Sheldon Whitehouse (D-R.I.) have publicly said they are undecided on Delaney, and more members could be, too.
During Sen. Dianne Feinstein's long absence, Delaney's nomination was held up by the 10-10 make-up of the committee. Delaney has no Republican support and needed at least one GOP crossover to get out of the evenly-split committee.
When Feinstein returned last week, there was hope in the Delaney camp he'd finally get a vote. But even as controversial judicial nominations were sent to the floor last week, Delaney's name was still pulled without a vote.
"It wasn't the right moment," Durbin said after the meeting. Asked why, Durbin reportedly replied, "count votes."
Does Delaney's name at the top of the list mean Durbin and the White House have been able to get the committee's Democrats to set aside their concerns and back the nomination? That's the thinking of some D.C. politicos who've been following the nomination and don't believe his name would be on the final schedule if Durbin didn't believe the votes were there.
On the other hand, Delaney's been item number one in the past and the vote's been held over. Will he go through the embarrassment of being passed over yet again?
While Delaney can't be enjoying having his past mistakes brought up again and again — in particular his mishandling of a sexual assault case on behalf of an elite private school — the impact of his flailing nomination is worse for the state's senior senator.
Shaheen's reputation has taken a hit over her inability to move members of her own conference as a senior senator who's spent two decades in D.C. In January, it was her party's decision to strip New Hampshire of the First in the Nation primary without even giving her a heads up. Now comes the nomination of a loyal party operative to the federal bench, blocked not by Republicans, but by members of her own party.
Delaney's facing three different challenges. Victim's rights groups oppose his nomination over his attempt to strip a teen sexual assault victim of her anonymity in her lawsuit against the exclusive private school where she was attacked. Abortion rights advocates aren't backing Delaney because he signed a legal brief advocating for the state's parental notification law for minors who want abortions. And progressives are concerned about his work with the New England Law Foundation, a free-market advocacy organization.
Shaheen, 76, declined to respond to requests for comment, and her staff carefully controls media access to the senator.