The Biden government claimed just last week there were about 50 Americans being held against their will in foreign countries. But Diane Foley, mother of slain journalist James Foley, said the real number is likely closer to 200.
"There's a minimum of 50, but we know it's just the tip of the iceberg," she told NHJournal.
Then came word this weekend, from an off-the-record conference call, that the Biden White House is in touch with nearly 400 Americans who are stranded in Afghanistan — far more than the 100 they've often claimed. Those U.S. citizens may not be held hostage, but they are trapped and in danger. It's yet another sign of how hard it can be for Americans to get accurate information on the subject.
Diane Foley and the James Foley Foundation are stepping up efforts to hold the United States government accountable for the way it deals with American hostages taken by terrorists or criminal cartels, and Americans wrongfully arrested by hostile regimes.
"We feel the lives of Americans who dare to go out in the world and bear witness, look for the truth, or be an aid worker – our government should have the backs of those brave Americans," she said. 
Foley knows firsthand how the United States government, under then-President Barack Obama, refused to negotiate with terrorists and criminals who kidnap Americans. The long-standing policy also extended to keeping the families of the hostages from being able to negotiate ransoms. In the case of her son, Diane Foley said, the end result was death.
"President Obama felt strongly that we should not negotiate with terrorists," she said. "Families were not helped, and Jim and the three others all died."
Part of the problem is the secrecy behind the hostage problem, she explained. Private corporations routinely deal with employees being taken hostage and will often not disclose the matter while working to get them free. The government is also slow to acknowledge when Americans have been taken captive, and it is not forthcoming when communicating with families and the public. 
"Bringing them home is a very difficult task," Foley said. "Our point is, if we never engage with captors, Americans die."
That is set to change, thanks to the passage of the Levinson Act signed last December by former President Donald Trump. Named for former FBI agent Robert Levinson, a captive of the Iranian regime and recognized as the longest-held hostage in American history, the Levinson Act creates a new government task force that will allow more resources to help families and work to free American captives. The State Department will be required to make public disclosures about captive Americans as part of the new law.
"It's going to empower entities like ours to press for the return of the brave Americans," Foley said.
James Foley was a freelance conflict journalist who grew up in Rochester and was taken captive by ISIl terrorists in 2012. His captors murdered him in 2014, posting a video of their crime online. James Foley's murder prompted Obama to change course on dealing with hostages, Diane Foley said. 
"He changed direction to establish structures to help hostages and their families," she said.
While not negotiating with terrorists and not paying ransom was seen as a deterrent, a Rand Corporation study found law enforcement is a more effective tactic dealing with kidnappers and terrorists.
"Criminal kidnappings proliferate where law enforcement is weak and the probability of apprehension, conviction, and punishment is extremely low," the study states.
Last month Alexanda Kotey, one of the terrorists who took a leading role in Foley's murder and the killings of American aid workers, pleaded guilty in federal court in Virginia. Another lead terrorist, El Shafee Elsheikh, is being held pending trial.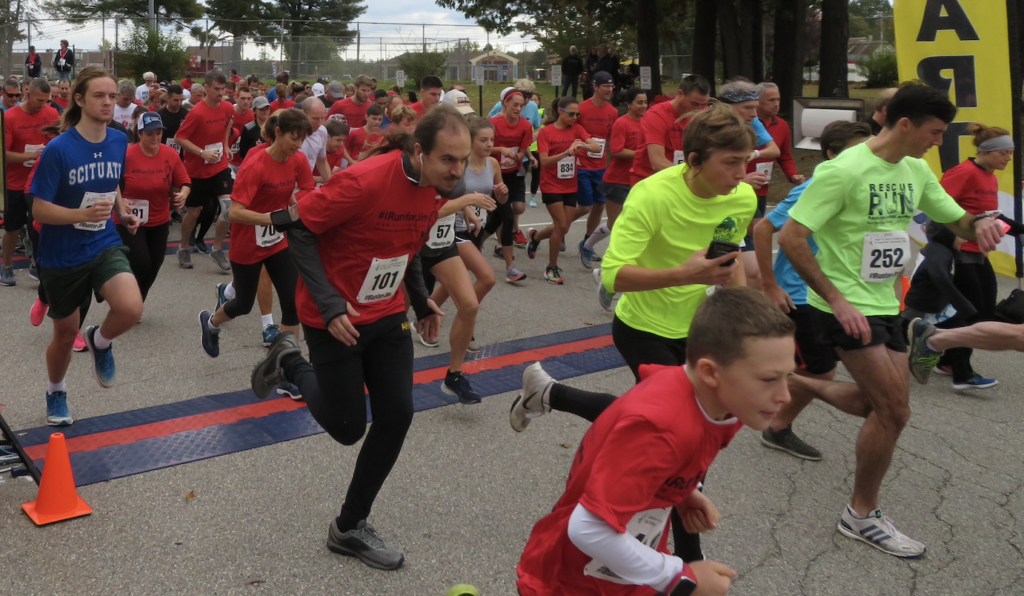 The Jame Foley Foundation advocates for the families of captive Americans. It offers safety education to American aid workers, journalists, and others who work in dangerous places overseas. 
"We're developing a curriculum for aspiring journalists on how to stay safe in the world," she said. "We need brave Americas out in the world, we just want them to be safe."
On Saturday, the James Foley Foundation held the seventh annual James Foley Freedom Run. While the 5k run is based in Rochester, N.H., people around the world were able to take part through a virtual 5K. The money raised from the run, and through the Freedom Awards event held in the spring, helps the foundation educate lawmakers and remind the public about the issue of unjustly imprisoned Americans.
"We need to raise awareness to hold people and the government to be accountable," she said.