The New Hampshire Department of Health and Human Services (DHHS) announced Sunday they're expecting the state's first shipment of the Pfizer/BioNTech vaccine to arrive on Monday, December 14. The agency expects to receive more than 12,000 doses, all of which will be administered to frontline workers.
"New Hampshire is ready to hit the ground running to do our part in delivering this game-changing vaccine," Governor Chris Sununu stated. "It is an all-hands-on-deck effort for one of the most important undertakings in the history of our state. The state stands ready to get to work and distribute this life-saving vaccine to the citizens of our state."
The Pfizer vaccine is a two-dose treatment that must be stored at ultra-low temperatures to ensure the vaccine remains potent. In order to protect the product, Pfizer has developed its own thermal shippers that can safely store the vaccine in transit. A local New England company, Acme Acme Dry Ice in Cambridge, Mass., one of the largest distributors of dry ice in the nation, is playing a key role in the distribution.
"There is no sleep for the vaccine or the Covid virus," said Marc Savenor, president of Acme Dry Ice.
According to a DHHS statement, New Hampshire expects to receive 12,675 in the first allotment of vaccine for immediate distribution to at-risk health workers, including front-line clinical staff providing direct patient care. Subsequent weekly allotments of the vaccine will be distributed to all the populations and individuals included in Phase 1a, including at-risk health workers, residents of long-term care facilities, and first responders.
"This momentous occasion marks the beginning of the end of the pandemic," DHHS Commissioner Lori Shibinette stated. "The FDA conducted a thorough approval process while ensuring an unprecedented timeline for vaccine production. The Pfizer vaccine has proven to be safe and very effective in protecting people from COVID-19. This is great news for the people of New Hampshire, who have endured so much for the past 10 months. The end is in sight for this worldwide pandemic."
DHHS also notes that New Hampshire has one of the highest vaccination rates in the country for other commonly administered vaccines. Even so, the state anticipates it will take 6-12 months for widespread access to the vaccine.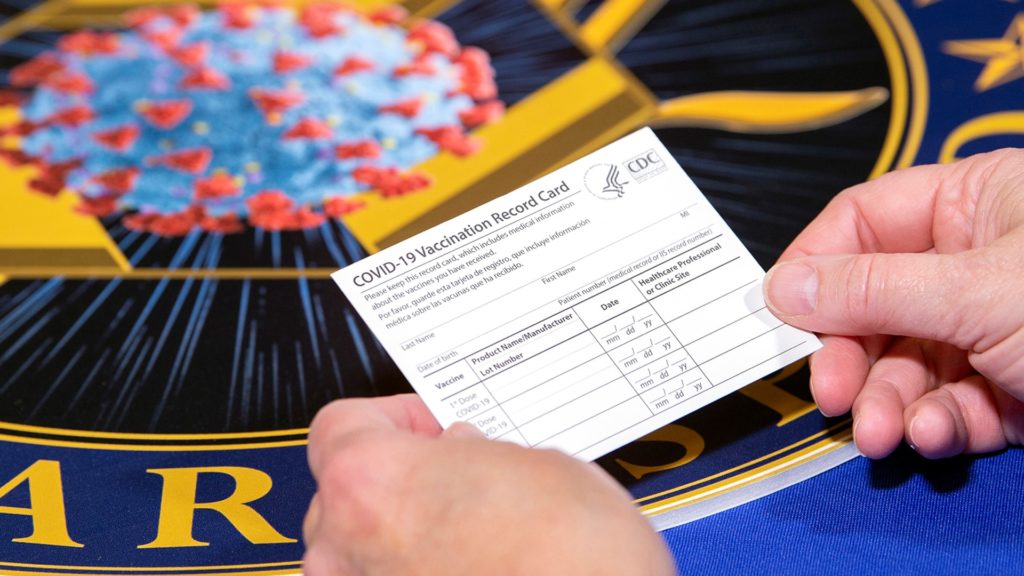 National distribution is being overseen by the Department of Defense (DoD), which is also giving out additional supplies to facilitate vaccinations.
"I gave permission to already distribute syringes and needles, alcohol wipes, and diluent — which is required in support of the Pfizer vaccine," said Army Gen. Gustave F. Perna, who serves as chief operating officer of Operation Warp Speed. The DoD is also distributing a vaccination card with every dose, designed to track the dates of multiple doses and which vaccine each person has received. Questions have been raised about how these cards might be used to identify, and perhaps favor, people who've been vaccinated over those who have not.
New Hampshire's state epidemiologist Dr. Benjamin Chan told NHJournal the cards are intended "for personal use," and that the state will send electronic reminders for second-dose treatments. However, he could not rule out private individuals or businesses using the information on the cards as proof of vaccination for commercial or other purposes.