Two unions representing Granite State first responders are throwing their support to Republican candidates in November's general election.
The Professional Fire Fighters of New Hampshire endorsed Chris Sununu in his re-election bid outside the Hampton Beach Fire Station in Hampton, N.H. on Thursday.
"Gov. Sununu is not simply another politician, but rather an ally and a friend," said Brian Ryll, president of the organization. "He believes in doing good things for good people and he prioritizes the safety of New Hampshire citizens above partisan politics – a policy that we believe in."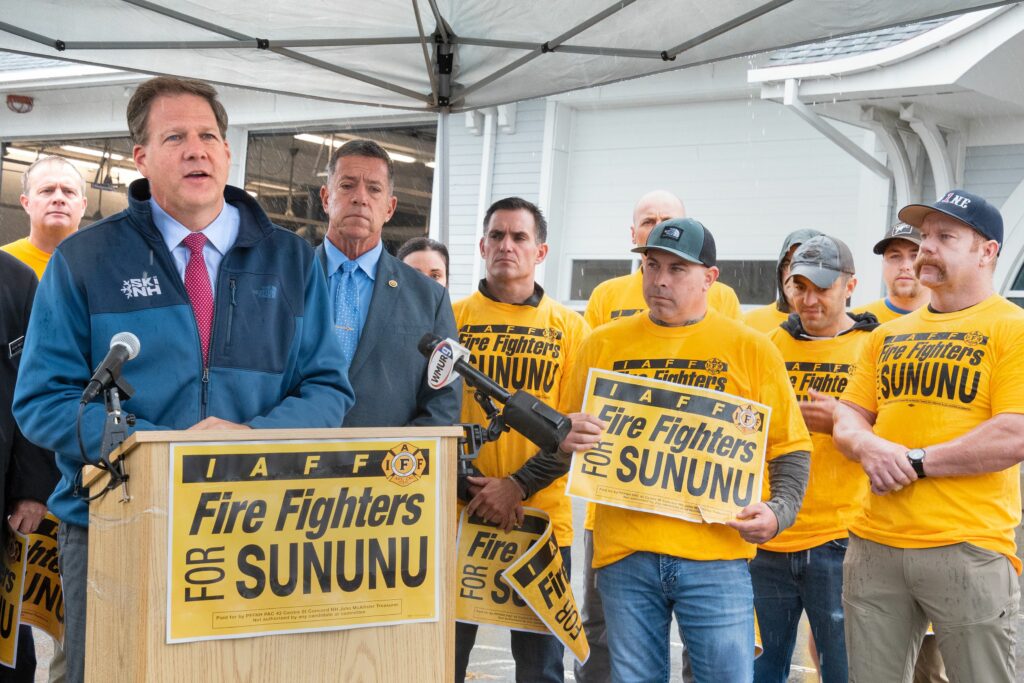 Also in Hampton, the New Hampshire Police Association (NHPA) endorsed Republican Karoline Leavitt over incumbent First Congressional District Rep. Chris Pappas (D).
"Karoline Leavitt has successfully earned the respect, confidence, and full support of the New Hampshire Police Association and its members," said NHPA president Michael Geha. "There are a lot of critically important issues facing law enforcement today, from attempts to repeal qualified immunity, to recruitment and retention issues throughout our great state. We have witnessed Ms. Leavitt's hard work, set of values, and her continued support to law enforcement officers and their families. That is why we are proud to stand by her and endorse her candidacy for U.S. Congress."
The NHPA tends to endorse Republicans, though it did back Sen. Jeanne Shaheen in 2020 over Republican challenger Corky Messner. And in March, the same firefighters backing Sununu now threw their support to Pappas in the NH-01 race.
Crime and public safety have emerged as major issues for voters in November's selection. In the new Siena College/NYTimes poll voters trust Republicans on crime and policing more than Democrats by a 10-point margin (47 to 37 percent). Among independent voters, the GOP's margin is 18 points (49-31 percent.)
Democrat gubernatorial candidate state Sen. Tom Sherman (Rye) rarely talks about crime issues, which is perhaps not surprising in a low-crime state like New Hampshire. It is not mentioned on his campaign page. He has, however, declared "police brutality is a New Hampshire problem," and said, "state government should take action to reduce police brutality in New Hampshire, for example by requiring body cameras or limiting the ability of police to acquire military equipment."
Pappas, on the other hand, has aggressively spoken out about crime legislation, particularly as the 2022 campaign has heated up. On Thursday he released a statement touting his votes for a series of policing and law-enforcement-related bills. As The Washington Post reported, "The legislation is the result of months of negotiations among Democrats as the party seeks to counter Republican accusations that it is soft on crime — a perception that Democrats acknowledge cost them seats in 2020."
One of the bills passed Thursday with Pappas' support, the Mental Health Justice Act is opposed by Republicans who see it as an attempt to defund police by giving some of their duties to non-law-enforcement officials. It would establish a grant program to fund the hiring and training of mental health first responder units who would address mental health crises instead of the police.
The issue of public safety will no doubt be part of the political debate between now and November 8. For the moment, Sununu said he was pleased to have the backing of the firefighters union.
"Working together, we tackled the toughest challenges by making investments into our Fire Fighters, reforming the retirement system, and having their backs," Sununu said. "The men and women of the Professional Fire Fighters of New Hampshire are on the front lines every day keeping us safe. It is an honor to earn their support, and I will continue to put public safety first as governor."