Sen. Maggie Hassan spent more money than she took in during the last three months of 2021 fundraising, according to her filing with the Federal Election Commission. And, Republicans say, that's not even the bad news for the first-term incumbent:
She has spent $12.8 million so far this election cycle and she is still polling in the low 40's vs. unknown GOP candidates.
According to her filing, Hassan raised $3.2 million in the fourth quarter of 2021 but spent $4.4 million.
The National Republican Senatorial Committee (NRSC) was quick to point it out.
"In Q4 of the off-year, Maggie Hassan has spent $1 million more than she raised. Scary numbers for Democratic outside groups," NRSC Communications Director Chris Hartline tweeted.
Those groups, by the way, have also spent millions in the past six months boosting Hassan's candidacy — not to mention a Granite State appearances by President Joe Biden — and yet she is still underwater in the latest St. Anslem College Survey Center poll with an approval rating of 45 to 51 percent.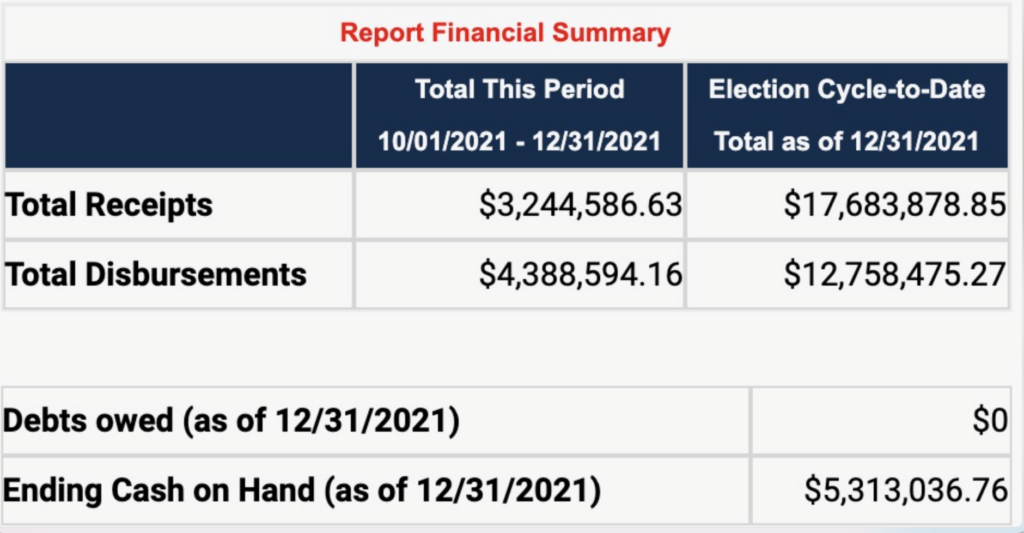 Hassan and New Hampshire Democratic Party chairman Ray Buckley declined to comment on the disappointing fundraising numbers. However, off the record several Granite State Democrats pointed out she still has more than $5 million cash on hand.
"And let's face it — money is going to be no object for Democrats to hold this seat," one veteran Democratic Party insider told NHJournal.
Republicans turn that argument around, saying Sen. Mitch McConnell is likely to dump whatever it takes to flip the seat if there is a competitive race this fall. And, as Hartline also reported on Monday, "For the 9th (!!) month in a row, the NRSC outraised the DSCC and we outraised them by more than $13.5 million in 2021."
Granite State Republicans were gleeful.
"Maggie Hassan is bleeding money faster than she can raise it, but she has nothing to show for it. As Joe Biden's approval rating in New Hampshire goes down faster than a sinking ship, Hassan should consider getting offboard," said RNC spokesperson Andrew Mahaleris
Meanwhile, Hassan's would-be GOP challengers also commented on her fundraising numbers.
"Maggie Hassan spends her special interests in D.C. raise money as fast as she votes to spend New Hampshire taxpayers' money. And even with all this spending, her poll numbers continue to decline," said NHGOP strategist Dave Carney, who is part of state Sen. Chuck Morse's campaign.
Strategist Michael Dennehy with Kevin Smith's campaign added:
"A sure sign of a failing campaign is one that spends almost twice as much as it raises from individuals one year before an election. Donors have clearly seen her dismal approval ratings."
While incumbents are traditionally difficult to defeat, New Hampshire has a relatively high rate of turning U.S. senators out of office. Hassan defeated incumbent Republican Sen. Kelly Ayotte in 2016, and Jeanne Shaheen took the seat from Sen. John E. Sununu eight years earlier. Sununu won the seat by defeating fellow Republican Sen. Bob Smith in the GOP primary in 2002.
Hassan won in 2016 with just 48 percent of the vote — and by a margin of just 1,017 votes — thanks to two third-party candidates from the right taking a combined 30,000 votes in the general election.