Most Granite State Democrats like the job Joe Biden is doing as president, but only a third want him to be their party's nominee in 2024.
If Democrats do pick a new candidate, it is unlikely to be Vice President Kamala Harris, who is stuck polling in the low single digits.
Those are some of the findings of an exclusive NHJournal/coefficient poll of more than 800 likely New Hampshire Democratic primary voters taken this week.
It's good news for potential Democratic challengers and more evidence that Biden's decision to pull New Hampshire from the front of the 2024 primary calendar may have been an act of political self-defense.

Among likely Democratic primary voters, Biden has a 67 percent job approval rating—a relatively weak performance for an incumbent president. But more concerning for Biden backers was just 32 percent want him to be renominated in 2024. A plurality, 44 percent, would prefer a different nominee.
Offered a list of names, the top choice was "undecided" at 31 percent, followed by Biden at 30 percent. Sec. of Transportation Pete Buttigieg was at 15 percent and Sen. Bernie Sanders at 12 percent. Nobody else broke double digits, including Harris, who was the choice of just three percent of respondents.
This poll of Granite Staters echoes findings from recent national surveys showing most Americans—and a plurality of Democrats—believe Biden is "too old for another term." Biden will be 82 by January 2025, the beginning of a second potential term.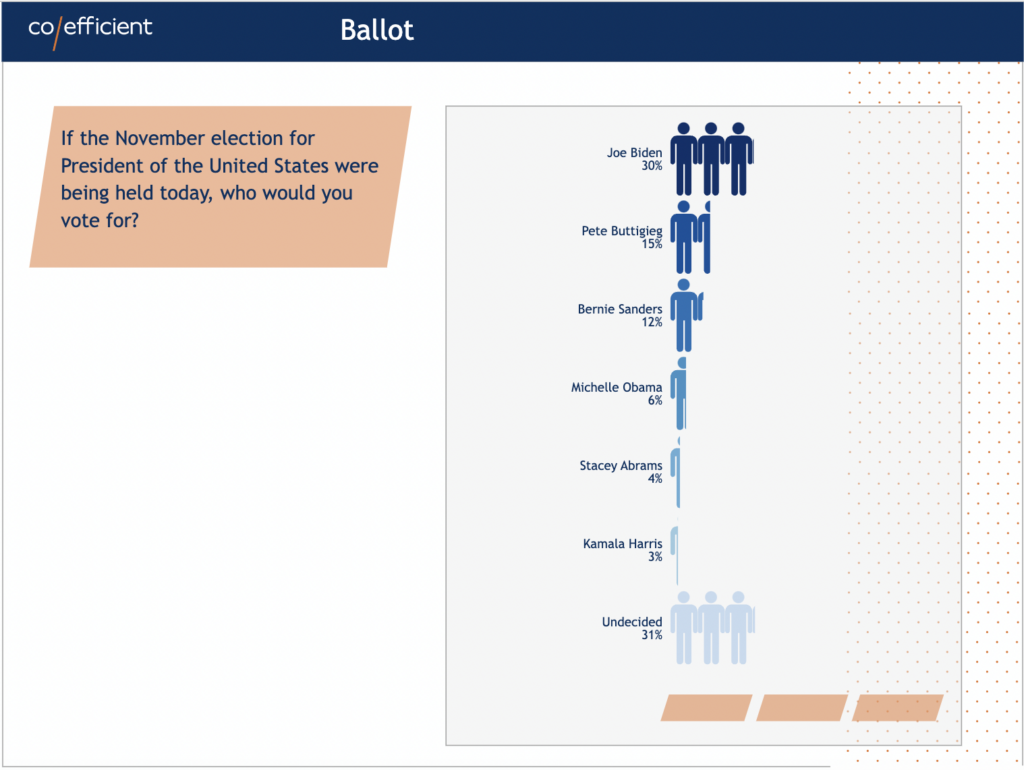 Neil Levesque, executive director of the New Hampshire Institute of Politics, said the results reveal why the Biden White House worked so hard to strip the Granite State of its First in the Nation status.
"In a straight ballot test, with other potential candidates on the ballot, Biden receives a dismal 30 percent. The White House knows he is weak and that is why they have made this desperate attempt to prevent democrats from voting in New Hampshire," Levesque said.
The NHIOP is hosting Robert F. Kennedy, Jr. Friday morning, and rumors have swirled the the son of Bobby Kennedy—who was assassinated during his historic 1968 Democratic primary race—may be considering a White House run.
Marianne Williamson, the self-help author and progressive activist, is scheduled to formally announce her 2024 presidential race on Saturday.
Other names being mentioned as potential 2024 Democratic candidates are Sen. Amy Klobuchar (D-Minn.), twice failed Georgia gubernatorial candidate Stacey Abrams, and California Gov. Gavin Newsom.
The new poll numbers would give any challenger's candidacy a boost.
Since Biden helped push through the new Democratic National Committee calendar, speculation has been rife that the incumbent president might pay a price among Granite State Democrats for taking away the First in the Nation primary. However, this new poll reflects previous findings that show Granite State Democrats just don't care that much about the FITN tradition.
Fewer than half—44 percent—of New Hampshire Democrats said the state "earned its place" at the front of the line, while 23 percent said taking it away in the name of "diversity" was the right thing to do. And 33 percent said they don't care about the primary either way.

One reason for Biden's relatively poor performance could be the age issue. Though the proposal came from Republican Nikki Haley, most Granite State Democrats (53 percent) support "requiring mental competency tests for politicians older than 75 years old."
Among Democrats under the age of 35, that number is 79 percent.
A New Hampshire Democrat with experience in primary campaigns told NHJournal on background it is far too early to worry about polls. At the same time, "the poll shows Biden's political team and the DNC mistakenly tried to displace NH's 100-year-old successful tradition so he wouldn't have to run here and risk being marginalized by a challenger."
Assuming Biden is running, "Biden should embrace the challengers," this Democrat said. "That is American democracy. Remember he won the nomination, beat Trump when no one else could and is a historic president who has done a great job."