Former President Donald Trump remains the prohibitive favorite to win the New Hampshire GOP presidential primary, while his most vocal opponent tops the list of candidates Granite State Republicans say they will never support.
Those are the findings of the latest New Hampshire Journal/coefficient poll. It surveyed more than 900 New Hampshire Republican primary voters on June 14-16, days after news broke of Trump's indictment on federal criminal charges.
In the survey, which has a margin of error of 3.2 percent, likely GOP primary voters were asked for their view of the indictments. Only 23 percent said Trump is guilty and deserves to be punished, while 35 percent said they believed Trump had done nothing wrong. The remaining 42 percent, a plurality, said they weren't sure if he broke the law, but they believe he is only being prosecuted because he is Donald Trump.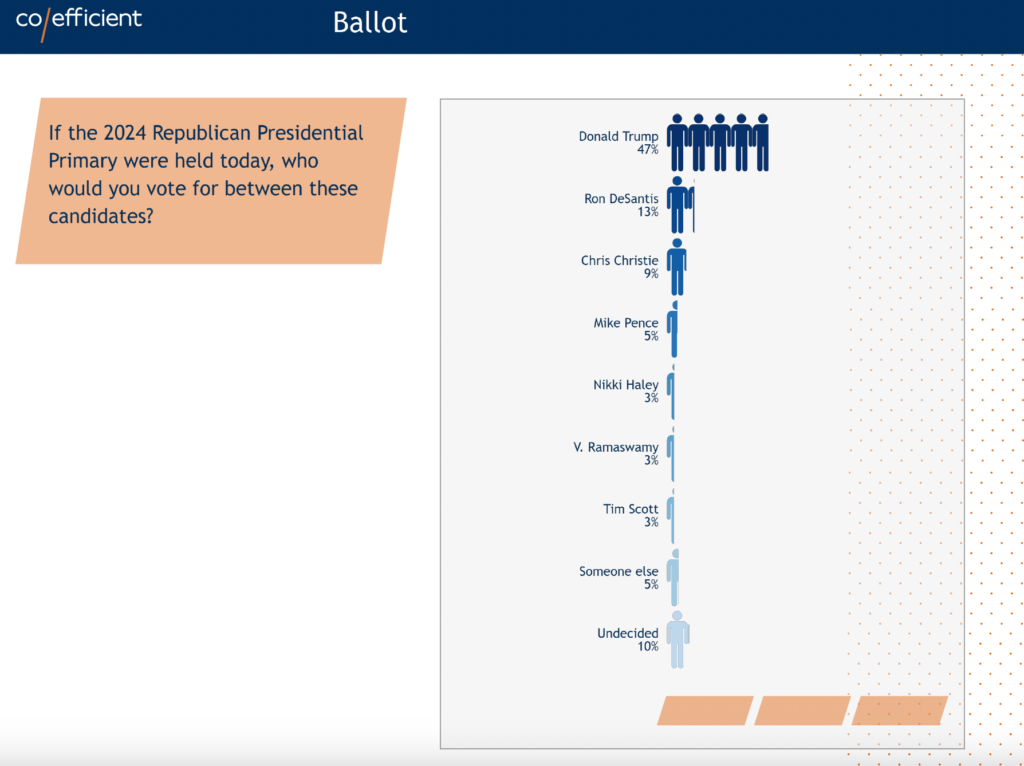 Asked how the indictments impacted their vote in the presidential primary, 42 percent said it made them more likely to support Trump, while 43 percent said it had no impact. Just 15 percent said they were less likely to vote for the former president.
"It's hard not to notice that 75 percent of the Republican electorate in New Hampshire is either committed to or at least open to, voting for Trump, even after these federal charges," said coefficient CEO Ryan Munce.
Trump still enjoys the approval of 60 percent of Granite State Republicans, while 29 percent view him unfavorably. That compares to Florida Gov. Ron DeSantis' 46-33 percent approve/disapprove numbers. In a head-to-head match-up, Trump leads DeSantis 49-23 percent, with 28 percent undecided.
Match Trump against the field of major competitors, and his margin over DeSantis is even larger with Trump 47, DeSantis 13, Christie 9, and former Vice President Mike Pence 5 percent. Former U.N. Ambassador Nikki Haley, businessman Vivek Ramaswamy, and South Carolina Sen. Tim Scott are tied at 3 percent.
"Trump continues to show strength and invulnerability in the Republican primary field as he leads his closest challenger by 34 percent," Munce said.
Christie has garnered praise from pundits and media personalities for his blunt, direct attacks on Trump. But that hasn't generated a surge in support in the Granite State. In fact, when asked to name the candidates they "would never vote for under any circumstances," Christie topped the list, named by 46 percent of respondents. Pence was on the "never support" list with 40 percent, Trump at 26 percent, Haley at 25 percent, and DeSantis at 20 percent.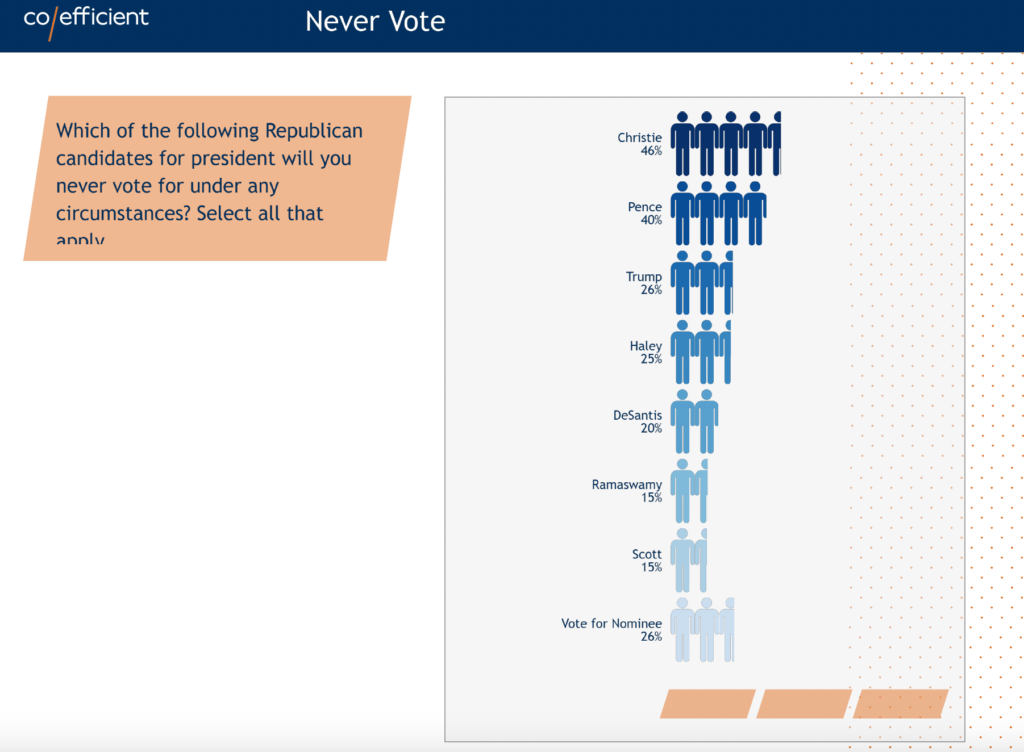 So, how do Trump's challengers make progress if attacking Trump has no impact on his support but drives their numbers down?
"It's tough. It's an uphill climb, like taking on Mount Everest, but it can be done," said veteran GOP strategist Dave Carney. "Remember, with Biden bailing on the Democratic primary, you could have as many as 100,000 true independents — unaffiliated voters — voting in the Republican primary. I think there will be a lot of fresh blood."
But, Carney added, it won't matter if one of the candidates doesn't figure out a strategy for taking on Trump, perhaps by consolidating the anti-Trump vote with the independent voters who turn out in the primary.

"Someone's got to come up with a strategy to knock out some of the competitors — the Iowa caucuses will help with that — and the right way to target Trump. It won't be easy. But if you want to be The Man, you've got to beat The Man."
Others were less optimistic about a future Trump-free GOP ticket.
"I look at this race, and I don't see a race at all. There is no Republican primary," said Matt Continetti, conservative journalist and author of a history of conservativism entitled "The Right."
"Maybe DeSantis could turn this into a primary over the next six months, but it's just getting ridiculous," Continetti said on Thursday's Commentary magazine podcast. "You have Trump over 50 percent, he's raised $7 million since his indictment, and even his rivals have come to his defense after he's arraigned for withholding classified documents."
Carney said he believes that if Trump wins Iowa and New Hampshire, the primary is over, and he'll be the nominee. And Carney added, "He's got the media helping him because the only question the press asks Trump's competitors is 'What about Trump?' It's all Trump."
Additionally, based on this poll, making the "electability" argument isn't likely to help Trump's opponent. A plurality, 43 percent, said, "Trump is the only Republican who can beat Biden and turn out the Republican base," while just 24 percent said, "Trump will lose to Biden and hurt the party down ticket."