A new NHJournal poll taken after the FBI raid on his Mar-a-Lago home finds former President Donald Trump still enjoys a strongly favorable view from First Congressional District Republicans. And the candidate he endorsed to take on Rep. Chris Pappas in 2020 leads the field among likely primary voters by a two-to-one margin.
In the new poll, 73 percent of NH-01 Republicans have a favorable view of the former president, while 19 percent are unfavorable.
And despite vocal support for President Joe Biden from "Never Trump" Republicans like New Hampshire's Tom Rath, who endorsed Biden's 2020 bid, Biden's approval among likely GOP voters is just 9 percent. His unfavorable number is a whopping 88 percent.

The poll of 829 likely Republican primary voters was conducted by the polling and data analytics firm co/efficient on August 13-14 and has a margin of error of 3.38 percent.
"I'm not surprised at all," said state Rep. Fred Doucette (R-Salem), a longtime Trump supporter. "I've had more people who don't like Trump talk to me in the past week than in the past year. One very vocal opponent just told me, 'I don't like Trump, but this is bullsh*t!'
"The Democrats have stepped on a rake with this," Doucette added. "The abortion thing wasn't working, and the economy is still lousy, and so they're looking for a way to change the narrative. But Republicans, and I think a lot of independents, too, see what's happening. I think it's going to help us in November, I really do."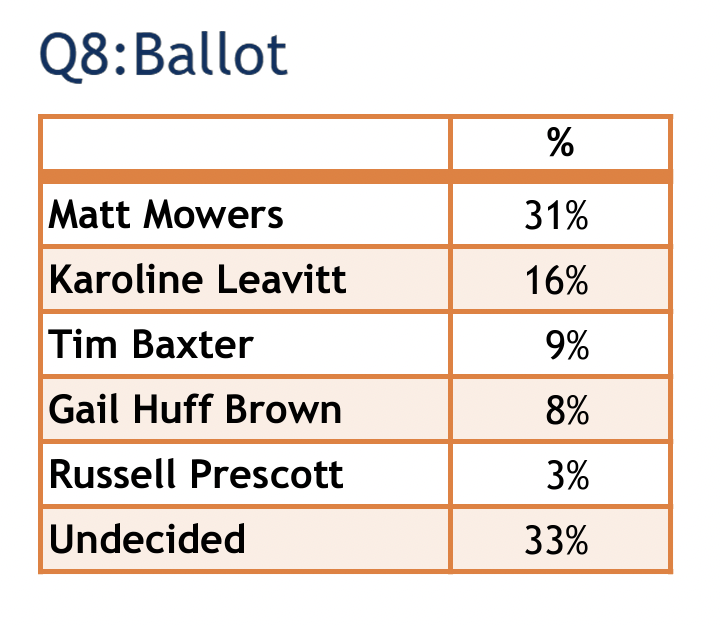 In the NH-01 GOP primary, 2020 nominee Matt Mowers leads his nearest competitor by a two-to-one margin with 31 percent. Former White House communications professional Karoline Leavitt is at 16 percent, the only other candidate in double digits.
State Rep. Tim Baxter is in third place at 9 percent, with Gail Huff Brown at 8 percent. Former state senator and executive councilor Russell Prescott has just 3 percent support.
The biggest "winner," however, is undecided at 33 percent.
"What these numbers also show is that Republican voters have a generally favorable view of the entire field," said Ryan Munce, President and CEO of co/efficient. He points out the candidates' performances tend to track their favorable/unfavorables.
"When voters see a conservative fighter like Matt, they rally around him. Granite Staters want a proven conservative who will go to Washington to fight for New Hampshire and advance the America First agenda," said Mowers campaign spokesman John Corbett. "In November, Matt Mowers will defeat Chris Pappas and restore New Hampshire's conservative voice in Washington."
Mowers is the only candidate whose 'unsure' number is below 50 percent, which means many voters still do not know enough about the field to make their final decision. And Mowers' top two competitors, Leavitt and Baxter, both have solid favorable/unfavorable ratios.
Not the same for Gail Huff Brown or Russell Prescott, who appear to be struggling with name ID and favorability. At the same time, the pool of undecided voters looks like a favorable hunting ground for those two candidates compared to the competition.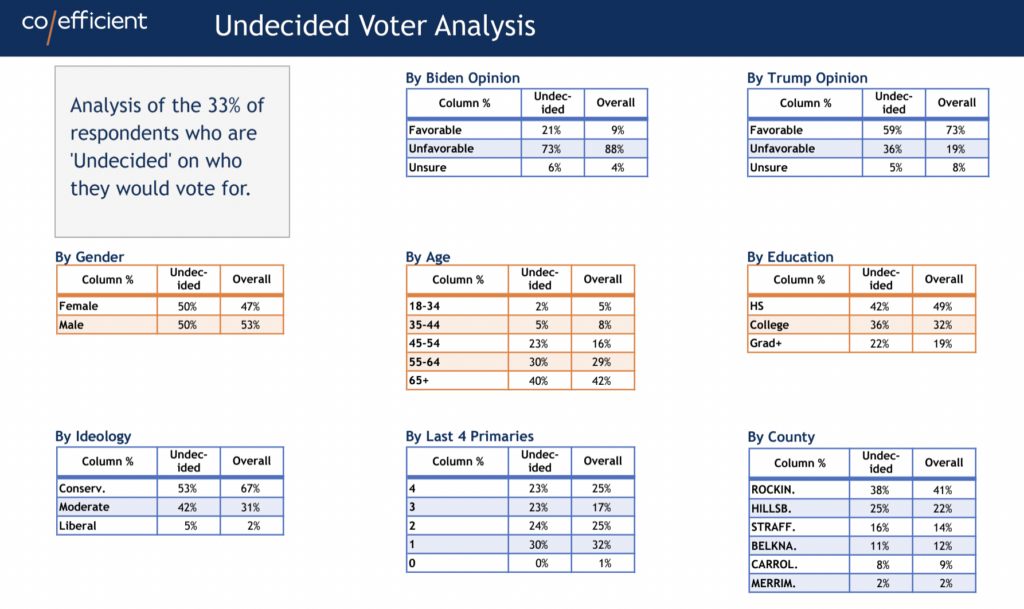 "Look at the Trump approval number among the undecided voters," said Munce. "It's significantly lower (59 percent) than the sample as a whole (73 percent). They're twice as likely to have a favorable view of Trump than their fellow Republicans and they are more likely to describe themselves as moderate (42 to 31 percent)."
That is potentially good news for candidates who aren't running as hardcore Trump loyalists, like Huff Brown and Prescott.
The bad news. "A solid majority of the undecided voters are still pro-Trump, which is good news for Mowers, Leavitt, and Baxter."
Gail Huff Brown's campaign manager Ben Hincher says the race is "wide open"
"With a third of voters still undecided, this race is wide open despite the fact that Matt Mowers has benefitted from nearly three million dollars in spending since 2020. Now, voters will finally get a chance to hear from other candidates and they will realize there are better choices than Mowers, a New Jerseyite who makes a mockery of the GOP's commitment to election integrity by voting in two different states in the same election in 2016.
"Gail has the resources necessary to execute her plan, including the release of her first television ad this week and looks forward to continuing to work hard to earn the trust of Granite State voters up until the polls close on Election Day."
EDITOR'S NOTE: A previous version of the poll contained inaccurate information regarding the methodology. The corrected poll toplines and crosstabs can be found here. NHJournal regrets the error.