In December 2021, a frantic Crystal Sorey was begging anyone to help her find her missing daughter, 5-year-old Harmony Montgomery. That included contacting Mayor Joyce Craig's office with a desperate plea for aid.
"Please, I'm begging for help in finding my daughter before she ends up like that little boy who just passed away due to neglect from (the Division of Children)," Sorey wrote to Craig through the mayor's public email, referencing the recent murder of Merrimack's Elijah Lewis.
But the mayor — now a candidate for governor with a troubled record on crime and homelessness — denies her office ever communicated with Sorey. Harmony Montgomery's story has become a scandal of government failure that left a little girl dead and Granite Staters outraged.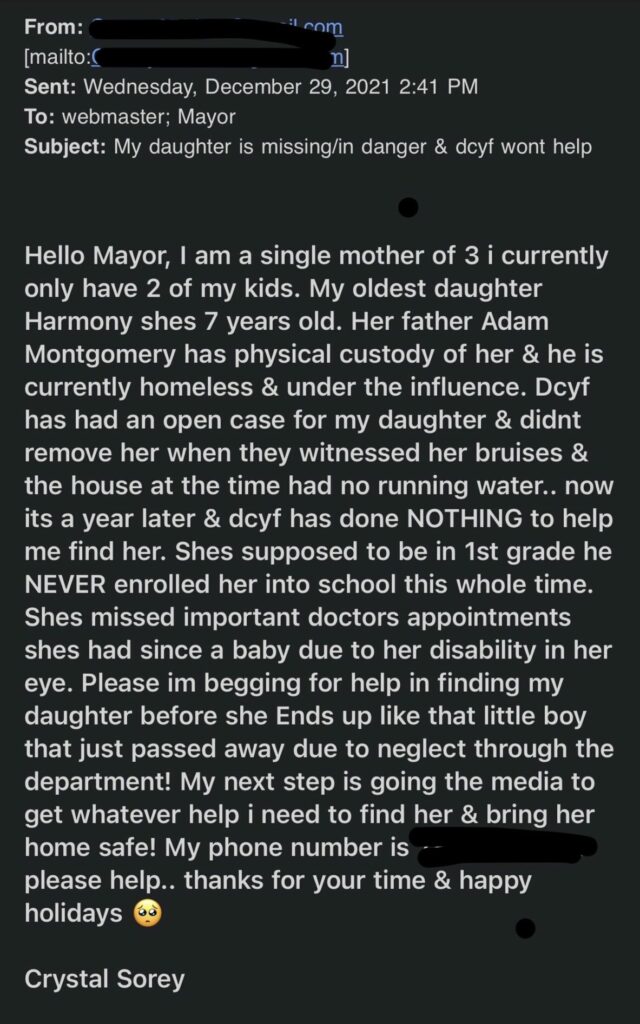 Sorey had not seen her daughter in more than a year at this point, as the child was in the custody of her father, Adam Montgomery. He is currently facing charges that he murdered his five-year-old daughter in 2019 and hid her body for months in a bag as he moved about the city.
The desperate Sorey had been contacting DCYF and Manchester schools to find out where her daughter could be in late 2021. She told Craig she'd had no word from the officials. 
Instead of helping to look for her daughter, a Craig staffer told her the mayor's office could not help.
"Unfortunately, the City doesn't have jurisdiction over DCYF or the court system," wrote Anabel Moreno-Mendez, Craig's community engagement manager and LGBTQ+ liaison. "I encourage you to reach out to N.H. Legal Assistance to see if they would be able to review your case and provide legal assistance on the custody issue."
Moreno-Mendez further told Sorey that if she thought her daughter was in danger, she should call 911 or contact the police through their non-emergency phone number.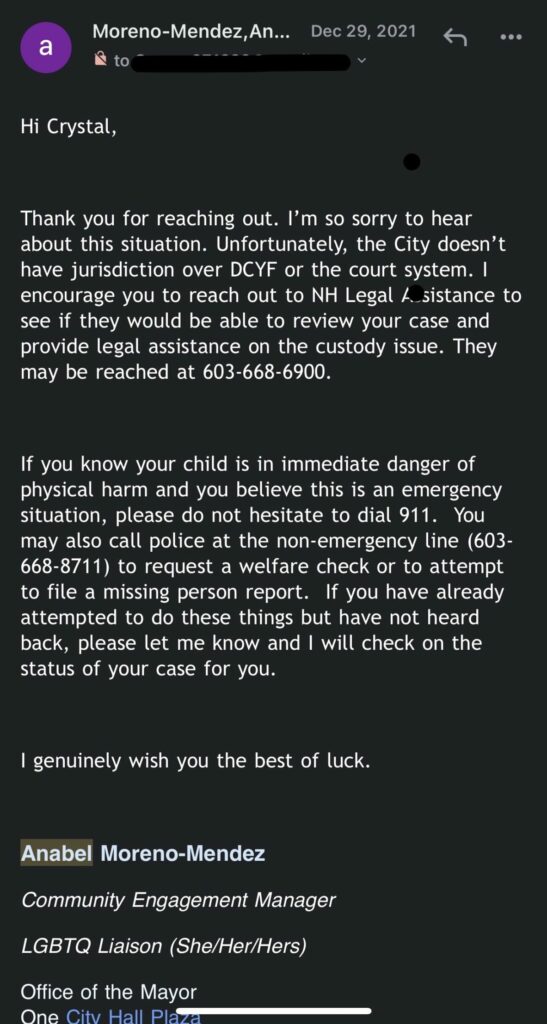 What neither Craig nor Sorey knew at that point was that Harmony was already dead. Adam Montgomery had beaten her to death weeks before in a fit of rage when the small child had a bathroom accident in the family car. 
In hindsight, the actions of the Joyce administration look inadequate at best and heartless at worst. But when asked for copies of the emails, Craig's staff told NHJournal that Sorey's email did not exist. 
NHJournal sent Craig's chief of staff, Shannon MacLeod, a Right to Know request on June 12 seeking all emails Craig had received from Sorey, all emails she sent to Sorey, and all emails Craig sent to city staff regarding the search from Harmony Montgomery. 
MacLeod ignored this request.
Under RSA 91-A, the state's Right to Know law, MacLeod had five business days to respond to the request. With still no response on June 26, NHJournal engaged an attorney. On June 28, Matthew O'Rourke with the city of Manchester IT Department responded that no emails between Sorey and Craig, or from Craig to staff about Harmony, could be found.
"I have completed your right-to-know request with the provided search terms. No results were found based on your search terms," O'Rourke said.
However, NHJournal has obtained copies of the emails the city claims do not exist. That included the Dec. 29, 2021, email Sorey sent to Craig through the contact form on the mayor's website, as well as the response from Moreno-Mendez.
Harmony's story gained national attention as police spent months searching for a little girl who had already been missing for close to two years. Donations poured in for the reward for information leading to her recovery, and people started questioning DCYF's failure to keep her safe.
The agency had investigated Adam Montgomery for giving Harmony a black eye months before she was killed, yet kept the little girl with her father. One witness later described Harmony as a 10-month-old baby when talking to police, mistaking her undersized and likely malnourished body for a much younger child.
Moira O'Neill, the state's former Child Advocate, told NHJournal DCYF is constrained by the law in what it can do when a family is in crisis. New Hampshire law defaults to keeping children in their homes.
"You can never blame any one person or agency in these scenarios," O'Neill said.
The Montgomery family had been struggling for months before Harmony's murder, O'Neill said. The family lost electricity at their apartment and used a generator before being evicted in late 2019. In a city awash in deadly opioids, Adam Montgomery and Kayla Montgomery had given in to their severe addictions, with witnesses telling police the couple frequently used fentanyl while living with their three children in a car. 
Multiple people encountered the family through this descent, and O'Neill said that was where help should have started. Local communities and neighborhoods used to serve as a local safety net, and that is now missing. 
"Is there something else we can do that helps families from falling apart," O'Neill said.
When asked about the girl after her murder, both Adam and Kayla Montgomery would falsely claim Sorey had taken her back. No one, it seemed, asked additional questions.
According to Manchester Police Detective John Dunleavy's affidavit, Adam Montgomery was in the habit of punching Harmony when she had accidents in the car while the family was homeless in late 2019. After one accident, he punched her in the face three to four times with his fist, Kayla Montgomery told police. After the last blow, he said something was different.
"I think I really hurt her this time; I think I did something," he reportedly said. 
Adam and Kayla Montgomery kept Harmony's lifeless body in a sports bag for months, taking her to a different car, the Families in Transition Homeless shelter in Manchester, and finally to a new apartment in the city. Adam Montgomery changed bags at one point, putting the child's corpse into a Catholic Medical Center maternity tote bag. He kept it for a time in the freezer at his job at a Manchester pizza restaurant.
Sorey lost custody of Harmony in 2018 because of her addictions. A Massachusetts court decided to separate Harmony from her mother. Reporter Blair Miller adopted Harmony's brother Jamison shortly before Adam Montgomery took custody of the little girl. He said on Twitter after she was declared dead that the whole case represented a systemic failure.
"We will forever question why so many steps in the legal process were missed and ignored before decisions were made to reunite Harmony with her father and deprive her and Jamison of a life together," Miller wrote.