New Hampshire Democrats carry the burden of being the only state in the country to lose control of both chambers to the Republicans — and in a state their presidential nominee Joe Biden carried by seven percent. And Granite State Democrats are still trying to explain how Biden could barely muster more than eight percent in a fifth-place performance in their #FITN primary
But those setbacks didn't stop state party chairman Ray Buckley from winning an eighth two-year term, defeating progressive Democrat Emmett Soldati by a margin of 168-90.
"I would like to thank Emmett for running a race that will no doubt help build upon our Party's successes and improve our work even more moving forward," Buckley said in a statement.  "It is in the great spirit of the Democratic Party that we can challenge each other to be better while still coming together — united — in our shared vision for a better, more progressive, News Hampshire for all."
Soldati tweeted a message of congratulations to Buckley on Sunday, but in an interview last week, he suggested the state party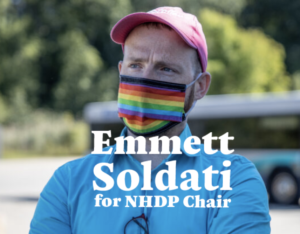 had a perception problem that hurt its prospects last November.
"What we need to do as a party is have a message that says we have credibility, that you can trust that that Democrat will fight for our stated goals because you've heard them from us," Soldati said, adding: "We could have won this [2020]. Absolutely."
Buckley's big win stands in stark contrast to a trend toward more progressive party leadership in other states' organizations. Last week, for example, progressives backed by a local chapter of the Democratic Socialists of America took the top posts in the Nevada Democratic Party, inspiring the entire staff to resign.
Some Granite State progressives were hoping to see some momentum, or at least a bit of backlash, against Buckley. While no Democrats would go on the record criticizing the chairman, several progressive activists said Buckley's re-election was about power, not his performance.
"Remember, it's not a secret ballot," one veteran progressive said. "It's like an election in Putin's Russia. It's impressive Emmett got as many votes as he did."
Establishment Democrats dismissed the complaints, pointing out the record participation by voting-eligible delegates and the lack of any serious case against Buckley. Several suggested to NHJournal that even party members who are open to considering a change weren't convinced by Soldati's campaign that he was the right person for the job.
"While [Buckley] was calling state committee members for their support, Emmett was having Zoom meetings with people who weren't even eligible to vote for chairman," one noted.
Not surprisingly, Republicans suggested having Buckley back on the job is good for the NHGOP.
"The best news from the NH Democrats since they nominated Molly Kelly for governor is their decision to stay the course with an old-school, top-down machine politician," said GOP consultant Dave Carney. "This bodes well for Republicans in 2022."
Democrats also elected former state Senator Martha Fuller Clark as First Vice Chair, and former state Senator Bette Lasky as Second Vice Chair.