Florida Gov. Ron DeSantis is scheduled to make his first New Hampshire visit of the 2024 GOP primary season at the state party's Amos Tuck fundraiser dinner on April 14.
First reported by Fox News, the announcement added to the growing likelihood that the popular two-term governor will officially enter the presidential primary, most likely after the end of his state's legislative session this spring.
"We are excited to announce that our 2023 Amos Tuck Dinner keynote speaker is special guest Florida Gov. Ron DeSantis," the New Hampshire GOP announced Monday. "This will be our biggest and most exciting Amos Tuck Dinner to date."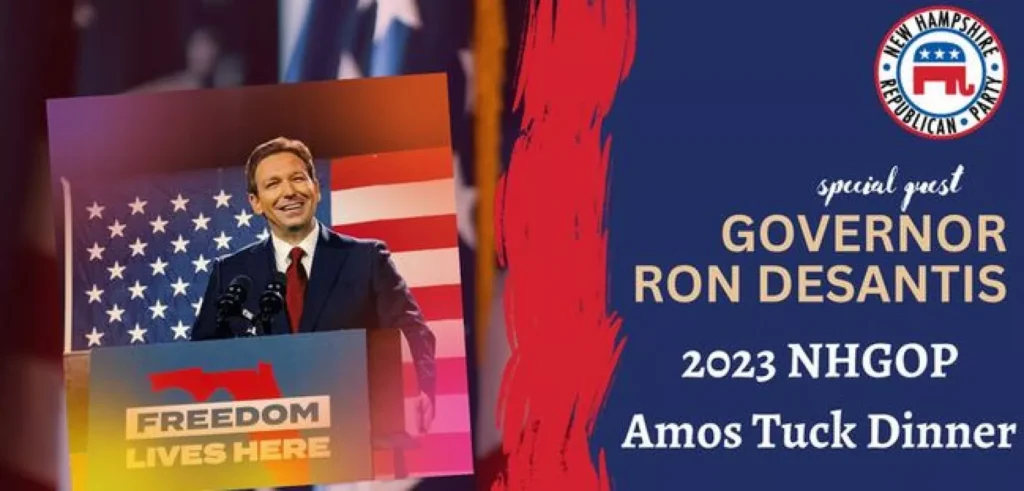 Ticket prices range from $150 to $5,000.
While DeSantis is not officially a candidate, he is already garnering a significant amount of support. By mid-February, the "Ready for Ron" organization had gathered more than 200,000 signatures on a petition urging DeSantis to run. Former Trump administration official Ken Cuccinelli recently launched the Never Back Down PAC to promote a DeSantis candidacy.
And former NHGOP vice chair Pamela Tucker is a fan.
"It's great to see a #1 best-selling author on The New York Times list come to the most literate state in the country to promote his book," Tucker told NHJournal. "I suspect it will be a sold-out event as Granite Staters come to hear the potential future president of the United States."
Not everyone is as enthusiastic. One D.C.-based GOP strategist with ties to New Hampshire said DeSantis is already starting to look like an also-ran.
"Like it or not, DeSantis' first stop in the Granite State looks like a last-gasp effort to stop Trump. To get it done, he will have to meet or exceed expectations right out of the gate. And his showing in Iowa over the weekend got a mixed reaction at best."
NBC News reporter Jonathan Allen didn't see it that way.
"It was love at first sound bite for Iowa Republicans who came to hear DeSantis deliver stump-style speeches Friday in Davenport and Des Moines, vote-rich cities that will be among the keys to winning the GOP presidential caucuses here next year," Allen reported.
A New Hampshire Journal poll taken in late January found 37 percent of likely GOP primary voters supported Trump, 26 percent backed DeSantis, and 13 percent said Gov. Chris Sununu. No other candidates broke the 5 percent barrier.