Gov. Chris Sununu took fellow Republican Gov. Ron DeSantis on a road show across the Granite State Tuesday, and while the popular New Hampshire pol didn't give DeSantis his endorsement, Sununu made it clear he is on the shortlist.
"When you have somebody like Gov. DeSantis who has been in Congress, he's been in Washington, he's been a successful governor in a big state like Florida, which is a very important role," Sununu said. "What he did with the hurricanes, what he did with controlling taxes, what he did with managing the pandemic far better than Donald Trump did."
The two teamed up at the Red Arrow Diner in Londonderry Tuesday morning, greeting diners and taking questions from the press. After hitting a couple of restaurants in Epping, the Chris and Ron Show wrapped up at a well-attended town hall in Rye.
"For Republicans, there is one issue — winning, "Sununu told the crowd. "It's not going to happen by going backward. Does anyone want last year's version of the iPhone?"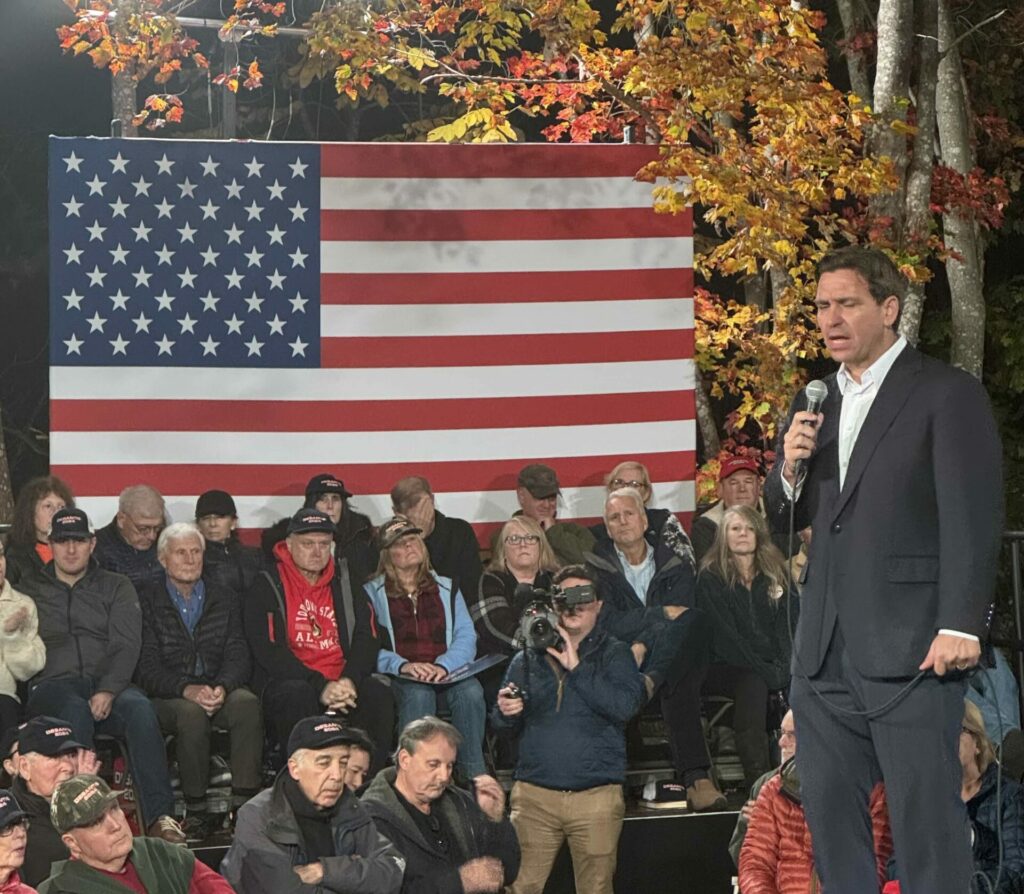 The day also included a studio appearance on Jack Heath's radio show, where the veteran broadcaster asked Sununu, "When you endorse, will it be a governor?"
"Yeah, very likely," Sununu replied. "A governor, a former governor, an existing governor — it won't be a former president, I'll tell you that."
That was good news for DeSantis, and former governors Chris Christie and Nikki Haley, but not so good for Sen. Tim Scott or businessman Vivek Ramaswamy. (Endorsing either Gov. Doug Burgum or former Govs. Asa Hutchinson and Mike Pence appears highly unlikely at this time.)
Asked what message voters should take from his appearance with DeSantis, Sununu said it was just "retail politics at its best."
"What I've been trying to do is to allow every candidate to be the best version of themselves, talking to people one on one, person to person," Sununu said. "Everybody knows I love doing it [retail politics]. I think the governor has an incredible record of doing it down to Florida, and now we're being able to bring it here."
DeSantis and Sununu didn't agree on everything, in particular the current state of the First in the Nation primary. DeSantis and his team have been pushing the premise that the contest is down to a two-man race between DeSantis and Trump. But Sununu said the First in the Nation primary is still "wide open."
"I think there are three or four candidates who are clearly surging ahead. There are six or seven — I don't even know how many we're counting at this point — [candidates] in the race." And Sununu added, "There are a couple of candidates I could definitely endorse."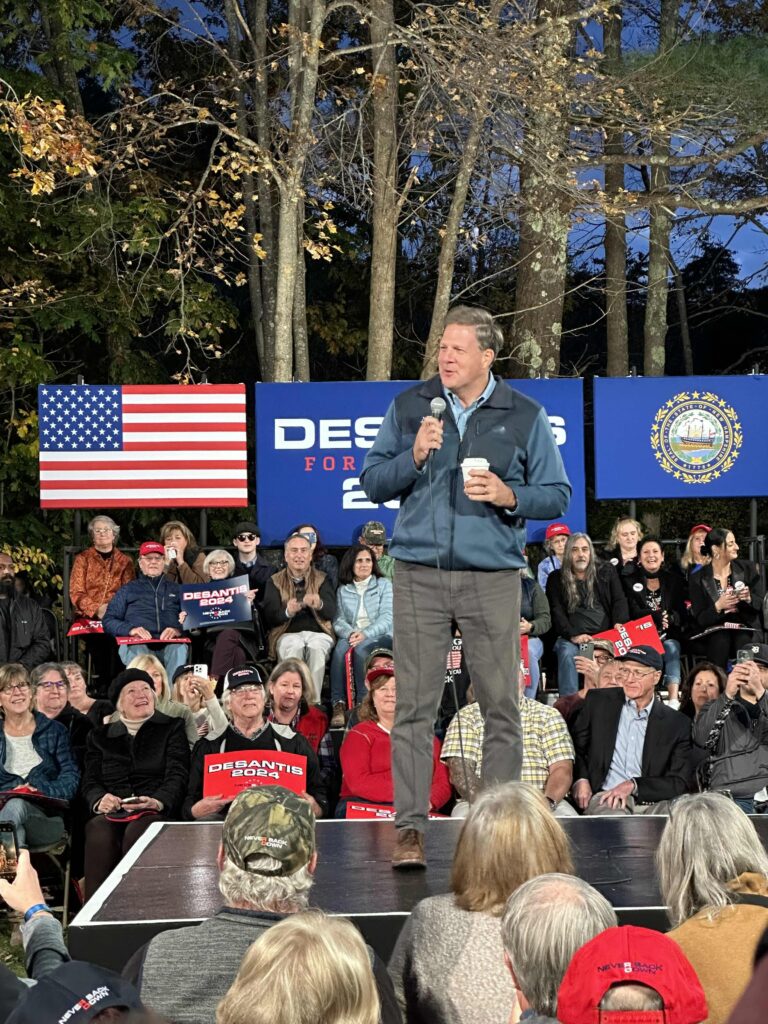 Where the two did agree, wholeheartedly, was on the need for Republicans to pick a nominee other than Donald Trump.
DeSantis didn't hold back in his criticism of the former president, who, he acknowledged, he had supported in the past.
"I think Chris is right about retail politics and being willing to answer questions. And what Donald Trump does now, he is wedded to the teleprompter. He can't get off that teleprompter, because anytime he does, he says things like, 'Don't vote.' He's telling people not to vote, like we have all the votes we need.
"Really? Wait a minute, you lost the popular vote to Hillary Clinton in 2016. You don't have all the votes you need," DeSantis said.
DeSantis said he believes Republicans are seeing "a different Donald Trump than in 2015 and '16. He's lost the zip on his fastball; he has a sense of entitlement. And that's just not going fly in Iowa and New Hampshire because you've got to earn it."
DeSantis also raised the danger posed by Robert F. Kennedy Jr's independent candidacy, arguing it would hurt Trump if Republicans made him the nominee.
"RFK Jr. will be a vessel for anti-lockdown and anti-Fauci voters if Trump is the nominee," DeSantis said. "He [Trump] created Fauci. He elevated Fauci. He never fired him."
As a result, DeSantis said, "I think RFK Jr. will hurt Trump way more than he would hurt any other candidate."
Nashua native-turned-D.C.-based GOP strategist Matthew Bartlett saw the Sununu & DeSantis show and said it played well with the crowd.
"They were amazing together. Call it 'The Odd Couple' act or whatever you want, but it worked," Bartlett said. "The crowd loved it, and they both were clearly having a good time. North and South, or sunshine and snow.
"Sununu, the native son, seemed to help loosen up and smooth over DeSantis, who, as a military veteran, can come across as tight and a bit over-disciplined. The two seemed to complement each other."
State Rep. Bob Healey (R-Merrimack) stopped by the Red Arrow to offer his support for DeSantis.
"His strongest message in New Hampshire is that what he promised in Florida is what he did. Like him or not, he kept his promises," Healey said. "And DeSantis doesn't have all the baggage over his head [like Trump does.]"
Polls show Trump continues to hold a strong lead among Granite State Republicans, averaging about 45 percent of the vote compared to DeSantis' 10 percent, putting him in third place behind Haley. But Sununu said it is time for New Hampshire to dump Trump and pick a new candidate. Why?
"Because Trump can't win," he told NHJournal. "Trump is yesterday's news. 'Thanks for your service,' but we have to be a party that thinks forward, that goes forward with new ideas, new people, a new vision, and that's an amazing opportunity we have."
One Portsmouth voter at the town hall told NHJournal he tends to agree.
"Former President Trump had some great ideas, but he's too polarizing. So, we have to look for the general election, and [DeSantis] is probably in a better position, I think, in the general election than the leading Republican candidate, Trump."
If the race is still "wide open," what advice would Sununu give the presidential candidates coming to the Granite State over the next three months?
"Don't slow down," Sununu said. "You've got to show that you're willing to give 120 percent, 120 percent of the time. Look the voters straight in the eye and just be as genuine as you can."
Additional reporting by Mitch Scacchi.