Florida Gov. Ron DeSantis went old-school when he dropped in on New Hampshire Friday, meeting with local legislators, dropping by a diner, and kissing babies — literally.
In a low-key event at the Bedford Village Inn, DeSantis met with about 35 state representatives who have endorsed his campaign, taking questions on policy and talking about how his success in the Sunshine State can translate across the U.S.
DeSantis is expected to formally announce his presidential bid on Wednesday.
When the Florida governor entered the room, he greeted several legislators and, spotting Rep. Leah Cushman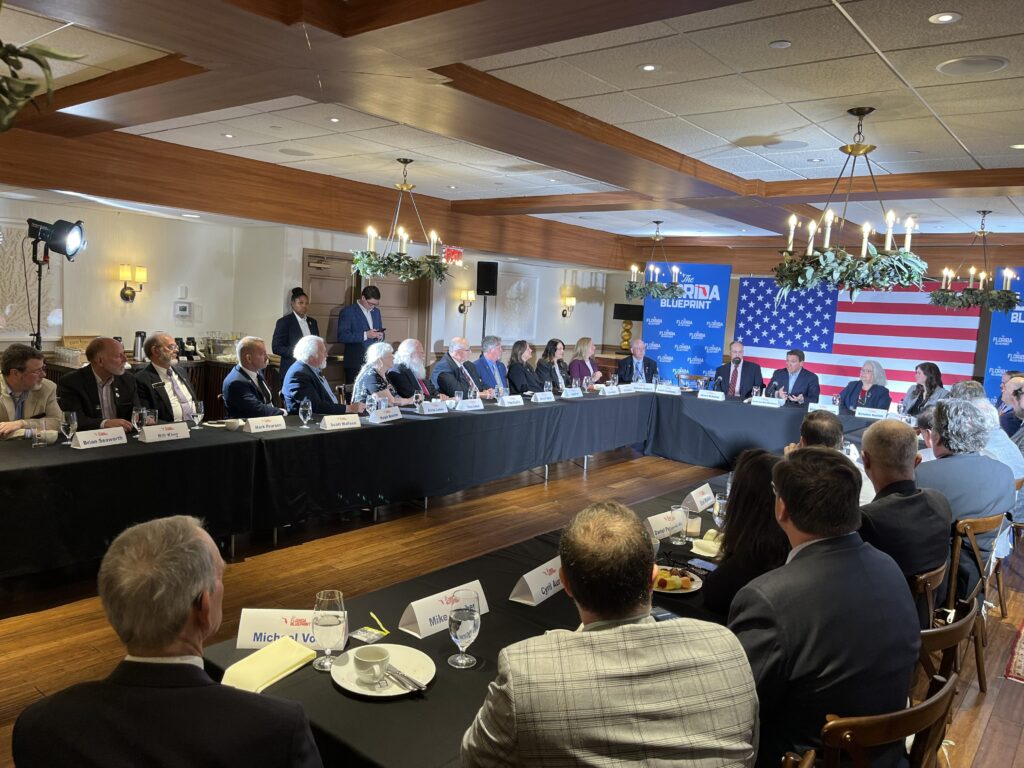 (R-Weare) holding her daughter, Savanna, kissed the baby on the forehead. Then he delivered brief remarks recounting his legislative record. "We've just enacted the boldest agenda in the history of the Republican Party," he said before the press was escorted out of the room.
According to multiple sources, Granite State lawmakers asked the governor questions on topics ranging from energy policy to political strategy in their off-the-record conversation. Rep. Joe Alexander (R-Goffstown) started the questions by asking whether DeSantis can help the GOP reclaim suburban voters they lost in recent years if he is at the top of the ticket.
"I represent Goffstown, which was a solidly red district that's now turning a little blue," Alexander told NHJournal after the meeting. "DeSantis talked about the elections Republicans have won in Florida: school board races, county races, etc. They've really expanded the map [for the GOP]. I was pretty impressed."
Asked to describe DeSantis as a candidate after watching his performance, Alexander said, "Competent."
In his introduction, House Majority Leader Jason Osborne (R-Auburn) praised DeSantis' handling of the COVID-19 pandemic while taking a passing shot at another potential GOP contender, Gov. Chris Sununu.
"Those of you who have served with me for a couple of years now remember the caucus meetings that we had during the COVID pandemic and some of the fights we had with the executive branch over the policies … they were implementing over our heads," Osborne told his fellow legislators. "You remember that I told you that we don't make policy decisions in the present based on the public polling of the present. We have to have the foresight to look into the future and know what the polling is going to look like based on the decisions we make in the present.
"No one has illustrated that more than Gov. Ron DeSantis, who was kind of a hero and a figurehead to us during that time."
DeSantis mentioned COVID as he touted education policy and his state's recent success on standardized test scores.
"We were just ranked number one in education by U.S. News and World Report," DeSantis said. "On the NAEP [National Assessment of Educational Progress] scores for 2022, we were third and fourth, respectively, in fourth-grade reading and in fourth-grade math. And I can tell you that was not true when I was growing up in Florida, someone who went to public schools."
DeSantis said part of the credit goes to the state's embrace of competition in education via charter schools and private scholarships. "And we had schools open during COVID while many of these other states, I think tragically, did not. Some even locked [students] out for over a year. We thought it was very important that the kids were in, and I think that's going be something that's really significant."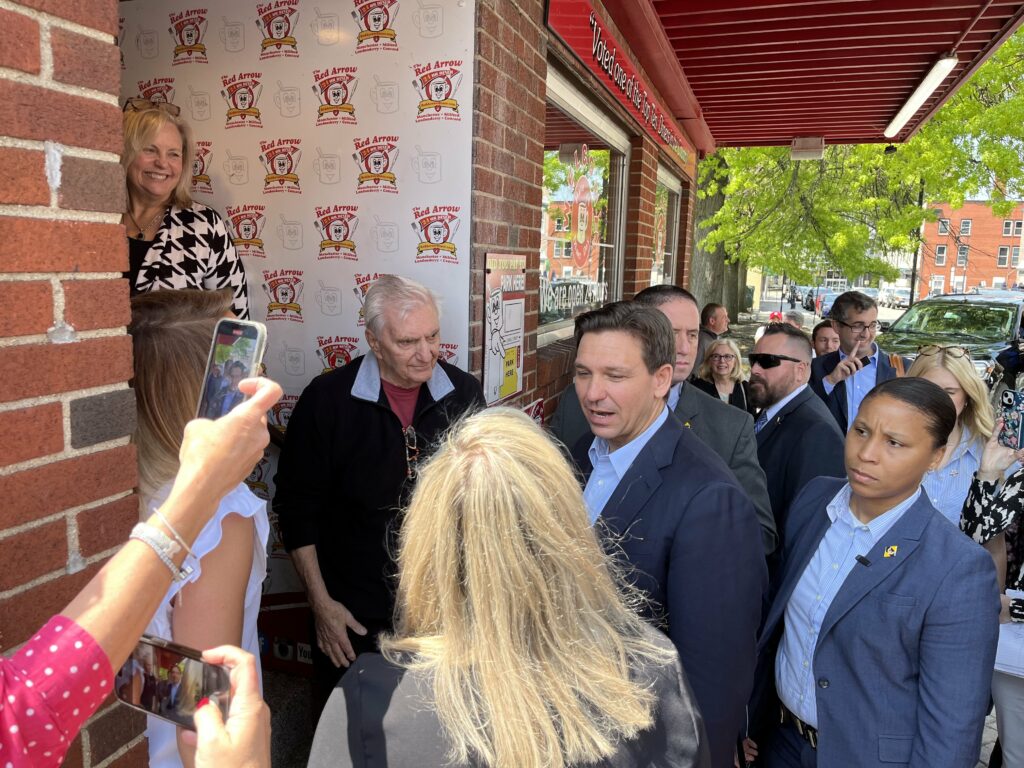 After the meeting, DeSantis stopped by the iconic Red Arrow Diner and spoke to customers trying to finish their meals amid a swarm of media shouting questions.
DeSantis also traveled to Concord for a one-hour sitdown with Sununu.
"Governor Sununu is ready and willing to meet with all potential candidates who come to New Hampshire and was happy to meet with Gov. DeSantis for an hour today at his office in the State House, where they discussed a wide range of issues, including how to do well in the New Hampshire Primary," Sununu's spokesperson said in a statement.
DeSantis took no questions from the press during his New Hampshire stop.
DeSantis supporters noted that the state reps gathered in Bedford represented the entire spectrum of the New Hampshire GOP. Down the table from far-right, anti-vaccination activist Rep. Kelley Potenza was traditional Republican Katelyn Kuttab (R-Windham). That, plus the fact 50 House members have already endorsed him before even entering the race, is a sign of DeSantis' strength, supporters said.
The Never Back Down PAC was happy with the results.
"New Hampshire knows Governor Ron DeSantis is the future," a spokesperson said in a statement. "His visit today with dozens of state representatives who've endorsed him, and then with supporters at Red Arrow Diner, show that the energy for America's Governor to be the next President is overflowing and only continues to grow.
"New Hampshire conservatives want to move past the culture of losing, which is why they are hopeful and excited for Governor DeSantis to get in the race."
Asked about the kiss, Cushman said it was "sweet."
"It's obvious he's a loving father, and I'm sure he is missing his own little ones while he's away," Cushman said. "And besides — everyone loves babies!"