Once viewed as the most likely Trump slayer in the GOP presidential field, Florida Gov. Ron DeSantis has fallen fifth in the latest UNH Survey Center poll. But his fading fortunes aren't benefiting former President Donald Trump, whose support among Granite State Republicans remains below 40 percent.
The CNN New Hampshire Primary Poll, conducted by the University of New Hampshire Survey Center, found Trump at 39 percent, 26 points ahead of entrepreneur Vivek Ramaswamy at 13 percent. Former U.N. Ambassador Nikki Haley was at 12 percent, former New Jersey Gov. Chris Christie was at 11 percent, and DeSantis at 10 percent.
U.S. Sen. Tim Scott, who was in New Hampshire campaigning Wednesday, was at six percent. Nobody else was above two percent.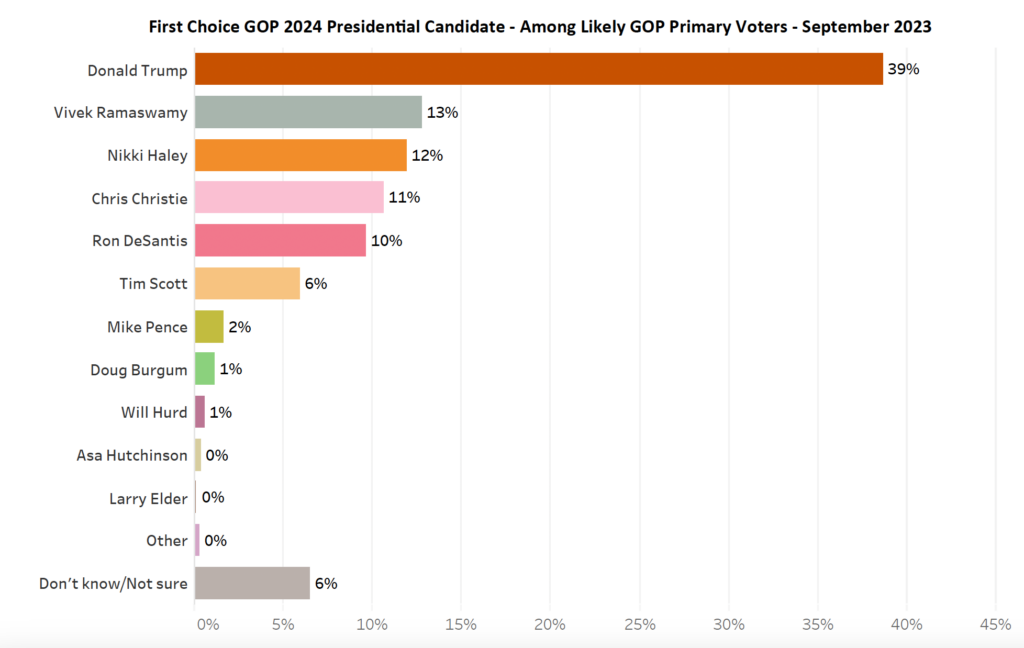 And the poll found Trump's supporters were also the most committed to their candidate. Sixty-nine percent said they are "definitely decided" about how they will cast their vote. No other candidate's voters were even close.
Trump's campaign was delighted by DeSantis' precipitous decline.
"President Trump has put in the work in New Hampshire, and it's paying off," said Trump campaign strategist Jason Miller. "Also, nobody likes Ron DeSantis."
"No wonder DeSantis is spending all his time in Iowa. He's afraid if he comes back to New Hampshire, he will drop into the single digits," added Steven Stepanek, Trump's Granite State campaign advisor.
"Ron DeSantis has maintained the most aggressive campaign schedule of anyone in the field and we are excited to be returning to New Hampshire soon," spokesman Andrew Romeo told The Messenger.
The Ramaswamy campaign was happy to talk about the new numbers. The anti-woke activist was consistently polling in the low single digits in New Hampshire as recently as last month.
"This new poll shows that the First in the Nation Primary is alive and well in New Hampshire," said campaign state co-chair Kevin Smith. "Vivek has been putting in the time and effort, connecting with voters one-on-one, and his hard work is paying off. While the former president still holds a big lead, there's a lot of time between now and 2024, and I have no doubt Vivek will chip away at the lead in the coming months."
The news isn't all bad for DeSantis. He was by far the favorite second choice of voters, at 23 percent, followed by Ramaswamy at 13 percent and Scott at 11 percent. Interestingly, DeSantis, Ramaswamy, and Trump share the same voters based on their supporters' second choices. It's a sign they are all viewed as part of the MAGA wing of the GOP.
And then there's Trump's less-than-impressive performance. Earlier on Wednesday, Emerson College Polling released a national survey showing Trump with the support of 59 percent of the Republicans nationwide. That was 20 points higher than his 39 percent Granite State support, and it bolstered the argument of Trump opponents like Gov. Chris Sununu that the former president's support fades in early states where voters are paying the most attention.
GOP strategist Karl Rove, who ran former President George W. Bush's campaigns, made that case in The Wall Street Journal Wednesday.
"Rivals claim their early-state polls show him in the mid-30s to the low 40s, compared with 58.8 percent in the RealClearPolitics national average," Rove wrote. "That's because voters in early states are paying more attention than Republicans elsewhere and are seeing more of Mr. Trump's competitors."
Trump supporters called the CNN/UNH poll an outlier, noting that he was well above 4o percent — and sometimes breaking 50 percent — in every other Iowa and New Hampshire poll in the past two months.
And there is no evidence in the new poll that attacking Trump is a winner for GOP candidates in New Hampshire. Asked to name the candidates they would never vote for, Trump's biggest critics topped the list.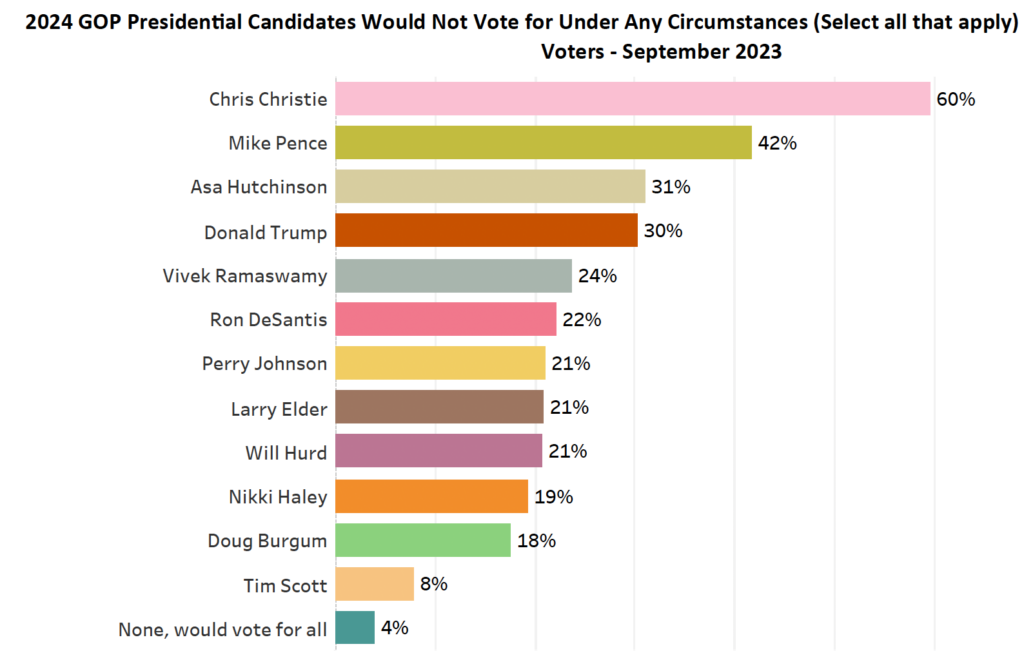 "Six in 10 (60 percent) of likely Republican primary voters say they would not vote for Christie under any circumstances, 42 percent would not vote for [Mike] Pence, 31 percent would not vote for Hutchinson, and 30 percent would not vote for Trump under any circumstances," UNH reported.
Meanwhile, the overall trend of the DeSantis campaign is hard to deny.
"The primary is four months away. DeSantis hasn't been here in a month, and he hasn't announced any upcoming visits," said former NHGOP chairman Fergus Cullen. "It's obvious New Hampshire isn't strategically important to him."
A veteran New Hampshire GOP operative put it another way. "It's official: DeSantis is the Jeb Bush of 2024. Nothing more than a donor blockade for candidates with more potential."