"It's a cliche, but it's true: You don't get a second chance to make a first impression." That was veteran New Hampshire politico Tom Rath's take on Gov. Ron DeSantis's failed attempt to formally announce his candidacy on Twitter Wednesday evening with company CEO Elon Musk at his side.
The launch didn't go well, to put it mildly. The "Twitter Spaces" app repeatedly failed, leaving would-be listeners who were unfamiliar with the technology wondering if the event had begun. Musk and his co-host David Sacks could be heard on the stream for a moment or two before disappearing again.
It took about half an hour before the conversation began in earnest; by then, the launch flop had been lifted into the pantheon of political legend.
The conservative Washington Examiner labeled it a "spectacular backfire."
"Twitter Launch Debacle for DeSantis," wrote Breitbart News.
And Team Trump was understandably gleeful about it.
"Glitchy. Tech issues. Uncomfortable silences. A complete failure to launch. And that's just the candidate!" Trump spokesman Steven Cheung told NBC News.
Even President Biden's team joined in the fun, tweeting, "This link works," with a click-through to the Biden/Harris campaign donation page.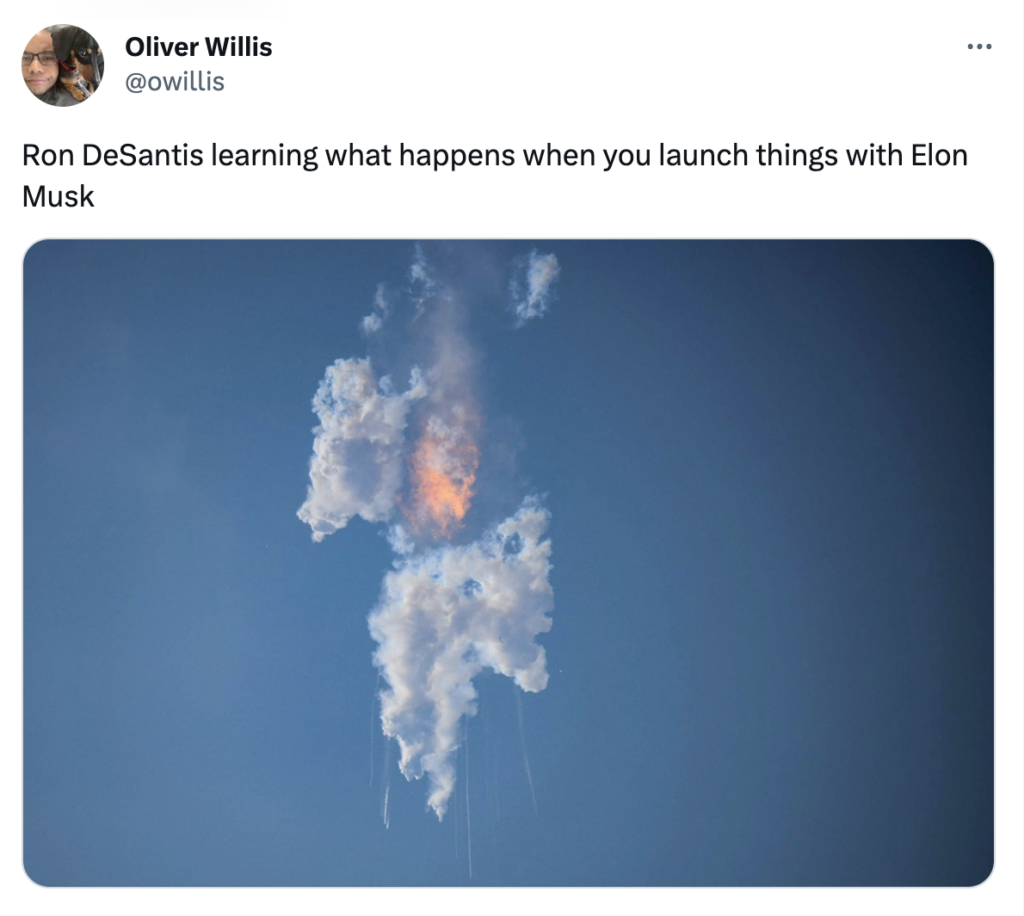 DeSantis' opponents tried to make the failed Twitter Spaces event a metaphor for the Florida governor's entire campaign. DeSantis spokesman Bryan Griffin tried to spin it into a win. "There was so much enthusiasm for Governor DeSantis' vision for our Great American Comeback that he literally busted up the internet. Washington is next."
Rath says a single incident isn't a problem, but a pattern is.
"You get very few moments in a presidential campaign when you can really control the narrative if only for a day or news cycle," Rath said. "We follow this stuff so closely that we forget the real world is only starting to pay attention."
And, Rath added, "I'm not sure I could name the last thing the DeSantis team did right, either tactically or in its execution. The last couple of days for the DeSantis campaign, while not fatal, are, at best, a badly missed opportunity. The candidate and the campaign need to do a lot better."
"Going from Mickey and Donald to Elon is not exactly trading up," Rath added.
Another New Hampshire strategist, Dave Carney, has a similar verdict.
"Not good," said Carney. "It's part of a continued pattern of missteps over the past few months for DeSantis. And even without the embarrassment of flopping on the world stage, a Twitter venue allowing every critic to get in their comments in real time was always problematic.
"This stunt sounded a lot better around a conference table than in reality."
And another GOP strategist who is unaffiliated with any presidential campaigns and asked to speak on background said the DeSantis campaign is heading down the wrong road.
"You get one announcement, and you've got to make it count. Forget the flashy crap and do the fundamentals. It was a disaster. I honestly believe DeSantis is doomed if his campaign doesn't get back to basics."