New Hampshire Democrats have nothing to fear but fear itself.
Unfortunately, that may be enough to cost them the November elections.
A recent poll found the two words Americans don't want to hear anymore are "COVID" and "Trump."
Democratic overreach on COVID-related school restrictions helped hand the blue-state of Virginia to the GOP.
And an "I'm done with COVID!" tirade on Bill Maher's HBO show went viral this week, hitting a nerve with a nation exhausted by the pandemic.
So, why do New Hampshire Democrats keep pushing for more COVID-related restrictions? Why are progressive towns like Portsmouth and Keene imposing mask mandates, even as the CDC and world health professionals release data showing most masks are of little use against the Omicron variant?
Why are Democratic legislators trying to overturn new state Board of Education rules and make it easier for school systems to force remote learning on families?
And why did a Derry middle school announce a detention-and-re-education regime for "improperly-masked" students — a move that promptly sparked outrage?
The answer may be that the Democratic Party and its allies have no choice. Democratic voters have embraced COVID panic and they are unwilling to let it go.
That is one takeaway from the latest Granite State Poll conducted by the UNH Survey Center and released Tuesday.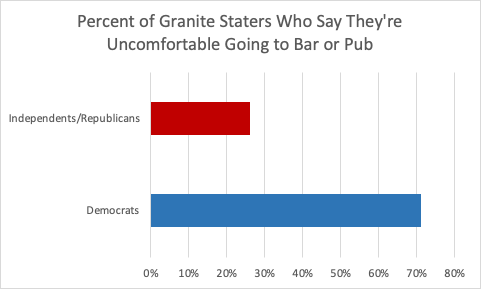 For one thing, it found Gov. Chris Sununu's handling of the COVID-19 pandemic remains popular, with 58 percent of Granite Staters approving while just 38 percent disapprove. In the new national Pew poll released the same day, just 44 percent of Americans said they had confidence in President Joe Biden's handling of the pandemic, while 55 percent said they did not.
It is worth noting Sununu's number ticked up in January, even as the Omicron-driven infection count continued to climb.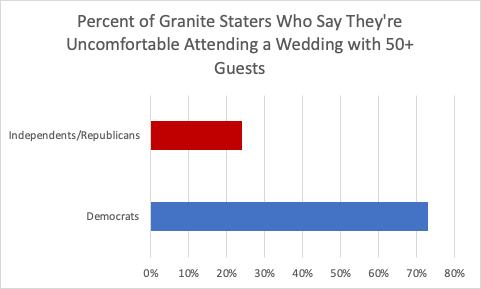 But more significant is the extreme fear of COVID Granite State Democrats expressed, as compared to their GOP and non-affiliated neighbors.
For example, UNH asked participants, "Are you comfortable going to a bar or pub?"
A majority of non-Democrats (64 percent) answered "yes." Among Democrats, a solid 74 percent said "no." Just a third as many Republicans and independents (28 percent) agreed.
Asked about going to the gym, the numbers were similar. A 56 percent majority of non-Democrats had no problem getting a workout, while 70 percent of Democrats said they would stay home. The same for attending a wedding, with more than 50 people (60 percent of non-Democrats "yes," 70 percent of Democrats — no way.)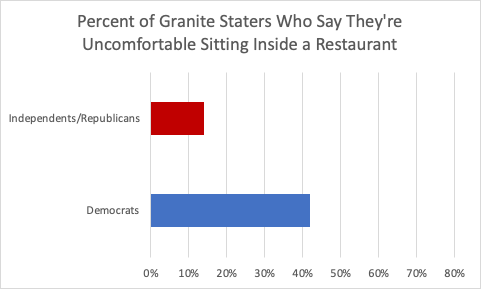 A year ago, COVID politics appeared to be boosting Democrats' fortunes. President Donald Trump's fumbled messaging made Democrats look good and turned Dr. Anthony Fauci into every suburban mom's heartthrob.
Today, Fauci's polls have fallen drastically and Americans appear to be ready to turn on the aggressive advocates of mask mandates and vaccine passports.
On the left, Yahoo News White House correspondent Alexander Nazaryan spotted the trend. "The speed with which some Democrats are moving against masks in schools is pretty striking. I think it's still a relatively small share, but they've gotten much more assertive in recent weeks and months," he tweeted Tuesday.
On the right, Commentary Magazine's John Podhoretz said backing extreme COVID panic politics may become the "Iraq War" of the 2022 election. "Saying that you were a supporter of the mask mandates could turn into the 'you voted for the war in Iraq,'" he said on Tuesday's Commentary podcast.
But that is with Republican and independent voters. What if the Democratic base stays where it is today, bitterly clinging to its masks and Zoom school? Democratic candidates may be unable to move toward the middle in the general election, for the same reason some Republicans will still be saying the 2020 election may have been stolen.
The new Pew poll is absolutely devastating for Democrats. Biden's approval is 15 points underwater (41 -56 percent) and his "strongly approve" among Democrats is down to 37 percent. Those numbers are more than enough to take down Democrats like Sen. Maggie Hassan and Rep. Chris Pappas.
But add in COVID fatigue and the GOP's lead in the generic ballot, and Virginia's 12-point swing toward Republicans in November may be just the beginning.