The pro-family activists at Cornerstone Action have sent a mailer targeting Gov. Chris Sununu just days before the GOP gubernatorial primary, claiming he lied to the organization on a key pro-life issue. The group, which generally supports Republican candidates, is also running a digital video ad criticizing Sununu.
At issue is a promise Sununu made during his first bid for governor, promising pro-life Granite Staters — in writing — he would support repealing the state's "buffer zone" law restricting protests around abortion clinics. Many people believe the law is an unconstitutional restriction on free speech.
Sununu has since reneged on his pledge and vetoed a repeal of the law.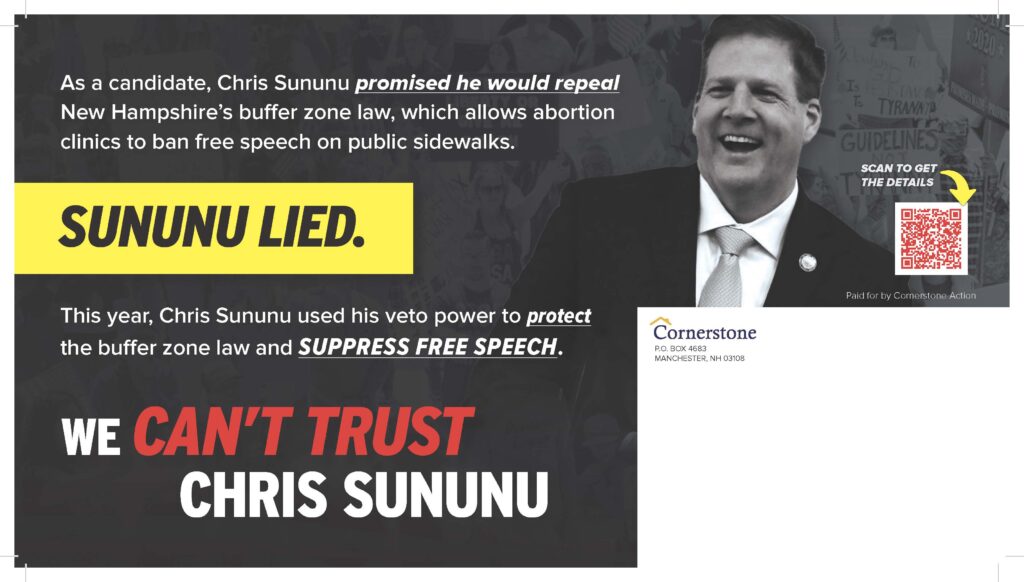 According to Cornerstone Action executive director Shannon McGinley, the issue is not pro-life policy but personal character.
"We are not targeting Sununu for being a moderate Republican: We negotiate with moderates all the time. We are attacking him for his complete lack of integrity," McGinley said.
"Christian voters cannot negotiate with Sununu because they know they will only be cynically manipulated. He will promise in a signed letter to do something and then openly do the opposite. Even Washington, D.C. politicians have more shame."
Sununu brushed off the criticism. "Cornerstone is a struggling, irrelevant political group that has for years attacked the governor with no success," said his spokesperson Ben Vihstadt.
But Democrats have taken up the attack, sending out a press release Friday noting Cornerstone's critique of Sununu.
"Democrats and Republicans agree that Chris Sununu has a long history of saying one thing and doing another," said Kelly Roberts, spokesperson for Democrat Tom Sherman's gubernatorial campaign. "Granite Staters can't trust Sununu to protect their freedoms because he's too busy protecting his own ambitions."