Just 48 hours after a senior member of the New Hampshire House Republican leadership was forced out over spreading conspiracy theories about the COVID-19 vaccine, a Democratic state representative is pushing COVID conspiracies of her own.
Rep. Nicole Klein Knight (D-Manchester) is best known for ingesting marijuana meds during committee meetings and wearing a plague mask during a House session in the 50,000 square foot Bedford Sportsplex. Now she's taking to Twitter to blame her positive COVID-19 test on Republican House members and claim it's no accident.
"I am convinced that some members are now infecting us on purpose," the progressive House member tweeted. And she wants the state to conduct a formal investigation.
The saga began Friday morning when Klein Knight announced her infection.
"I'm positive for COVID. Most due to the fact the @NHSpeaker allowed sick members to participate unmasked and come into contact and furthermore did not notify me. I since infected my entire family. If there is any legal action I can take I would appreciate help."
Later in the day, she claimed to be the victim of an NHGOP conspiracy.
"I am convinced that some members are now infecting us on purpose. They know @NHSpeaker will do nothing. They also know if we are sick we cannot represent our people. The fact that they never told us they were sick proves this."
"This could wipe out my whole family," Klein Knight added.
She specifically blamed Rep. Kevin Verville (R-Deerfield) and described his behavior during a September 28 committee meeting.
"Verville was in a closed committee room. No open windows. I was exposed to him for 30 to 45 minutes. At one point he got up and walked around, shook someone's hand. He came at least 3 to 4 ft from me when getting up and walking around.
"I'm calling on the Commissioner of DHHS investigate [sic] this incident of communicable disease pursuant to RSA 141-C:9"
While it's possible Klein Knight contracted COVID during that committee meeting, Verville notes he was in the audience while she was in the committee seats, not among the committee members. He was never within 12 feet of her, Verville says.
Then again, Klein Knight has spent weeks on the campaign trail in the September 21 Ward 4 Alderman race. (She lost.) Her own Facebook page shows video of her going door-to-door without a mask. 
She also apparently attended a "Drag Queens & Friends" election night after party at Medear's restaurant in Pembroke, N.H. on September 21. The invitation did not require masks.
And her social media feed features video of a large pro-abortion rally in Concord on October 2 where many attendees were unmasked.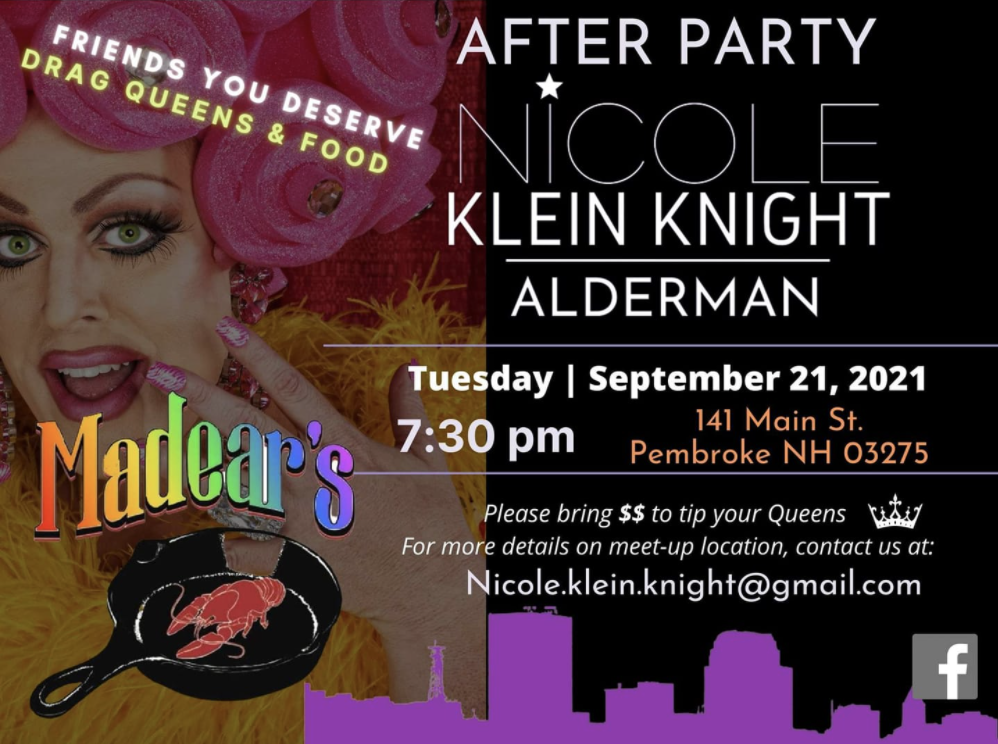 A politician who regularly goes unmasked in crowds and while campaigning could be exposed to COVID in many places, House sources told NHJournal Friday night.
And even if she was infected by a fellow House member, that's hardly evidence of the claim that Republicans are intentionally infecting Democrats in a form of political germ warfare, as Klein Knight claims.
Meanwhile, the debate continues between House Democrats who want remote legislative sessions to return, and Republican leadership that says they're not allowed except during an emergency, and argue the availability of the vaccine makes it unnecessary.