Chaos erupted in the halls outside the New Hampshire Secretary of State's office as angry progressive activists greeted Sen. Maggie Hassan's appearance to file for re-election in the midterms.
Waving signs like "Shame! Hassan + Trump Hate Immigrants," a group of about 20 BIPOC (Black, Indigenous and People of Color) progressives lined the hallway waiting for the Democratic senator's arrival. Several of the activists broke out in spontaneous speeches denouncing Hassan's "racist" stance on immigration policy and calling her a "corporate tool."
"The policy Senator Hassan is supporting, Title 42, is a racist policy," Grace Kindeke, Program Coordinator at American Friends Service Committee, told the crowd. "We can't be silent. We must speak out!"
Kindeke's organization called for opponents of the Trump-era border policy to gather at the statehouse on Friday. In a statement, Kindeke repeated a common complaint from BIPOC activists that Hassan has refused to meet with them. "Our communities continue to show up wherever we can to demand that Senator Hassan take the time to listen to the wide breadth of experiences of Black and Brown immigrants who have come to our nation seeking safety and protection."
And, Keindeke added, "any efforts to uphold Title 42 and suspend asylum actively supports the racist continuation of family separations, trauma, and violence against Black, Brown and immigrant communities."
A tense silence held sway in the hall as noon approached, the time of Hassan's scheduled arrival. Hassan supporters groused that the protesters were helping the cause of Republicans, particularly with Democrats struggling in the polls. This angered some of the activists.
"You ask me who I'm supporting –I'm not supporting Republicans," insisted Jonah Wheeler, Education organizer with the HEAL together campaign. "I'm just not supporting someone who is doing what corporations want her to do, who isn't standing up for us!"
When the anti-Hassan progressives began chanting in the hall, Hassan's supporters tried to drown them out with their own chants of "Maggie! Maggie!" In the minutes before Hassan's arrival, the hallway rang with chaotic voices, and security officers repeatedly had to ask the crowd to clear a path for candidates trying to make their way to the Secretary of State's office on the last day of filing.
When Hassan arrived, the noise grew even louder — so loud the door to the Secretary of State's office had to be closed before Hassan could take questions from reporters. Even then, the chanting and cries of protest became so loud, Hassan had to pause several times to be heard. At one point, people in the crowded hallway began pounding on the office door, and security officers had to open it and push them back.
Asked what her message was for the upset immigration advocates, and about her refusal to meet with their leaders, Hassan acknowledged they have a difference of opinion.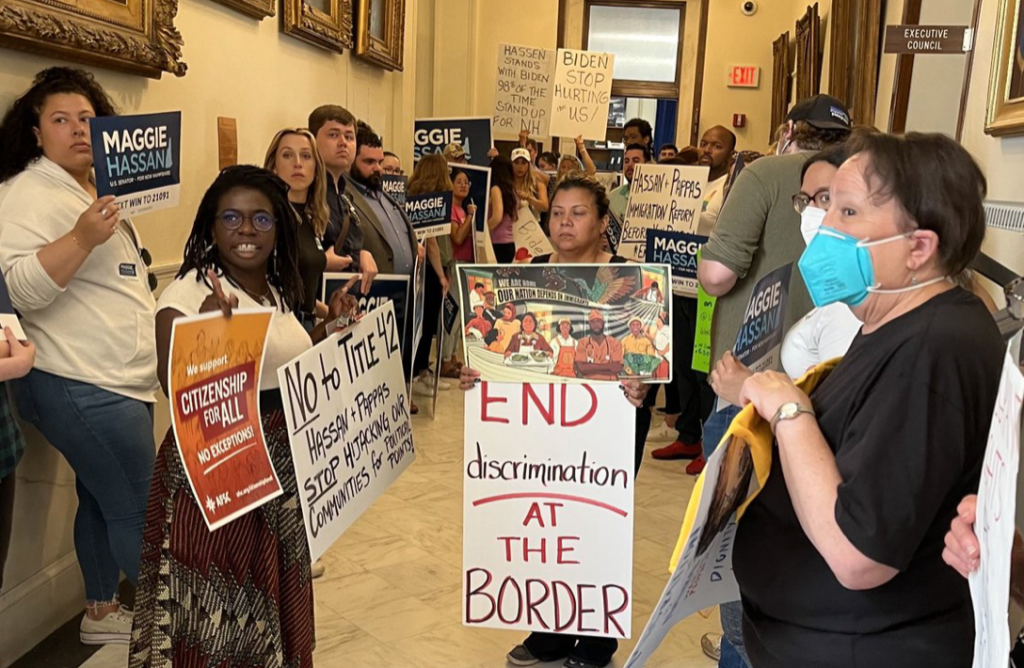 "I have spoken with some of their members and my team continues to have conversations. But we have a disagreement here," Hassan said. "I do not think the administration should lift Title 42 until there are resources at the border to ensure safety and security. All sides of this issue agree that, when Title 42 is lifted, we're going to see an increase in illegal border crossing attempts.
"I respect they have a disagreement with me about this. At the end of the day, I need to stand up for the safety and security of my state and my country," Hassan said.
NHJournal asked Hassan about Democratic economists like Larry Summers saying the $1.9 trillion in federal spending she touts has contributed directly to the inflation that surged to a 40-year high of 8.6 percent in May. Does she regret her vote?
Hassan said America's inflation problem is a global one, not necessarily related to Democrats' policies in 2021. And she blamed "corporate special interests who are driving prices up."
She also said more spending on social programs like child care and healthcare costs is the right prescription for addressing the effects of inflation in the short term.
When Hassan was done, the tumult outside was still raging — forcing her to flee the Secretary of State's office via a back room and nearly Executive Council offices.
"I don't think I've ever seen it like this," one Secretary of State office staffer said.
Outside, longtime progressive activist Shideko De Luca Terai was holding a sign in support of immigrants: "We All Belong Here. We will Defend Each Other." She was not happy with Hassan's performance.
"We've asked for a meeting with Senator Hassan, but she's avoided us. The Latino caucus, the Asian-American Pacific Islanders with the anti-hate effort last year. She sent a staffer, one who didn't know anything about the issue," Terai said.
Asked about how progressives view Hassan, Terai — who's lived in New Hampshire for decades — had a confession. "I didn't even remember that Hassan had been a governor, that's how little impact she made on me.
"And I'm an activist!"