Polls show that the Black Lives Matter movement, or at least its broad message, has bipartisan support. Republican elected officials like Gov. Chris Sununu and Maryland Gov. Larry Hogan have endorsed Black Lives Matter protests, supporting them even during the depths of the COVID-19 lockdown.
It appears, however, that this relationship only goes one way.
Black Lives Matter chapters in New Hampshire have gone on the attack against Gov. Sununu for "allowing" President Trump to hold a rally in Portsmouth this Saturday. The group is organizing a protest to greet the president, with the subtle, understated name "NH Against Trump."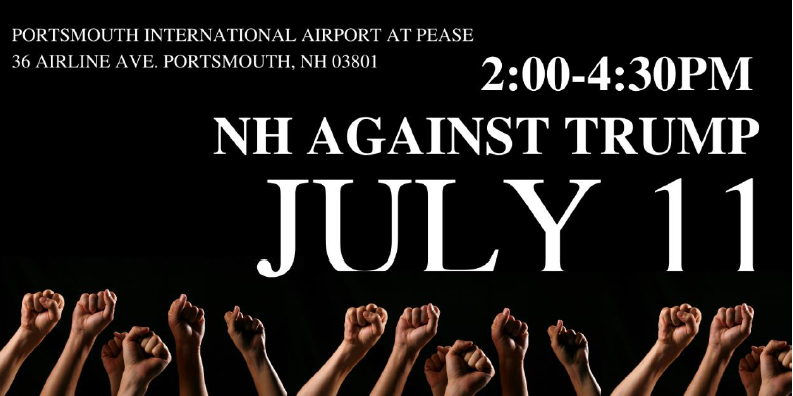 So what do Republicans who support BLM causes like police reform or changes in the criminal justice system do when the organization launches a partisan protest against the Republican president?  Can Granite State Republicans support Trump and the BLM movement at the same time?
Not according to their Twitter feed.
"Next time, Gov. Sununu, just tell us you aren't interested in reelection because I cannot believe a gubernatorial candidate in my state would recklessly endanger the NH community this way first, by ALLOWING EVENTS IN THE FIRST PLACE and second, by not requiring safety measures," tweeted BLM Nashua spokesperson Samantha Searles.
In response to a message that: "You can support our President while also supporting BLM. The BLM movement isn't a political movement from one side or the other," local BLM activist Ronelle Tsheila tweeted:
"You mean the same one who called neo nazis 'Very fine people'? Anyways."
And then there's the announcement from the local BLM chapters declaring President Trump a "white supremacist."
Sounds pretty partisan.
"Black Lives Matter is a nonpartisan organization and our local chapters are the same," Searles insisted. "At the same time, when we see a well-documented racist [like President Trump] we're going to hold him accountable."
As for their targeting Sununu, Searles told NHJournal the organization understands that the governor can't cancel Trump's rally at the Pease Air Force National Guard base. Their objection is that he's not doing enough to oppose Trump.
"What we want is the removal of nuance," she said. "It only takes a minute to say 'We don't want your hatred in our state.'"
Sununu continues to support both the BLM cause and the same local chapters who are attacking him. At Tuesday's presser he went out of his way to praise the local activists for their behavior.
It's a favor that's unlikely to be returned.
NHGOP strategists privately tell NHJournal that they believe the trajectory of the BLM movement will be to support Democratic candidates, regardless of how the candidates break down on policy.
"Trump pushed through criminal justice reform, undoing the same laws Joe Biden helped put in place years ago. But Black Lives Matter isn't going to hold Biden to account — just Trump," one longtime GOP insider told NHJournal.
"The same with Sununu. Whatever position he takes [on police reform], they'll find a reason to support the Democrat. Because it's a Democratic group, it just is."