Gov. Chris Sununu may not take Don Bolduc seriously as a candidate, but many Granite State Republicans do.
With two weeks to go in the GOP U.S. Senate primary campaign, Bolduc has increased his share of the vote in the latest UNH poll, leading his closest opponent by a two-to-one margin.
"If the 2022 Republican primary election for U.S. Senate was being held today, 43 percent of likely Republican primary voters would vote for Bolduc, 22 percent would vote for New Hampshire Senate President Chuck Morse, 5 percent each would vote for entrepreneur Vikram Mansharamani or entrepreneur Bruce Fenton, 3 percent would vote for former Londonderry Town Manager Kevin Smith, and 2 percent would vote for another candidate," according to the Granite State Poll, conducted by the University of New Hampshire Survey Center.
"However, 20 percent say that they are undecided."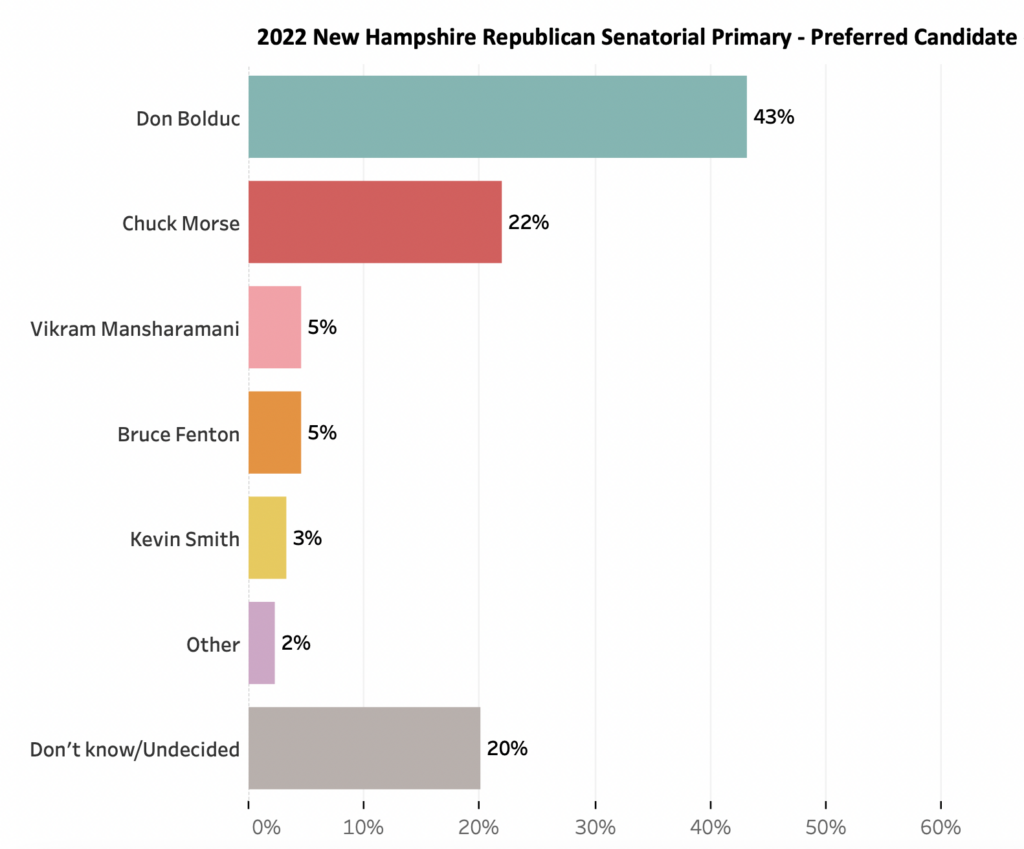 In April, the same poll found 33 percent of Republicans backing Bolduc and just two percent behind Morse. Since then, Bolduc's campaign has spent very little money on advertising — and none on the major TV outlets — instead relying on name ID from his 2020 GOP U.S. Senate primary bid (where he won 43 percent of the vote) and a grassroots campaign. Bolduc has also been a regular guest on Fox News and far-right conspiracy theorist Steve Bannon's online programming.
Bolduc's support among GOP voters has grown even as the candidate has struggled to raise money (just $65,000 cash on hand in the latest report) and the state's top Republican, Gov. Chris Sununu, dismissed him as a fringe "conspiracy theory" candidate.
"[Bolduc's] not a serious candidate, he's really not," Sununu said two weeks ago. "If he were the nominee, I have no doubt we would have a much harder time trying to win that seat back. So I don't take him seriously as a candidate. I don't think most people do."
Sununu did not respond to a request for comment.
The Bolduc campaign, however, was more than happy to talk.
"Today's UNH poll makes clear: General Bolduc's message is resonating with grassroots voters and he is the overwhelming frontrunner for both the GOP primary in two weeks and the best candidate to topple Sen. Hassan. The career politicians have worn out their welcome. It's time for outsiders to lead in Washington," said spokesperson Jimmy Thompson.
"This poll confirms it's a two-person race between Chuck Morse and Don Bolduc and we are confident that Chuck Morse will close the gap and take the lead with two weeks left to go in the Republican primary," said Morse spokesperson Joe Sweeney. "Our grassroots voter contact operations, television advertising, digital advertising, and campaign schedule are going into high gear for these last two weeks to secure victory and win on September 13th."
For weeks, rumors have run rampant that former President Donald Trump and Gov. Sununu would endorse in the waning days of the Senate primary. Sununu has a long-standing relationship with State Senate President Morse and would be expected to back him, particularly in a race against Bolduc.
But political observers are now asking if it makes sense to endorse a candidate who is badly trailing a well-established front-runner with less than two weeks to go.
"If you're Chris Sununu, it's gut check time," said UNH political science professor Dante Scala. "Bolduc, the man you ridiculed, appears to have a stronger hand than Morse, the man you would most likely endorse. Do you back Morse to the hilt, become his surrogate, go negative against Bolduc, alienate a good portion of your base–with the real risk of failure?
"Or do you just decide to run your own race this fall and pretend the Senate race isn't happening?"
One NHGOP insider unaffiliated with either campaign told NHJournal that unless some wildly-different internal poll numbers are being handed around in Concord, they don't expect a Sununu endorsement.
"No matter what happens, Sununu will have to stand next to the nominee at the 'Party Unity Breakfast' on Wednesday [after the election] and endorse him. It's a lot easier if you didn't just endorse his opponent 10 days earlier."
Sununu himself has said that most endorsements have little impact on elections. The UNH poll found that among undecided GOP Senate primary voters, just 21 percent said Sununu's endorsement would make them more likely to back a candidate and seven percent said it would make them less likely.
As for Trump, the question is how much influence his former campaign manager Corey Lewandowski has when it comes to New Hampshire. Lewandowski has loudly and publicly waved Trump away from backing Bolduc, the candidate who would appear to be the natural Trump pick. Is Trump, who keeps his eye firmly locked on his win-loss record, going to endorse an establishment candidate who is trailing in every poll?
One of Trump's most common practices is to wait until the last day or two, then endorse the likely winner. He did it in Pennsylvania, Michigan, and Missouri (sort of).
Dr. Wayne Lesperance, provost and professor of political science at New England College, sees the national GOP debate playing out in the New Hampshire Senate race.
"One has to wonder how much of this race is about Bolduc vs. Morse. and how much of it is a referendum on traditional Republican values vs. Trump's GOP?"
Former U.S. Senator Judd Gregg (R-N.H.) takes a more sanguine view of the latest numbers.
"In 32 years of serving New Hampshire and running nine times in major campaigns, I took one poll (forced on me by the RNC)," Gregg told NHJournal. "They are meaningless, especially in a race like this where turnout is the issue and no one can predict it. And most people voting won't focus until after this weekend.
"I would not make much of this," Gregg said.