In politics and comedy, timing is everything. And Karoline Leavitt's life had a little bit of both on Wednesday.
The Atkinson native had been looking forward to speaking to the Rockingham County GOP via Zoom for weeks, a chance for a friendly chat with the folks back home. But, as she told the online gathering, it had turned into "one of the busiest days I've ever had on the job."
Why? Because her job is comms director for New York Republican Rep. Elise Stefanik, who is at the center of the biggest story in DC politics at the moment.
In the 24 hours before Leavitt's virtual visit from D.C., both top Republicans in the House announced their support for removing Rep. Liz Cheney (R-Wy.) from their party's number three leadership post and replacing her with Stefanik. On Tuesday, House Republican leader Kevin McCarthy (Calif.) told Fox News, "I have heard from members concerned about her [Cheney's] ability to carry out the job as conference chair to carry out the message. We all need to be working as one if we're able to win the majority."
McCarthy was also caught in a hot mic moment saying he'd "had it" with Cheney.
On Wednesday, Louisiana Republican Steve Scalise added his support for Cheney's removal. Through a spokesperson, the GOP's #2 said, "House Republicans need to be solely focused on taking back the House in 2022 and fighting against Speaker Pelosi and President Biden's radical socialist agenda," and he threw his support behind Leavitt's boss.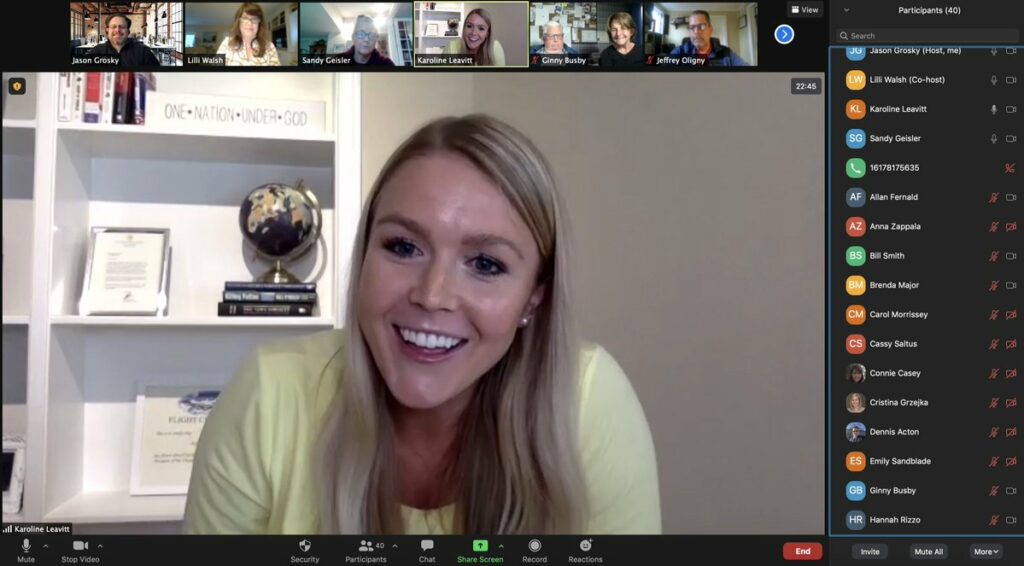 The online GOP gathering was off the record, but in an interview after the event, Leavitt gave NHJournal permission to share a few details — starting with the fact that she offered no details about the leadership fight. ("Let's just say my phone was blowing up the entire time," Leavitt confessed.)
Instead, Leavitt, 23, talked to the grassroots activists about how growing up in New Hampshire led to her career in politics and influenced her views. Her parents were small business owners and she spent time scooping ice cream at the family's ice cream shop, Leavitt's in Atkinson.
While attending St. Anselm College — on a softball scholarship — she learned that the game she really liked was politics. She got a job as an intern at WMUR that led to her media relations career and, eventually, a job at the White House.
She worked as an aide to President Trump's press secretary Kayleigh McEnany, one of the toughest media environments in D.C. It's an experience she's likely to draw upon as the storm surrounding the GOP leadership fight grows.
Leavitt was tight-lipped about the machinations in DC, but she was happy to talk about the Granite State.
"There's a real sense of pride in being from New Hampshire," she said. "I think our state values freedom more than any other. I've seen what real life is like for small businesses and how government can make it harder, not easier."
Her schedule is unlikely to get any easier in the near future. Earlier on Wednesday, Trump posted a message giving Stefanik his "complete and total endorsement."
Not to be outdone, Cheney followed up with an op-ed in the Washington Post. "The question before us now is whether we will join Trump's crusade to delegitimize and undo the legal outcome of the 2020 election, with all the consequences that might have," she wrote. "We Republicans need to stand for genuinely conservative principles, and steer away from the dangerous and anti-democratic Trump cult of personality."
Cheney's editorial mentioned Minority Leader McCarthy but not Stefanik.
According to media reports, the New York Republican has been calling members behind the scenes and lining up support for the leadership post. In some ways, it's an odd shift for the party. Conservative groups actually rate Stefanik as more moderate than Cheney.
At the same time, Stefanik's success is hard to deny. She's taken a swing district (GOP +2) and turned it into one of the safest GOP seats in the northeast, a less-than-friendly environment for Republicans. What's the secret to Stefanik's success?
"She really takes care of her constituents," Leavitt said.