"I will never, ever let you down."
With those words, President Donald Trump launched a raucous rally of supporters in Manchester, New Hampshire, and it was just the message they wanted to hear. The near-capacity crowd — with another large contingent watching Jumbotrons outside the Southern New Hampshire University Arena — was loud and enthusiastic, and Trump knew what they wanted to hear.
"We are going to keep winning, winning, winning," Trump said.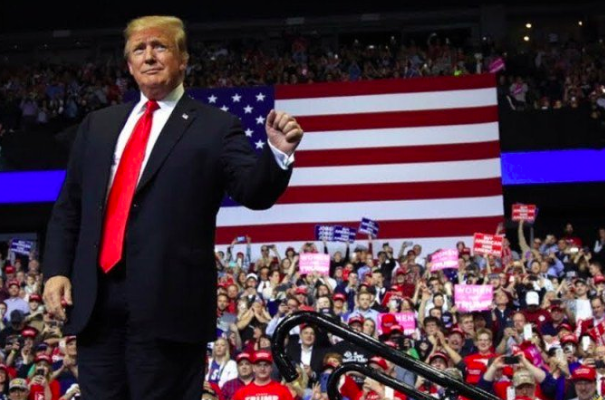 The pro-Trump crowd, a majority of whom were wearing some sort of Trump gear, got so revved up that Trump appeared to be taken aback.
"Are we sure we're in New Hampshire?" he asked at one point. "You have a reputation as a very staid, very elegant people, and you're not acting it tonight, and that's a good thing."
But the president must also be aware that, despite the enthusiastic reception, he's polling poorly in New Hampshire, a state Democrats have carried in six of the last seven presidential elections (the one exception: George W. Bush in 2000.) And while his speech had plenty of the media bashing and "Sleepy Joe" mockery his crowds expect, he also made a pitch to voters who aren't Trump fans. His message: You have to vote for me whether you like it or not.
"If I hadn't won this election, the markets would have crashed," Trump said. "And it will happen even more so in 2020," he warned. "The bottom line is…you have no choice but to vote for me because your 401ks will be down the tubes.
"So whether you love me or hate me, you have to vote for me."
It may take political blackmail for Trump to win the Granite State. His approval rating is regularly in the 30s and he's consistently underwater (more voters disapprove of his job performance than approve) by 10 percent or more.
But Trump's campaign manager Brad Parscale has been saying for months that New Hampshire is one of the states they hope to flip, and he told the gathered faithful that they could get the job done.
"All of you are what's going to bring home New Hampshire in 2020," Parscale said.
The crowd that showed up in Manchester on Thursday — some of whom came from as far away as Florida — didn't need persuading. They were Trump true believers.
"I don't know if I like Donald Trump the man, as a person, but I like Donald Trump the president," said Kevin Hoyt from Bennington, Vermont, who said he was attending his first-ever political rally. "I think the government in Washington is corrupt," he said, and he believed Trump is taking on "The Swamp," as the president calls it.
"Donald Trump says the things other people are thinking but won't say," said Jerilyn Diaz of Florida, before a friend from New Hampshire interrupted and added, "He does what other people won't do!"
There were protesters outside the arena who made it clear they don't like anything President Trump does, but  their numbers weren't as large as anticipated and they weren't nearly as aggressive as in some other cities. As the rally was ending the Manchester Police Department reported just three arrests.
The Democrats' strategy in purple communities like New Hampshire has been to turn up the pressure on local Republicans, hoping to make them pay a political price for Trump's over-the-top comments and overall unpopularity.
New Hampshire Democrats have been running a social media marketing campaign attacking Republican Gov. Chris Sununu for months linking him to Trump, but a new UNH Granite State poll shows Sununu's already high popularity is rising.
Which may explain why Sununu was willing to meet President Trump when his plane landed at the Manchester airport, ride with him to the rally and make an appearance in the crowd.
President Trump gave Sununu a shoutout from on stage, crediting him in part for New Hampshire's red-hot economy and calling him "a great guy." But then Trump gave an even bigger shout out to Gov. Sununu's father — and former New Hampshire governor — John Sununu.
I want to say hello to your father," Trump told Sununu. "He went from being the toughest critic to the best there is."