Joe Biden's plunging poll numbers are giving a boost to both Donald Trump and Dean Phillips, and the impact is being felt in the First in the Nation primary state.
A new poll of the six swing states almost certain to determine who will win the 2024 election finds former President Donald Trump is winning five of them in a theoretical match-up against Biden. The poll, conducted by Siena College on behalf of The New York Times, found voters in Pennsylvania, Georgia, Michigan, Arizona, and Nevada all prefer Trump.
President Joe Biden, who won all six of those states in 2020, now leads only in Wisconsin, and by just two points — within the margin of error.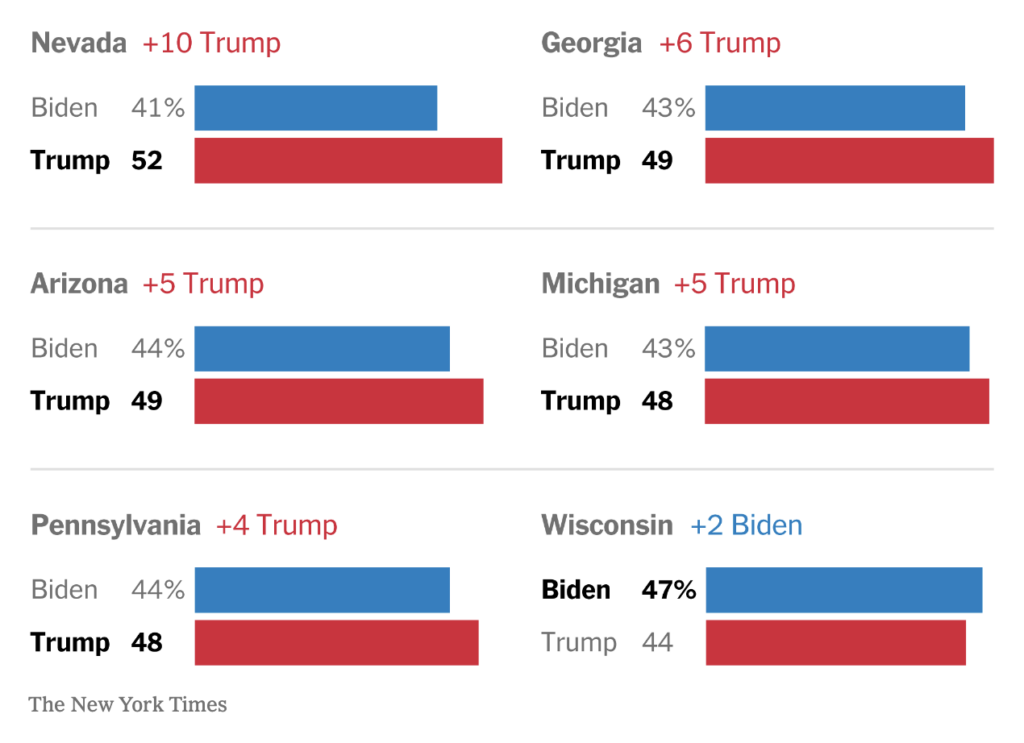 Another round of polls showing Trump beating Biden in the general election presents yet another hurdle to Trump's GOP primary challengers like Gov. Ron DeSantis and former governor Nikki Haley, who argue the former president is likely to lose the general election. The New York Times poll is just the latest to show Trump either tied with or leading Biden.
Haley tried to make the most of the new numbers by noting that, in the polls, she actually had a larger lead over Biden in a theoretical match-up than Trump. "A new poll shows that Nikki Haley is the candidate who defeats Biden by the largest margin in the general election," Haley wrote in a fundraising email.
But if Biden's woes are bad news for Trump's challengers, they are right on message for Biden's Democratic primary opponent, Rep. Dean Phillips. The Minnesota moderate has built his entire campaign on the "Biden will lose to Trump" argument.
"I could offer no statement more powerful than the one made by suffering Americans in today's NY Times poll," Phillips said via Twitter. "That's why Trump beats Biden 48-44 in the battleground states, while a "generic" Democrat beats Trump 48-40. Join me, America. It's time for courage, and it's time for change."
Phillips has gone out of his way to praise Biden and point out his 100 percent record of supporting the president as a member of Congress. Instead of policy debates, Phillips is focusing on Biden's age and apparent infirmity and how they could lead to a Trump victory.
"I'm saying the quiet part out loud. Biden-Harris isn't viable against Trump. I will defeat Trump," Phillips said.
That is not the conversation Granite State Democrats committed to Biden want to hear. They already face the daunting task of getting voters to show up at the polls for a candidate who refuses to even appear on the New Hampshire ballot. Now, they have to get those primary voters motivated on behalf of a soon-to-be 81-year-old who is trailing Trump.
(Biden, already the oldest person by far to ever serve as president, turns 81 on November 20.)
Few of the New Hampshire Democrats NHJournal reached out to would speak, on or off the record, a sign they are struggling to find a positive spin on Biden's disastrous political position.
One go-to argument is pointing out that the election is a year off, noting that President Barack Obama was in bad political shape at this point in 2011.
"Predictions more than a year out tend to look a little different a year later," Biden campaign spokesperson Kevin Munoz said in a statement. "Don't take our word for it: Gallup predicted an eight-point loss for President Obama only for him to win handily a year later."
But as several New Hampshire political operatives noted Monday, Obama wasn't an elderly incumbent already struggling with public appearances and taking questions from the press. Obama's political strategist, David Axelrod, agrees. Asked about the Obama example on CNN Monday, Axelrod said, "Obama was 50 and not 81, and we didn't have Donald Trump on the other side. So those are two factors that have to be considered."
And, Axelrod added, Biden should "check" and make sure he believes he is doing the right thing by running for a second term.
"The issue's not — for [Biden] is not political, it's actuarial. You can see that in this poll, and there's just a lot of concern about the age issue, and that is something I think he needs to ponder. Just do a check and say, 'Is this the right thing to do?'" Axelrod said.
In The New York Times/Siena College poll, 71 percent of swing-state voters said Trump is too old, and 51 percent of Democrats agreed.
Progressive Democrats are also raising questions about Biden's electoral viability.
"This is the first time that I have felt like the 2024 election is in great trouble for the president and for our Democratic control, which is essential to moving forward," Rep. Pramila Jayapal (D-Wash.) said on MSNBC Sunday. She added Biden's support for Israel is undermining his support among younger voters and people of color.
"These young people ― Muslim Americans, Arab Americans, but also young people ― see this conflict as a moral conflict and a moral crisis. And they are not going to be brought back to the table easily if we do not address this," Jayapal said.
And Phillips isn't hurting his chances in New Hampshire by embracing the First in the Nation primary Biden is trying to kill. He pledged to restore the state to the front of the primary line if he becomes president.
"I'm a Democrat who believes in tradition," Phillips added.
Meanwhile, Pennsylvania Sen. John Fetterman said one of his fellow Democrats is already running against Biden; he's just not admitting it.
"There are two additional Democrats running," Fetterman said. "One is a congressman from Minnesota, the other one is the governor of California. But only one has the guts to announce it."