If the antisemitic activists of Palestine Action US were hoping to rally support in the Granite State with their attack on an Israeli-based defense contractor in Merrimack, it appears they miscalculated.
Elbit Systems of America's parent company – Israel-based Elbit Systems – is the largest defense contractor for Israel. Palestine Action US, which previously launched an attack on Elbit Systems' Cambridge, Mass. location just five days after the Oct. 7 Hamas terror attack, says its mission is "dismantling Elbit Systems and the Zionist War Machine."
The group brought that mission to Merrimack on Monday around 8 a.m. when, according to local authorities, reports began rolling into the police and fire departments of an issue at the Elbit facility on Daniel Webster Highway. Protesters were blocking the entrance, and smoke was billowing from the roof. According to a Merrimack Police Department press release, "Officers discovered the front of the building had been spray painted with red paint, windows had been smashed, and at least one of the main lobby doors had been locked shut via a bicycle anti-theft device."
Protesters also lit flares and took them to the roof, where more damage was later found.
Palestine Action US immediately took to social media to celebrate its success in temporarily shutting down the facility.
"Elbit NH has been hit. Actionists are currently on the roof. More to come," it posted in X, later adding, "THIS is direct action. New Hampshire wasn't ready."
Perhaps not, but state and local police quickly had three protesters in custody.
Sophie Marika Ross, 22, of Housatonic, Mass., Cala Mairead Walsh, 19, of Cambridge, Mass., and Bridget Irene Shergalis, 27, of Dayville, Conn. They now face charges including criminal trespass, riot, and sabotage. They were held on preventative detention overnight.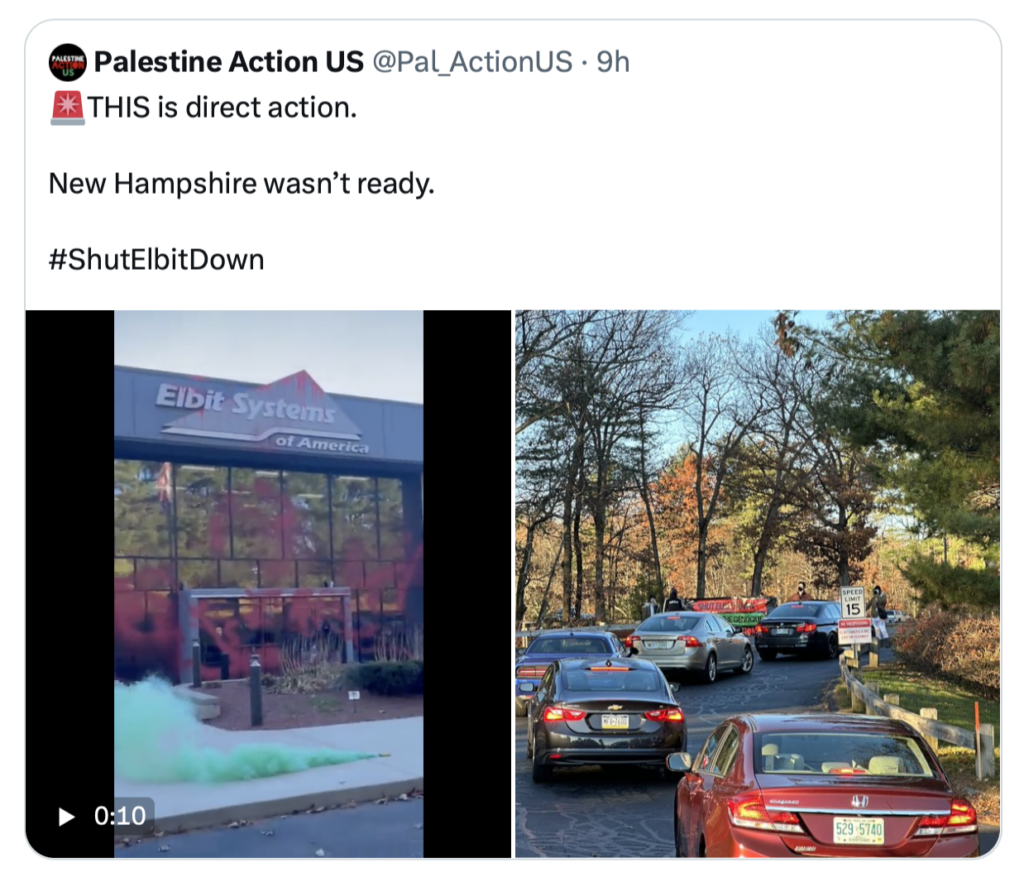 Palestine Action US is outraged by the response.
"As of now, our three comrades have been handed a slew of trumped-up charges & are being held on preventative detention without bail or a hearing," it posted on X. "Even with the phony charges, there is no precedent for this in the 'Free State of New Hampshire.' This is political targeting."
But in New Hampshire, the outrage is directed at the pro-Palestinian protesters and their attack on an important local employer. While Massachusetts Democrats like U.S. Sen. Elizabeth Warren have been reluctant to criticize the attacks on Elbit's Cambridge location in the Granite State, the response was swift, severe, and bipartisan.
"The antisemitism, hate, and significant damage protesters brought to Elbit America's campus this morning has no place in our state and will not be tolerated," said Gov. Chris Sununu. "I am confident law enforcement will work to bring those responsible for this vile act of hate to swift justice. The people of New Hampshire stand with Israel and with Elbit Systems of America."
Local GOP state Rep. Jeanine Notter (R-Merrimack) released a statement declaring, "I stand with Israel and the employees of Elbit Systems of America here in Merrimack. Antisemitism and hate have no place in Merrimack and will not be tolerated. The hundreds of Elbit America employees in Merrimack have my unwavering support."
Her support for Elbit was echoed by liberal Democratic state Rep. Rosemarie Rung (D-Merrimack).
"I condemn today's hateful, antisemitic attacks on Elbit Systems in Merrimack," Rung posted on X. "It's not just an attack on an outstanding corporate citizen, but an attack on my neighbors, friends, and constituents."
Democratic U.S. Rep. Chris Pappas, whose district includes Merrimack, was also on board.
"Peaceful protest and political expression are hallmarks of our civil discourse. Vandalism and violent acts are crimes to be prosecuted to the fullest extent of the law," Pappas said.
State Senate President Jeb Bradley (R-Wolfeboro) and Senate Democratic Caucus Leader Donna Soucy (D-Manchester) each released statements condemning the protesters' behavior.
Bradley said he was "appalled" by the actions, and noted the Israeli-owned company "has been hit with protests and vandalism since October 12th."
"We unequivocally stand against antisemitism in any form, and we will continue to support the Jewish community," said Soucy, "especially as instances of hate continue to be on the rise."
The incident comes as Granite State leaders express concerns about the increase of anti-Israel and antisemitic sentiment, particularly among college students. Sununu denounced UNH students chanting, "From the river to the sea, Palestine shall be free," and Bradley is calling on the university administration to confront a far-left radical professor with a long history of hate speech comparing Israel to Nazi Germany.
Meanwhile, the U.S. subsidiary of Elbit, headquartered in Fort Worth, Texas, is focused on its work, including its growing life sciences division.
In a statement, the company said the safety of its 650 employees at the Merrimack location is its top priority.
"Elbit America employs thousands of Americans who are dedicated to the mission of creating innovative solutions that protect and save lives. We support the rights of protesters to peacefully express their views. However, what we experienced today was violent criminal behavior, as evidenced by the arrests made by local law enforcement. We take the safety and well-being of our employees extremely seriously, and we will continue to work closely with local officials to ensure safety for all."
The one odd reaction came from House Democratic Leader Matt Wilhelm (D-Manchester). "Since Hamas' attack on Israel, we have witnessed a rise in antisemitism and Islamophobia around the globe and across our state," Wilhelm said. There has not been a reported rise in Islamophobia in New Hampshire. Wilhelm would not respond to NHJournal's requests for clarification.
And if the pro-Palestinian activists sitting in a New Hampshire jail are hoping for sympathy, they are unlikely to find it.
"Way to go. Keep racking up those felonies," state Rep. Terry Roy (R-Deerfield) posted on X. "New Hampshire: Come for the riot, stay for the jail sentence. Enjoy our hospitality, morons."