Two photos appeared on social media over the weekend highlighting the New Hampshire Democratic Party's COVID-19 problem.
One is from the state Democratic Party's big fundraising dinner Saturday night. The party faithful packed the Sheraton Portsmouth Harborside Hotel to honor longtime Democrat Martha Fuller Clark's 80th birthday and listen to U.S. Sen. Amy Klobuchar (D-Minn.). Lots of money raised, lots of smiles — and virtually no masks.
The other is a photo of Representatives Hall in the State House, where the New Hampshire House of Representatives will convene this week for the first time in two years. At key points around the hall, where Republicans and Democrats will be sitting next to each other, plexiglass shields have been put in place.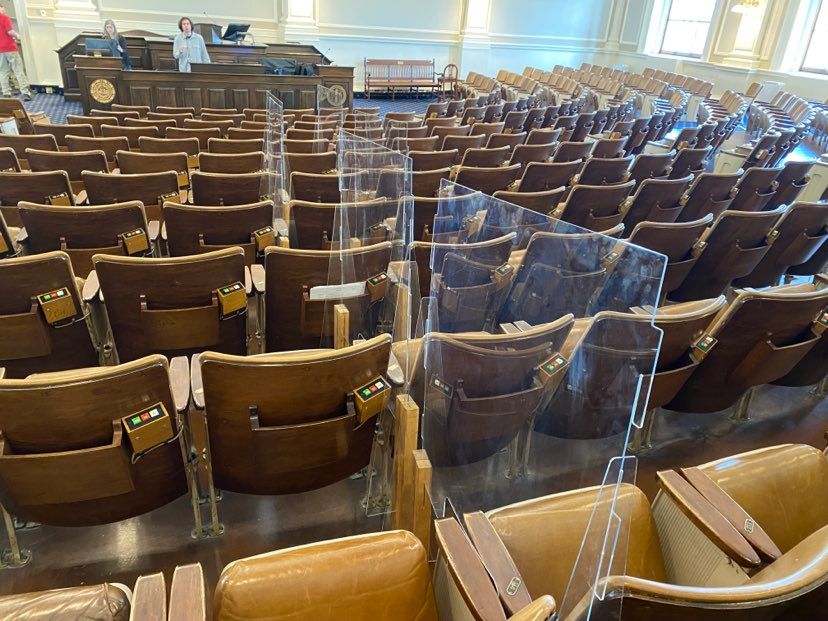 "NH State House Reps Hall is getting plexiglass between D and R sections in preparation for 3/10 Session," tweeted Rep. Bob Greene (R-Hudson). Dem Reps are vaxxed, boosted, masked, and STILL scared. This is their idea of following the science."
So which is it? Are New Hampshire Democrats listening to the CDC and the Biden White House and moving into the post-pandemic America as they party down mask-free? Or are they living in fear and insisting the pandemic protections must remain in place?
Based on the available information, the answer is "both."
The same Democrats who crowded together to hear Klobuchar also appeared in court last week, yet again asking a judge to let them participate in this week's legislative session online rather than in person.
"In a pleading to the U.S. Circuit Court of Appeals in Boston Monday, House Democrats argued Republican Speaker Sherman Packard's announcement to convene the 400-member body in the tight confines of Representatives Hall for the first time since the emergence of COVID-19 was premature," the New Hampshire Bulletin reports.
"House Democrats said the return to Representatives Hall creates less safe conditions compared with the previous venues because most members will be sitting within three feet of other members and masking is not required."
Are Democrats really worried about sitting six feet from each other? Are they really still fighting to maintain mask mandates? Is this where they think New Hampshire voters are on the COVID issue?
The Granite State is averaging just 200 positive COVID tests a day, down from nearly 4,000 daily during January's peak. And despite the spike — and having one of the oldest populations in the country — New Hampshire has the 8th-lowest death rate in the U.S.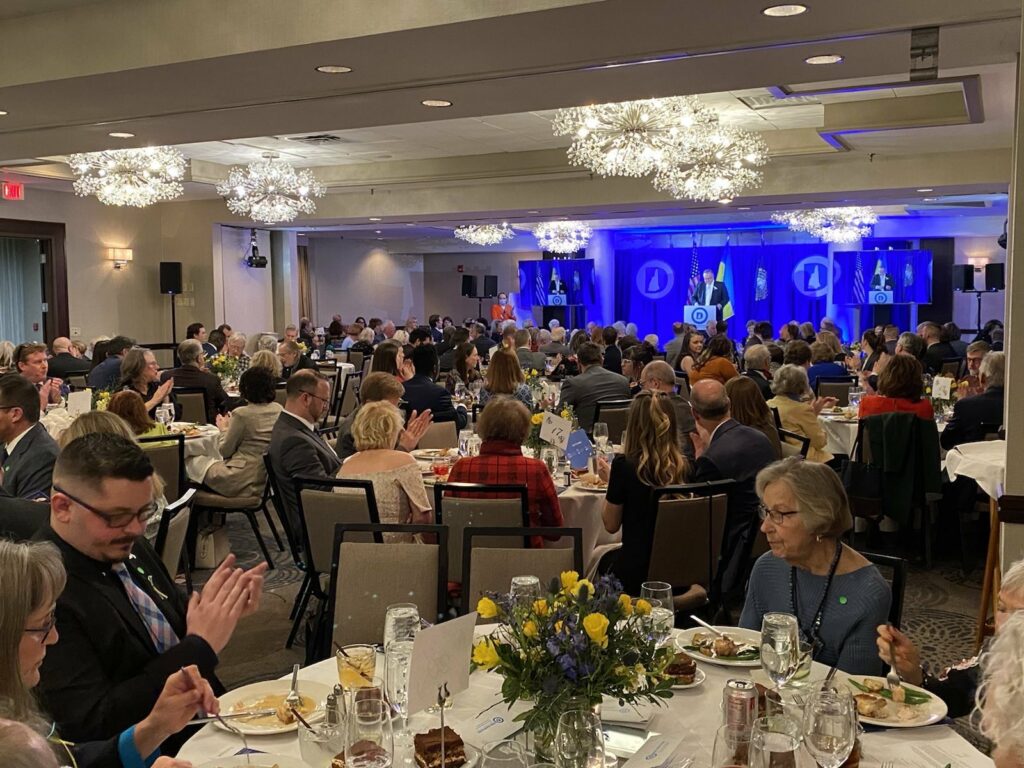 In Washington, D.C., Democrats ended the mask mandate just in time for the State of the Union address. During that speech, President Joe Biden said, "Tonight, I can say we are moving forward safely, back to more normal routines. It's time for Americans to get back to work and fill our great downtowns again."
But in Concord, House Democrats are suing to force the GOP leadership to allow "Zoom school" legislative sessions.
In response to Rep. Greene's tweet, Rep. Tim Horrigan (D-Durham) posted: "In all fairness, I am vaxxed, boosted, masked & still scared. And I think I am entitled to my feelings after 1 million died just in the USA."
How many other Granite Staters are "vaxxed, boosted, masked & still scared?" Look around the mall, or the packed movie theater to see "The Batman."
Not many.
And yet the host of the maskless event in Portsmouth, New Hampshire Democratic Party chairman Ray Buckley, also replied: "Your tweet exposes the depth of your ignorance and immaturity. Amazing how you have not advanced past middle school playground behavior. A million Americans dead, families and economy suffering – yet it is a just a joke to you."
Ironically, the plexiglass barriers were put in place, not by Democrats, but by Republican Speaker of the House Sherman Packard.
Asked if Democrats requested the barriers, Packard told NHJournal, "Indirectly, yes."
He went on to explain that because the Democrats are in court arguing that Representatives Hall is unsafe and trying to end the requirement that members must attend in order to vote, "we have to show we're doing everything reasonable — and maybe even beyond reasonable, you might say — to keep people safe."
"We'll have extra air-filtration units in addition to our existing system, and anyone who wants to wear a mask is welcome to do so."
That's how Rep. Fred Doucette (R-Salem) sees it, too. "Speaker Packard has gone the extra mile during the entirety of the first half of the biennium to ensure that all members of the House can, with the utmost of safely, continue to legislate and represent our constituents."
Some Democrats still won't attend, no matter what. Rep. David Cote (D-Nashua) has yet to attend a House session since the pandemic began, two years without casting a single vote — and he just became the acting House Minority Leader. (Elected Minority Leader Rep. Renny Cushing is out on a medical absence as he fights stage four cancer.)
If House Democrats are so afraid of COVID they're willing to accept a no-show leader, no wonder people assume they're the ones who wanted the plexiglass partitions. In the eyes of many Granite Staters, who moved on from COVID panic months ago, Democrats are the "Plexiglass Party" — fighting against mask-free schools and for continuing COVID mandates.
Packard called the Democrats' maskless fundraiser "the height of hypocrisy," but he said he has sympathy for some members of their caucus.
"I'm convinced there are quite a few members of the Democratic caucus who are happy that we're going back to the chamber," he said, "But there are obviously still some who, for whatever reason, don't want to do it."
Asked why he thought they were so reluctant, despite the science and the updated CDC guidelines, Packard declined to speculate.
"I'm not a psychiatrist."