As the Republican primary raged in the First Congressional District over the summer, rumors abounded that Karoline Leavitt was desperately trying to connect with Mar-A-Lago to get former President Donald Trump's endorsement.
It never came. But the 25-year-old former Trump staffer rolled on to victory without it. And it is safe to say that if she had gotten The Donald's nod in July or August, Leavitt would have promptly put the news up on TV.
So, what does it say about Leavitt's campaign — and the former president — that she was endorsed by Trump last Saturday… and never mentioned it?
What does it say about the Pappas' campaign that it didn't, either?
The endorsement came via Truth Social, Trump's troubled attempt at creating a social media platform.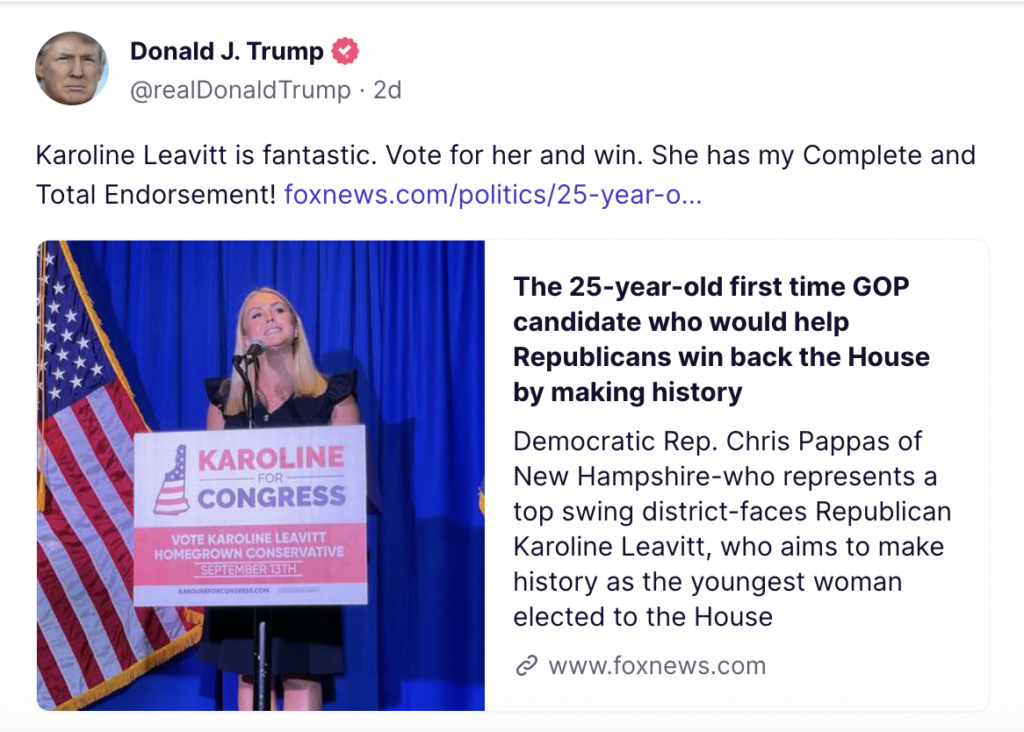 Trump posted: "Karoline Leavitt is fantastic. Vote for her and win. She has my Complete and Total Endorsement!" The post also included a link to a Fox News report on Leavitt's candidacy.
It was a sign of how limited Truth Social's reach is that nobody in the media knew about the endorsement until Monday. And it was a testament to how problematic Trump's political standing is that, now that it is public, the Leavitt campaign still doesn't want to talk about it.
Instead of TV ads or digital banners, Leavitt released a modest statement:
"Never Trumpers, Forever Trumpers, independents, and common-sense Democrats are supporting our campaign because they know America cannot withstand another two years of Joe Biden, Nancy Pelosi, and Chris Pappas' policies," Leavitt said. "My campaign has been and always will be about ending inflation, unleashing America's energy independence again to bring down costs, securing our border, and ensuring law and order, and I invite anyone who is ready to get our country back on track to join our team!"
No mention of Trump himself.
So, the endorsement doesn't appear to be good news. But is it bad news? Is it an opportunity for Pappas to tag her as an "Ultra MAGA" Trumper?
If so, he is not taking it. His campaign also sat on the info, not releasing a public statement until after the news of Trump's endorsement had gone public.
"Leavitt said she 'held the line on January 6th' for Trump as he cheered the violent attack at our Capitol," Pappas tweeted. "This endorsement is today's reminder that she's blindly loyal to him and can't cite a single issue where she breaks with Trump."
(An aside: The "held the line on January 6th for Trump" is false. Leavitt's statement, linked here, is about her old boss Rep. Elise Stefanik (R-N.Y.) objecting to Congress accepting the 2020 presidential electors. It doesn't reference Leavitt and has nothing to do with the January 6th attack on the U.S. Capitol.)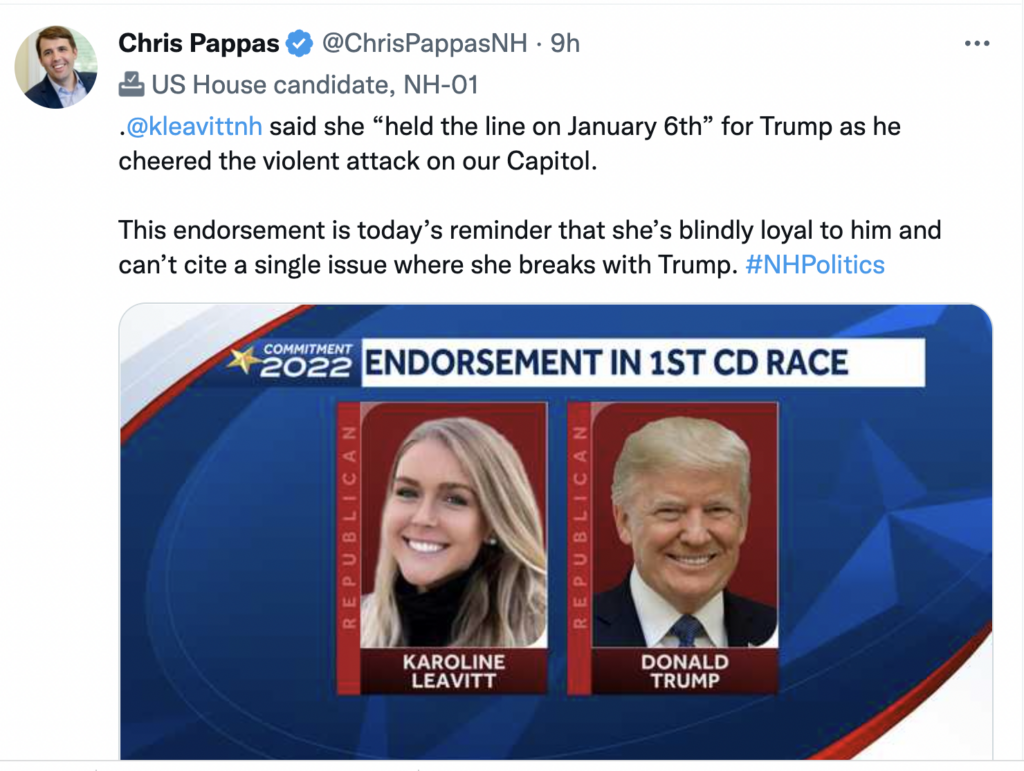 On WFEA radio Monday morning with Drew Cline, Pappas had repeated opportunities to mention his opponent had been endorsed by Donald Trump. Not. One. Word.
Will there be Pappas campaign TV ads touting Trump's endorsement and tying Leavitt even more closely to the former president? Don't bet on it.
One reason is she has firmly embraced her MAGA credentials previously by continuing to say the 2020 election was stolen from former Trump. Who needs a TV ad to prove she is a Trump fan?
Another is Pappas' campaign professionals are likely smart enough to know that "Trump voters" and the "GOP base" are not the same people. The GOP base loves Trump, and they are happy to vote for him and the candidates he supports. But these "show up every election" Republicans were Republicans before Trump came down the escalator and he persuaded them to back him in 2016.
"Trump voters," on the other hand, aren't regular voters except when Trump is on the ballot. These often rural, working-class folks rarely voted before 2016 and, if Trump retires from politics, they are unlikely to vote very often in the future. They are the new voters he brought to the GOP, the ones who screwed up the polls in 2016 and 2020 when Trump outperformed all projections.
As a result, reminding these low-motivation voters that Trump is a big fan of Leavitt could actually help her. The people who hate Trump are already voting Democrat. But the people who love him, and don't care that much about Republicans, might be motivated to show up.
And then there was this from the new Emerson College poll released Monday night:
"In a hypothetical 2024 matchup between President Biden and former President Donald Trump, 44 percent would support Biden and 43 percent Trump."
So, Trump and Biden are essentially tied in New Hampshire. Not much of a net gain for Pappas.
Speaking of which, when asked by WMUR's Adam Sexton if he would campaign with Biden, the most Pappas would commit to was, "I'd be happy to show him around the state."
If Joe Biden endorsed Pappas tomorrow, would he put that in a TV ad?