If Sen. Tim Scott wanted to find out what it would be like to run the First-In-The-Nation primary gauntlet as a Republican presidential candidate, he got the full experience during his quick visit to the Granite State Thursday.
The "603 Way," as locals call it, set the tone as soon as the South Carolina senator's day began. In an early-morning interview with WMUR, Scott was asked if, as president, he would sign a 20-week abortion ban.
"20-week ban? Definitely," Scott replied, hardly a surprising answer from the devout Christian and pro-life advocate. But it is a problematic one in New Hampshire, one of the most pro-choice and secular states in the U.S. It highlighted a significant cultural gulf between Scott, whose campaign video is filled with references to "faith," "blessings" and "the Judeo-Christian foundation" of the nation.
As a result, Scott faced a flurry of questions about his abortion stance throughout the rest of the day. It's an issue that doesn't play well in the Granite State on either side of the aisle.
New Hampshire is the third least-religious state in the U.S. according to one survey, ranking behind Nevada (home of Sin City) and Massachusetts (the even more sin-friendly Beacon Hill). Every federal and statewide elected official is pro-choice, including Republican Gov. Chris Sununu. And until two years ago, abortion up to the day of birth, for any reason, was legal in the Granite State.
"If he flew all the way to Manchester to talk about abortion, that was a big mistake," one GOP strategist told NHJournal.
Scott also experienced the retail campaigning New Hampshire politicos in both parties love bragging about. He dropped in the iconic Red Arrow Diner in downtown Manchester and quickly made his way behind the counter to greet customers and mug for photos. He also met with New Hampshire GOP chairman Chris Ager.
After a press gaggle outdoors (with plenty of questions about abortion), he headed to the Bridge Cafe, where he grabbed a smoothie and chatted with some Republican activists.
Matt Mayberry, a former state party official who has made it his unofficial mission to help Sherpa any GOP FITN candidate who needs it, was on hand with books for Scott to sign.
"I think Sen. Scott has a strong, inspirational message that will resonate with the people of New Hampshire," Mayberry said afterward. He also drew parallels between Scott and Sununu.
"Look at Sununu's poll numbers. He's had a positive, upbeat, and optimistic message during his tenure as governor, and the voters like it. Sen. Scott fits that mold."
Former NHGOP Chair Wayne MacDonald was also on hand, and while he's a Chris Christie guy from way back ("If Chris runs, I'm with him") he liked what he heard. "I think he's very good. He could do well."
And in a classic New Hampshire political moment, another former party chair also showed up at the cafe. Stephen Stepanek, who is also the current state chairman of the Donald Trump 2024 campaign. He was in the area on campaign business and didn't realize Scott was there.
"When I saw him, of course, I went in and said hello as a courtesy," Stepanek told NHJournal. "It's what we do in New Hampshire. We all support the First-in-the-Nation primary, and we all work together."
And not that Scott needed reminding, but Trump's domination of the political conversation was also evident. From his radio hits to his campaign stops, the potential candidate was confronted with the "Trump" question.
Asked if he agreed with Sununu that Trump can't win the general election in 2024, Scott deflected, giving a version of the "I'm not going to criticize my fellow Republicans; I'm going to talk about Joe Biden" answer.
Asked if he thought he could beat Trump in the primary and how he would do it, Scott's answer was more complex and less satisfying for people looking for specifics.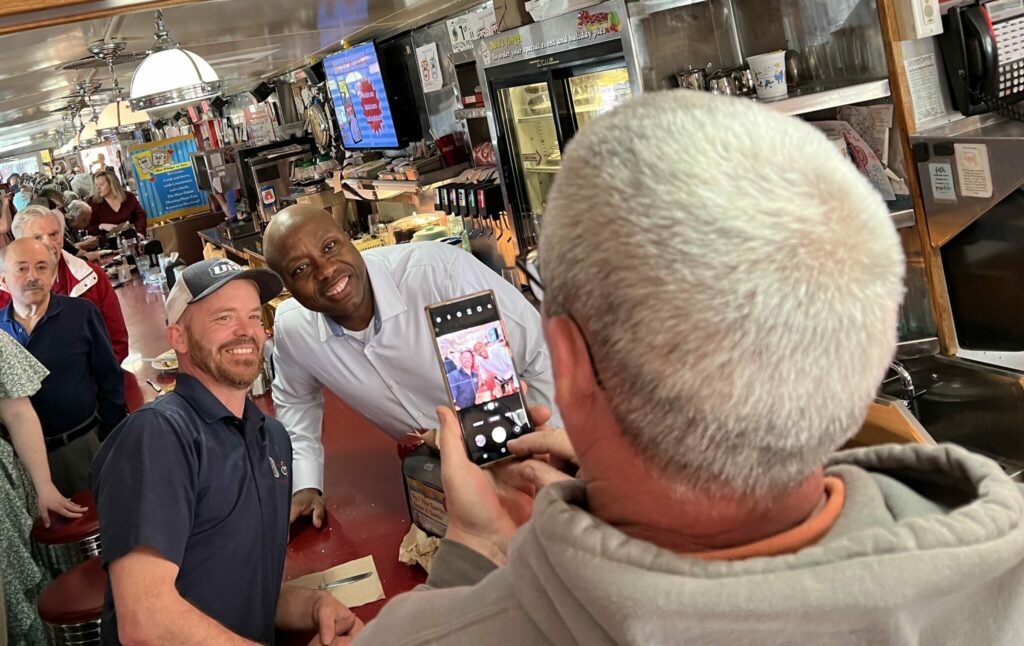 "I've learned how hungry people are for optimism," Scott said of his national "Faith in America" tour. "They're hungry for a positive message as long as it's anchored rooted in our conservative principles. There's an appetite to get back to common sense that leads to common ground on those conservative principles. And that's one way we pivot to the best American future possible."
But is optimism enough to beat Donald Trump? Or even break into the top tier of candidates coming out of the early states like Iowa and New Hampshire?
Several GOP insiders who spoke to NHJournal were less than impressed by his first visit, wondering what the strategy was behind the trip. According to statements from the Scott team, he had small meetings with local activists and some pastors on his schedule. And while meeting pastors can pay big political dividends in places like South Carolina and even Iowa, they just don't play the same role in Granite State elections.
"Look, everybody likes Tim Scott. He's on everyone's shortlist for the veep job. But if he wants to run for president, he's going to have to pick up his game," a Republican insider said.
"Disaster. Total disaster," another GOP pro added.
At the same time, Scott made the rounds of the Granite State press corps and garnered plenty of national press coverage, too. Having lots of journalists reporting on how much Granite State Republicans liked the social conservative from South Carolina can't be all bad.