On Monday, the U.S. Secretary of Transportation was in Manchester touting federal funds for a vast expansion of commuter rail service in the Granite State.
"We just had a terrific conversation with elected leaders, with labor and business leaders, and community leaders, about a potential plan to expand rail service from Boston up to Manchester," Pete Buttigieg told reporters during a press conference along the Merrimack River.
"We haven't been investing enough as a country in infrastructure,"Buttigieg later told WMUR-TV.
"Whatever we can do to simplify the ability of people and goods to move where they need to be, we should be doing it. Commuter rail can be a big, big part of that," he told NHPR.
What Mayor Pete didn't tell anyone — and apparently nobody in the media asked — is how much this new rail service will actually cost. What's the price tag for the project Buttigieg and the state's entire federal delegation spent more than an hour discussing?
If you attended the presser or watched every interview or read every news article from yesterday, you'd have no idea.
Yes, the delegation talked a great deal about the approximately $1.2 trillion of spending in the bipartisan infrastructure bill. And they hyped the $1.4 billion New Hampshire will reportedly get for roads and bridges. Plus there's $126 million for Granite State public transportation, too.
But after two days of talk about trains and transportation, not a single message of the size of the tab or who's going to pay for it.
Buttigieg didn't say. Neither did Sens. Maggie Hassan and Jeanne Shaheen. Nor did Reps. Annie Kuster and Chris Pappas. They also declined to comment when asked about the rail spending by NHJournal on Tuesday.
Republicans point out this is the least amount of money from the infrastructure bill for any state — "dead last," as a new radio ad puts it. But a lot or a little, supporters have yet to say how much of it they will spend on commuter rail, as opposed to other forms of transit like city buses many urban residents rely on. And they haven't said whether the federal money will cover the entire cost — whatever that is — of the commuter rail project they're pushing.
There are more questions: How many passengers is a Manchester-Nashua-Boston rail system expected to serve? How much revenue do supporters expect to collect from riders, as opposed to taxpayer subsidies?
"Let's also recognize that there is no mode of transportation that doesn't have taxpayer support in some way, shape, or form," Buttigieg told NHPR — providing an opportune moment for someone to ask, "Speaking of subsidies — how much is this thing going to cost?"
Alas, it was never asked and never answered.
NHJournal — which is blocked by the four Democrats in the federal delegation from asking questions at their "open press" events — has been reporting on what facts we do have about rail in New Hampshire: Everybody says they love it, nobody actually rides it. And taxpayers definitely don't want to pay higher taxes to subsidize it.
Riders? Amtrak's Downeaster, taking commuters straight into Boston every day from the Seacoast, can barely average 200 Granite State commuters a day at its peak. Post-COVID, those numbers are far lower, according to Amtrak.
Then there's the minor problem that the Downeaster — which burns diesel fuel, by the way — has operating costs rising faster than revenue, the Maine Monitor reports. And that was also with pre-COVID ridership.
So, what is the plan in New Hampshire? Amtrak has proposed a Concord-Manchester-Boston line that, it says, will run five times a day and take riders from Manchester to Boston in an hour and 35 minutes.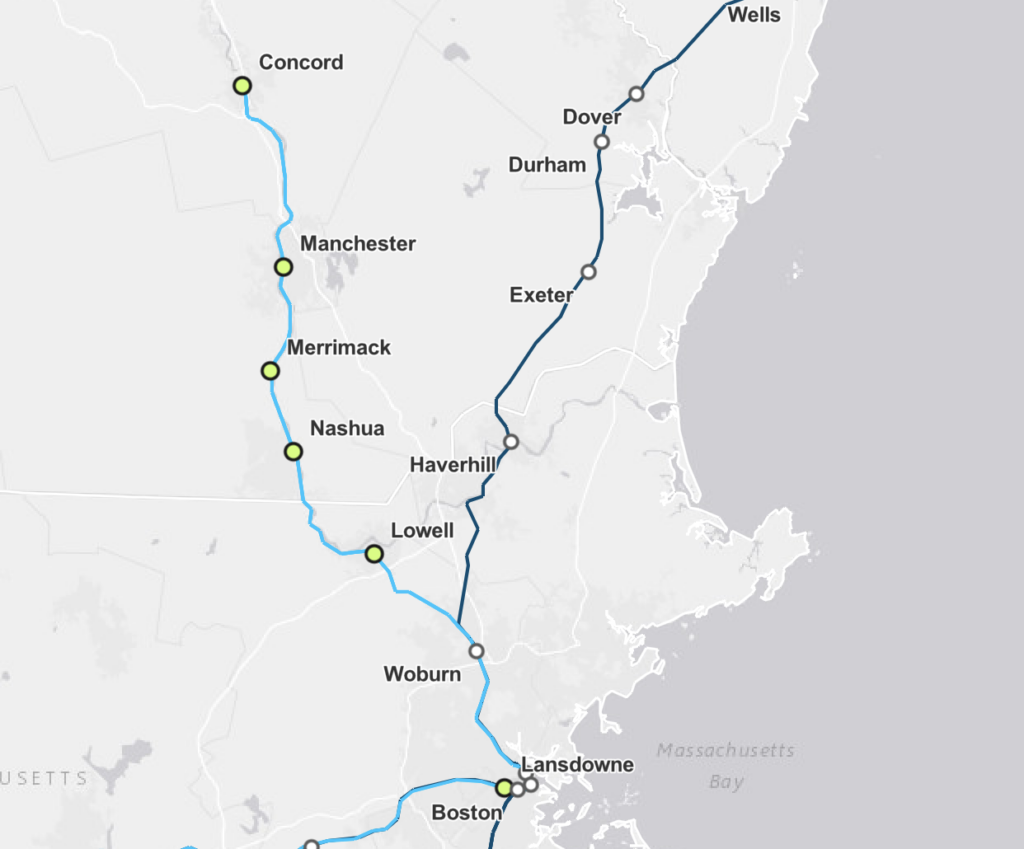 A presentation by the N.H. Department of Transportation last month referenced a 2014 estimate for this "Capitol Corridor" project as $246 million. It also acknowledged that number had not been adjusted for inflation and that the "estimate is ongoing as engineering progresses."
A more realistic number based on similar rail projects is closer to half a billion dollars, followed by $10 – 15 million every year in taxpayer subsidies, for a train few Granite Staters will ride.
"While politicians romanticize about their nostalgic fantasies of reliving the 19th century by bringing passenger rail to New Hampshire, they don't seem to want to discuss the price tag of their scheme," Greg Moore of Americans For Prosperity – NH told NHJournal. "What they don't seem to understand is that most New Hampshire residents aren't interested in using outdating transportation technology.  Moreover, taxpayers are even less interested in getting stuck with the bill for this type of white whale that they won't use.
"It's time for rail proponents to start putting cost estimates on their plans and be honest with us about how they intend to pay for it.  Until they do this, we should stop with the political theater," Moore added.
Democrats like Hassan and Kuster, who support the Capitol Corridor project, could rebut this criticism by simply saying how much the project will cost and how they plan to pay for it.
Buttigieg didn't do it. But the soonest he'll be on the ballot in New Hampshire is 2024.