A speech by a former comedian in an Eastern European capital delivered to Capitol Hill via the internet made its mark on New Hampshire politics.
Ukrainian President Volodymyr Zelensky used both his talents as a video performer — along with an actual video — to make a powerful case for America to do more to help his war-torn nation fight off its Russian invaders. And while most of his remarks were delivered in Ukrainian, he used language that resonated with average Americans.
"Remember Pearl Harbor, terrible morning of Dec. 7, 1941, when your sky was black from the planes attacking you. Just remember it," Zelensky said. "Remember September the 11th, a terrible day in 2001 when evil tried to turn your cities, independent territories, in battlefields, when innocent people were attacked, attacked from air.
"Our country experiences the same every day."
Zelensky also mentioned Mount Rushmore, America's sacrifices on behalf of democracy abroad, and even the words of Dr. Martin Luther King, Jr.
"I have a need. I need to protect our sky. I need your decision, your help, which means exactly the same, the same you feel when you hear the words, 'I have a dream.'"
Granite State politicians responded with enthusiasm.
"President Zelenskyy's steadfast leadership and unwavering resolve has not only inspired the fighting spirit among Ukrainians as they defend their land, freedom, and future but also people throughout the world watching Ukraine hold the line for liberal democracies around the globe," said Sen. Jeanne Shaheen (D).
"President Zelenskyy's message to Congress was clear and unwavering: Ukraine needs our help," Sen. Maggie Hassan (D) said. "In this critical hour, we must provide additional aid and equipment to Ukraine and continue to impose even more severe sanctions on Putin, his cronies, and the Russian economy, as we work to avoid further escalation."
Fears of escalation are one reason the Biden administration has refused to facilitate the transfer of 28 MiG fighter jets to Poland via the Ramstein U.S. Air Base in Germany. While Shaheen and Rep. Chris Pappas both support the transfer, Hassan has remained silent.
She refused to join a letter signed by moderates like Sens. Mitt Romney (R-Utah) and Susan Collins (R-Maine) urging the Biden administration to deliver the jets to Ukraine. She has no mention of it on her website or social media, and she would not respond to questions about her position [EDITOR'S NOTE: Hassan has instructed the federal employees in her official Senate offices not to respond to media inquiries from NHJournal.]
Hassan's unsteady handling of the Russian invasion, from her reluctance to support an embargo on Russian oil to her silence on giving Zelensky the fighters he has requested, has become part of the 2022 U.S. Senate campaign. The Republicans competing for the chance to run against her in November have staked out their positions.
"The Biden administration has been slow to lend supplies to fight back against a war criminal in Russia," said retired Gen. Don Bolduc, who supports giving the fighter jets to Ukraine. "At times like these, we are reminded that national security experience is a must-have for United States senators. Sen. Hassan has shown very weak leadership in the Senate and refuses to deviate from the Biden party line."
State Senate President Chuck Morse said, "President Zelenskyy displays more courage and leadership in one speech than President Biden has during this whole crisis." On the MiGs issue, Morse noted, "Secretary (of State) Blinken approved the transfer last weekend only to have a timid President Biden reverse the policy," and said arming the Ukrainians is "a far superior option to having U.S. boots on the ground – we need to act now before this war unravels beyond the Ukrainian borders."
"President Zelensky gave a powerful speech," said former Londonderry Town Manager Kevin Smith. "Unfortunately, President Biden fails to rise to the moment at a time when the world is desperate for the American leadership. We need to get weapons and ammunition to the Ukrainians, including MiG-29 fighter jets. It's simple, yet critically important, in deterring Russia and helping our Ukrainian allies defend themselves."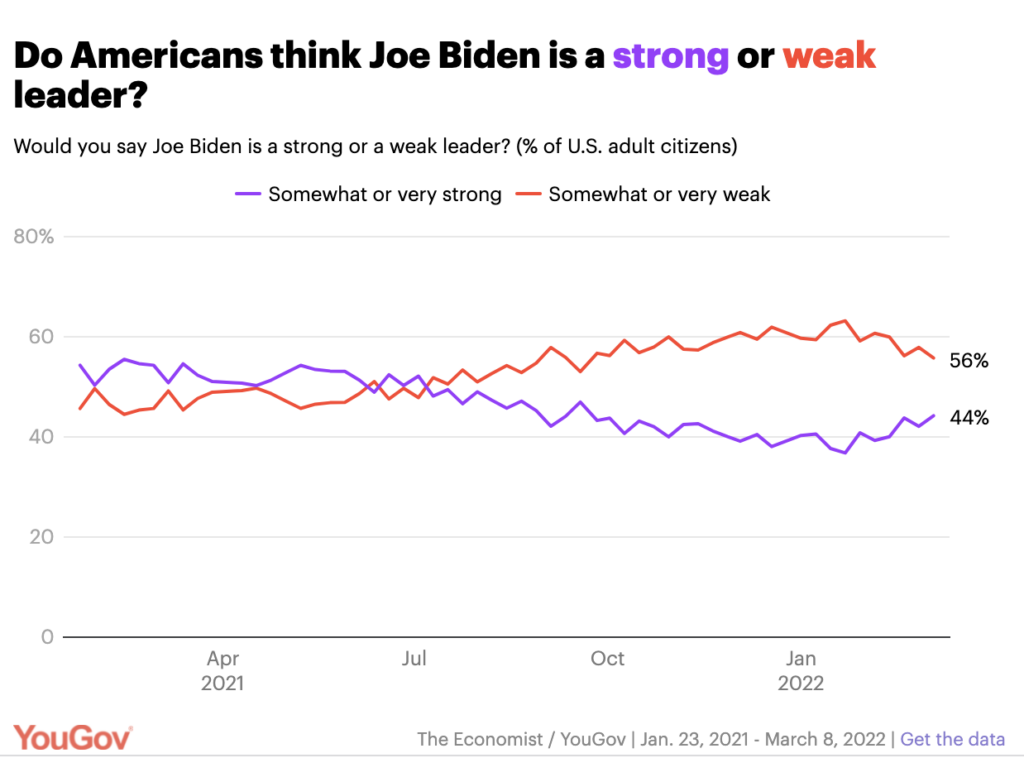 A new Monmouth poll found Americans are split on Biden's handling of the Ukraine crisis, with 46 percent approving and 48 percent disapproving.
Zelensky's approval rating in the U.S.? Sixty percent of Americans have a favorable view, while just 17 percent have an unfavorable one. Fifty-six percent of Americans in that same poll say Biden is a weak leader, compared to 44 percent who say he's strong.
Wednesday afternoon President Joe Biden signed a bill to send $800 million worth of military equipment and humanitarian aid to Ukraine, saying, "We're going to continue to have their backs." However, Biden did not act on Zelenskyy's request for the MiGs.
"The administration spends all this time talking process, and talking slow, and talking 'Maybe, we can help the Ukrainians lose a little bit slower, maybe, maybe it could go on longer before they lose,'" Nebraska Sen. Ben Sasse said Wednesday afternoon. "What the administration should be telling us is what their plan is to help the Ukrainians win.
"If it shoots, we should ship it."