After a stunning performance by Republicans in the blue states of Virginia and New Jersey on Tuesday, the National Republican Congressional Committee has added New Hampshire Rep. Annie Kuster to its target list for 2022.
"In a cycle like this, no Democrat is safe," NRCC Chairman Tom Emmer (R-Minn.) said in a statement. "Voters are rejecting Democrat policies that have caused massive price increases, opened our borders, and spurred a nationwide crime wave."
The NRCC notes they're increasing their target list from 57 seats to 70 "following Glenn Youngkin's commanding victory in the Virginia governor's race, and as numerous public polls show the generic congressional ballot improving for Republicans."
In the latest St. Anslem College poll, Granite State voters picked Republicans over Democrats in the generic ballot question 48-43 percent.
Gov. Chris Sununu took the unusual step of sending out a tweet promoting GOP primary candidate Littleton businessman Jeff Cozzens. After the NRCC news broke, Cozzens sent NHJournal a statement:
"We are building a strong grassroots campaign that is ready to defeat Annie Kuster next November. Granite Staters are sick and tired of career politicians like Ann Kuster telling us how to raise our families, run our businesses and live our lives. Next year, we'll take back the Second District from Annie Kuster and restore commonsense leadership to Washington."
The real question is, what will that Second District look like next year? On Wednesday, the GOP majority on the House Special Committee on Redistricting released a proposed map for the two congressional districts (see below). Democrats released a map as well, but with Republicans in control of the legislature and governor's office, it's a symbolic effort only.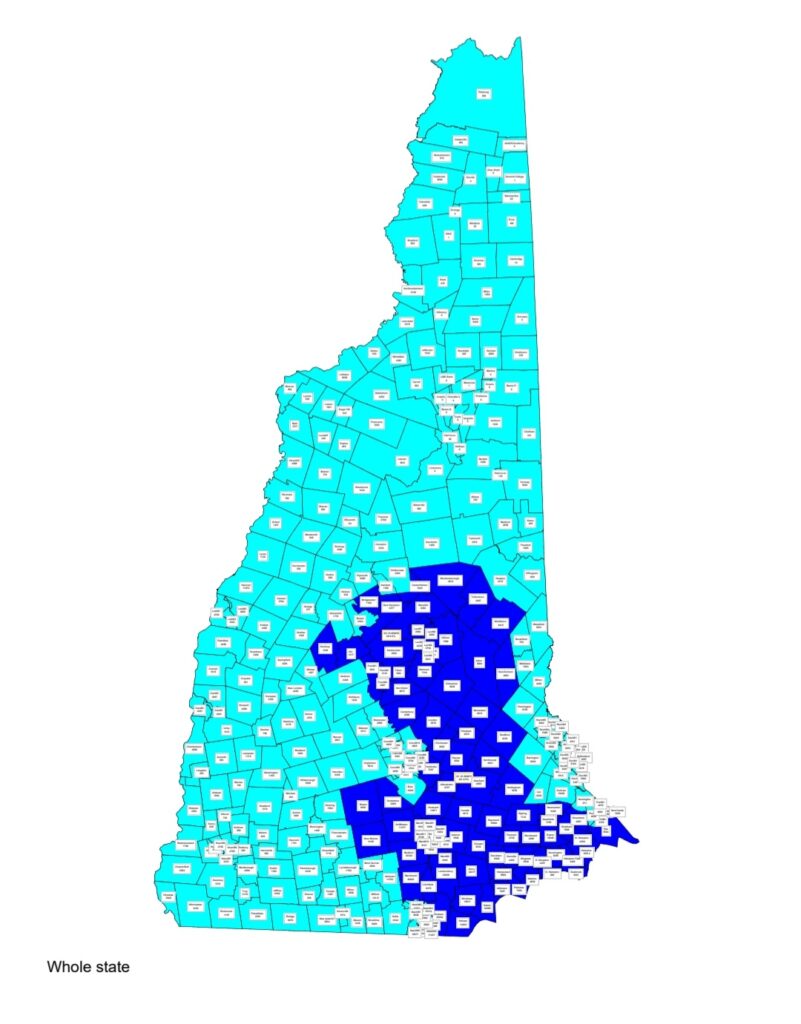 Deputy House Minority Leader Rep. David E. Cote (D-Nashua) denounced the GOP map.
"The proposed drastic redrawing of congressional districts is unprecedented and designed with the singular goal of rigging elections through partisan gerrymandering," Cote said.
Currently, Democrats in Illinois, Maryland, and New York are engaged in extreme partisan gerrymandering, according to The New York Times and The Washington Post. Maryland's eight-member congressional delegation was split 4-4 between Democrats and Republicans as of 2000, for example. Two rounds of redistricting later, there may not be a single GOP seat left.
Asked if he believed these Democrat-controlled states were "rigging" their elections, Cote had not responded by the time of publication.
Republican states like Texas and North Carolina have also been accused of extreme gerrymandering.
Kuster has represented the Second Congressional District since 2012. While her approval rating has consistently been low — rarely breaking out of the 40 percent range — she's only been held below 50 percent in one election. Republican Jim Lawrence in 2016 lost to Kuster 49.7 to 45.3 percent.
Dave Wasserman, who covers U.S. House elections for the Cook Political Report, tweeted: "By purging Portsmouth/Dover/Durham from #NH01, Republicans would cede Rep. Annie Kuster (D) a safe Dem seat. Her #NH02 would move from Biden +9 to Biden +17."
Could the GOP win a newly-drawn, heavily Democratic district like Kuster's? Republicans point to Virginia and New Jersey, both as blue as NH-02. In a sweep year like 2010 — the last time the GOP carried the Second Congressional District — anything can happen, Republicans say.
As Patrick Ruffini, pollster at Echelon Insights, noted Tuesday: "Tonight's swing from 2020 works out to like a 50 seat Republican gain in the House."
A swing that big could put Kuster's seat in play.
EDITOR'S NOTE: An earlier version of this article erroneously reported Gov. Chris Sununu had endorsed Jeff Cozzens in the NH-02 GOP primary. NHJournal regrets the error.