The president of the fiscally conservative grassroots group Americans For Prosperity stopped in Salem Thursday night with a message for Sen. Maggie Hassan, one that no doubt sounded very familiar.
After all, AFP's Tim Phillips noted, she signed it.
Phillips was in Salem for a "Don't Bust the Filibuster" event, part of a tour targeting vulnerable Democrats who, like Hassan, are up for re-election next year. As he addressed the crowd enjoying barbecue and beer at Border Brewery, he held up a copy of a letter from a group of U.S. Senators sent in 2017 to then-Majority Leader Mitch McConnell.
"When Trump was president, McConnell was Leader with a majority of 53 and Republicans controlled the House — I'm glad you're all sitting down, you'll be shocked by this — Democrats thought the filibuster was a great idea!" Phillips said. "They even signed letters about it.
"Today, we're not asking Senator Hassan to change her mind. We're just asking the senator to keep her word to the people of New Hampshire."
Highlighted at the bottom of the letter, the signature of Sen. Maggie Hassan.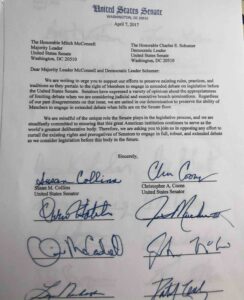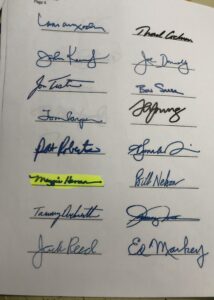 The letter, signed by a bipartisan group of 61 senators, reads in part: "Senators have expressed a variety of opinions about the appropriateness of limiting debate when we are considering judicial and executive branch nominations. Regardless of our past disagreements on that issue, we are united in our determination to preserve the ability of members to engage in extended debate when bills are on the Senate floor."
Unlike current Senate Leader Chuck Schumer (D-N.Y.), McConnell made it clear he would oppose any attempt to eliminate the legislative filibuster. "I would be the beneficiary, and my party would be the beneficiary," of eliminating the filibuster, McConnell said at the time. "I'm opposed to changing it. I think that's what fundamentally changes the Senate."
Hassan has declined repeated requests for comment on the subject from NHJournal, and she has carefully avoided giving a definitive answer on the issue. The closest she's come in 2021 has been a spokesperson saying she "has concerns about eliminating the filibuster," but she backs some reforms.
That's a very different position from her pro-filibuster stance in 2017.
New Hampshire's senior senator, Sen. Jeanne Shaheen, has changed her mind on the filibuster. Earlier in her career, she supported several pieces of legislation to end or massively change the filibuster. "We can reform the filibuster. I don't support eliminating it. There are ways to make it work better," Shaheen says today.
Former U.S. Senate staffer and Salem N.H. resident Luke Mroz also addressed the group. Mroz worked for U.S. Sen. Rand Paul (R-Ky.) at a time when the Kentucky senator carried out three filibusters while in the minority, all involving U.S. foreign policy and intelligence issues. "Sen. Paul didn't succeed in his filibusters, but he was able to bring attention to important issues involving foreign policy and get the White House to make some concessions," Mroz said.
In his speech, Phillips noted that Sen. Joe Manchin (D-W.V.) opposes eliminating the filibuster, denying Schumer the votes needed to change the rules. But, Phillips said, that's largely irrelevant. "Imagine the pressure that progressives and the media will put on Manchin if he's the only holdout they need to get to 50 votes, plus the [vice president's] tiebreaker. "It will be much better if we have two or three or four senators who say no."
Phillips believes the push will come this summer to "make just one exception" to the filibuster for legislation Democrats like Hassan support, like H.R.1, the so-called "For The People" Act.
"Once the exception is made, there will be another, and another, and the entire fabric of our country will change," Phillips said.
"The country is so closely divided. It's a 50-50 senate. It's the worst time for one party to say, 'let's jam through our extreme agenda by a single vote.' Make sure your senator keeps her word."