The 2018 midterms are still six months away–and the 2020 presidential election is two years after that–but potential POTUS candidates are already making their pilgrimages to the Granite State.
Just this weekend, three people from the Democratic bench made appearances in New Hampshire, along with yet another stop by already-announced candidate John Delaney.
ERIC GARCETTI:  Los Angeles Mayor Eric Garcetti spoke Sunday morning at the Southern New Hampshire University graduation.
This is Garcetti's second visit to New Hampshire this year, part of a travel itinerary that includes Nevada, South Carolina and Iowa. Last week, he spoke to a union convention in Florida.
In his speech to SNHU graduates, Garcetti said: "The pundits [say] there are two Americas – there's the rural and urban divide, the immigrant and native-born, the coasts and the heartland, red and blue. I do believe there are two Americas, but it's none of those – it's Washington, D.C., and the rest of us."
JASON KANDER: Former Missouri Secretary of State Jason Kander spoke to the Rockingham County Democratic Clambake in Portsmouth on Saturday night– his second N.H. visit in two months. Kander, an activist on voting and ballot access, calls New Hampshire "Ground Zero for voting rights."
Asked about a potential POTUS bid, Kander told the Portsmouth Herald: "It's something I'm thinking about but I'm going to keep my focus where it belongs and after 2018 I'll consider my options."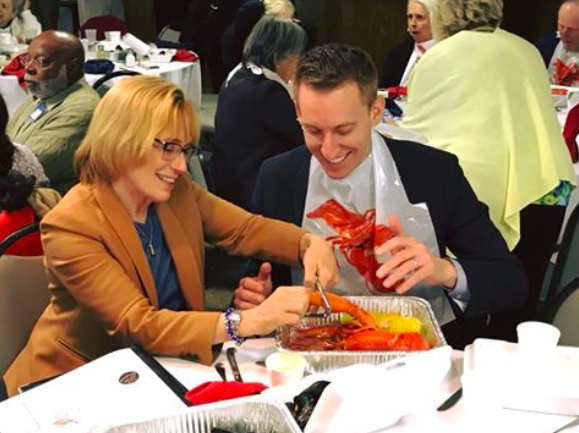 Senator Maggie Hassan helps former MO Secretary of State Jason Kandor with his lobster at the Rockingham County Democratic Party's Clambake on Saturday.
JULIAN CASTRO: Former HUD Secretary in the Obama administration and San Antonio mayor Julian Castro spoke to the New England College commencement on Saturday.
In February, on the eve of a previous visit to New Hampshire, Castro told NBC News "I have every interest in running" in 2020 for president. "Part of the process of figuring out whether I'm going to run is going to listen to folks and feel the temperature of voters."
JOHN DELANEY: Congressman John Delaney (D-MD) is the only formally-announced candidate for president. He's made quite a few trips to New Hampshire already and was in town for a "No Labels" event in Manchester this weekend.